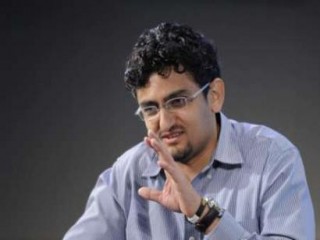 Wael Ghonim
Date of birth : 1980-12-23
Date of death : -
Birthplace : Cairo, Egypt
Nationality : Egyptian
Category : Arhitecture and Engineering
Last modified : 2011-10-31
Wael Ghonim is an Internet activist and computer engineer (Google Inc. employee) with an interest in social entrepreneurship. He now resides in Dubai, United Arab Emirates.

Ghonim, a marketing manager for Google, shot to international fame in February 2011 as the catalyst behind the anti-government protest movement in Egypt that ultimately led to the resignation of President Hosni Mubarak.

Ghonim began the mass demonstrations anonymously as the administrator of the Facebook page, 'We Are All Khaled Said'. The page, which has close to 600,000 supporters, was named in honor of a young Egyptian man allegedly beaten to death by Egyptian police in Alexandria in June 2010. Ghonim also used Twitter to rally Egyptians to the protest movement with tweets that included, "Freedom is a bless[ing] that deserves fighting for it." He acknowledged his role in the revolution in an emotional television interview in which he described his 12-day secret detention by Egyptian police.

By emphasizing that the regime would listen only when citizens exercised their right of peaceful demonstration and civil disobedience, Wael helped initiate a call for a peaceful revolution. Miraculous response: a movement that started with thousands on Jan. 25 ended with 12 million Egyptians removing Hosni Mubarak and his regime.

Wael Ghonim topped Time magazine's yearly list of the world's 100 most influential people. On 26 April, He arrived in New York to be honored at the 2011 Time 100 Gala ceremony where he begain his speech with a moment of silence to mark those killed in protests around the Arab world.
View the full website biography of Wael Ghonim.