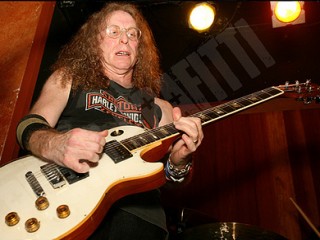 Waddy Wachtel
Date of birth : 1947-05-24
Date of death : -
Birthplace : Queens, New York, U.S.
Nationality : American
Category : Arts and Entertainment
Last modified : 2012-03-06
Robert "Waddy" Wachtel is an American musician, composer and record producer, most notable for his guitar work. Wachtel's passion for music and ease of adaptation toward a variety of genres have placed him in a position as one of the most in-demand session musicians throughout his career, playing with high profile rock musicians that include Linda Ronstadt, Stevie Nicks, Keith Richards, James Taylor, Iggy Pop, Warren Zevon, Bryan Ferry and Jackson Browne, amongst others, both in the studio, and on tour.

Wachtel has played and worked with a who's who of rock throughout his years as a session musician--Bob Dylan, The Everly Brothers, Iggy Pop, Keith Richards, Linda Ronstadt, and Warren Zevon, among many other musicians and vocalists. In the 1984 book The Guitar, Wachtel's sound was described as "the churning, badass end of the guitar's spectrum of sounds," and he was said to have the ability to play "fullblown gutsy raunch or sweet Mexican-flavored licks with equal ease. He is a high-energy player." Wachtel's talent has placed him in the company of esteemed session guitarists Ry Cooder, David Lindley and Lowell George. His behind the scenes contributions include credits as producer and songwriter.

Wachtel toured with The Everly Brothers, but began gaining attention as a session artist after backing Carole King during the recording and subsequent tour supporting her Thoroughbred album in the 1970s. He is credited with being one of a group of musicians in Los Angeles that gave rock songs recorded in the 1970s and 1980s a decidedly raucous Southern California flair. Dave DiMartino, in Singer-Songwriters: Pop Music's Performer-Composers, from A to Zevon, called them "the L.A. session-musician 'mafia' that dominated most recordings of the genre and era." These musicians included Andrew Gold, a multi-instrumental musician; Russ Kunkle, drums; Leland Sklar, bass; Jai Winding on piano; and a group of backing singers including Glenn Frey, J.D. Souther, Linda Ronstadt and Wendy Waldman.

Wachtel appeared on numerous rock recordings in the late 1970s and early 1980s. Frequent associates were Ronstadt, Karla Bonoff, and Zevon. "Poor, Poor Pitiful Me" was included on Zevon's 1976 self-titled album, a song which was covered successfully by Ronstadt a year later on her Simple Dreams album. Wachtel appears on both recordings. In 1978, again with Zevon, Wachtel worked on the Excitable Boy album. With Zevon he penned the classic "Werewolves of London" and co-produced the album with Jackson Browne.

During the early 1980s Wachtel began working with Stevie Nicks after she embarked on a solo career apart from Fleetwood Mac. Wachtel created the memorable guitar sound on her hit "Edge of Seventeen." He also played guitar on her subsequent recordings The Wild Heart and Rock a Little.
Wachtel was among the session musicians hired by Bob Seger in 1983 to record The Distance. Seger had long been recording as Bob Seger & The Silver Bullet Band. This album was issued as a Bob Seger & The Silver Bullet Band project, but other musicians were brought in. Using musicians-for-hire was said to have upset Silver Bullet Band guitarist Drew Abbott, causing him to quit the band. Other artists with whom Wachtel has worked include the Motels, Rod Stewart, Spinal Tap, Ron Wood, and Bonnie Raitt.

What is a studio musician? As explained by Richie Unterberger in his essay in All Music Guide to Rock: The Best CDs, Albums & Tapes: Rock, Pop, Soul, R&B and Rap, these are musicians "who are not stars in their own right, but have done much to shape the course of rock music. Even today, when most session musicians are routinely credited on album jackets, they enjoy far less recognition that the performers they back in the studio. ... Session players are credited on most album sleeves these days, it's true, but the level of public recognition remains much lower than artists that work under their own name."

Wachtel is perhaps best known for his enduring association with Keith Richards, with whom he has played guitar, written music, and co-produced recordings during Richards's creative breaks from The Rolling Stones. The duo met in the mid-1970s and worked together on a single track on Tom Waits' Bone Machine. Soon after, Richards decided to go solo.

Richards assembled an eclectic group of musicians in the late 1980s including Wachtel, Ivan Neville, and Steve Jordan. His backing band became known as X-Pensive Winos after they were seen drinking an expensive vintage wine behind some speakers during a studio session. For 1988's Talk is Cheap, Wachtel played guitars and served as the album's production consultant. With Richards, Wachtel and Steve Jordan collaborated on production of the 1992 Main Offender album on which Wachtel also played guitars and piano, sang backing vocals, and assisted with songwriting. "...Waddy was a great breakthrough," Richards said in the 1998 Victor Bokris biography Keith Richards: The Biography. "He's got a better and mathematical brain than Steve [Jordan] or I have."

Wachtel produced the 1997 George Thorogood recordingRockin' My Life Away. Wachtel reportedly had gone to see Thorogood play and subsequently decided he wanted to work with him. "Waddy Wachtel, as you know, has this great body of work from the '70s, '80s and '90s. He's everybody's guy. It came to my attention that he wanted to work with me. I never knew about his work until he worked with Keith Richards," said Thorogood in an online interview. "I said 'Keith with a studio musician? I don't know about that.' But Waddy is a unique case and I went to see the Expensive (sic) Winos live and he supplied the guitar on that tour. I said 'okay, this is kinda funky, this makes it.' I met him and the problem was shutting the two of us up (laughter) to get us to play the music. It was like finding this long lost soul brother that you'd lost around 13 or 14 years of age. His whole childhood was mirrored of mine, completely. The difference between us is that he mastered the guitar. He's another genius."

Wachtel reunited with Ronstadt 1998 to play on her albumWe Ran. He also co-wrote and produced "I Go To Pieces," and wrote and produced "Damage." "[T]he two happiest parts of making this album were reuniting with Bernie [Leadon of The Eagles] and working again with Waddy Wachtel," said Ronstadt. "It was Waddy who first taught me how to phrase rock n' roll. He taught me how to find dynamics in all that howling and swirling of those coliseums we played in." In addition to touring coliseums with Ronstadt, Wachtel supported many musicians on the road whose albums he appeared on including Zevon, James Taylor, and Nicks.

Whether it is punchy riffs, raw energy, or musical embroidery, Wachtel has provided accompaniment and support to rock's elite for more than three decades. "That was why people would hire me," Wachtel told Musician's David Simons in 1999, "because they needed that rock & roll statement." Watchel shows no signs of slowing down. He broadened his resume further in the late 1990s when he was hired as musical director for comic Adam Sandler.

Wachtel appeared on the 2010 Grammy Award-television presentation backing Taylor Swift's live presentation. In Swift's duet with Stevie Nicks of the song "Rhiannon", Wachtel was featured on lead guitar.
View the full website biography of Waddy Wachtel.