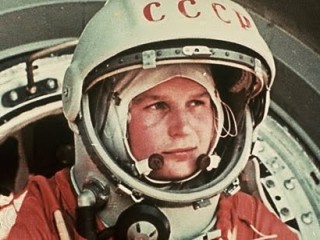 Valentina Tereshkova
Date of birth : 1937-03-06
Date of death : -
Birthplace : Yaroslavl Oblast, USSR
Nationality : Russian
Category : Arhitecture and Engineering
Last modified : 2011-06-11
Valentina Tereshkova is a retired Soviet cosmonaut, and was the first woman in space. She was selected out of more than four hundred applicants, and then out of five finalists, to pilot Vostok 6 on the 16 June, 1963, becoming both the first woman and the first civilian to fly in space, as she was only honorarily inducted into the USSR's Air Force as a condition on joining the Cosmonaut Corps. During her three-day mission, she performed various tests on herself to collect data on the female body's reaction to spaceflight.


Soviet cosmonaut Valentina Tereshkova was launched into space aboard the Vostok 6 on 16 June 1963, becoming the first woman to visit outer space. She spent three days aloft before returning safely to earth. The flight made Tereshkova a national hero and she was awarded the high honor of the Order of Lenin. Her flight was considered a scientific coup for the Soviet Union, which also had the first man (Yuri Gagarin) and the first dog (Laika) in space. Before her flight Tereshkova had been an avid amateur skydiver, which led to her selection for the cosmonaut corps.

Tereshkova married fellow cosmonaut Andrian Nikolayev in 1963; they had one daughter together but later separated.

Tereshkova's life and spaceflight were examined in detail in the 2007 book Into That Silent Sea by Colin Burgess and Francis French, including interviews with Tereshkova and her colleagues.

Tereshkova was invited to President Vladimir Putin's residence in Novo-Ogaryovo for the celebration of her 70th birthday. While there she said that she would like to fly to Mars, even if it meant that it was a one way trip.

On 5 April 2008, she became a torchbearer of the 2008 Summer Olympics torch relay in Saint Petersburg, Russia.

She received the Eduard Rhein Ring of Honor from the German Eduard Rhein Foundation in 2007.

View the full website biography of Valentina Tereshkova.