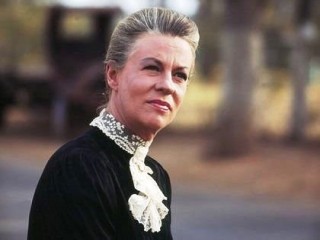 Uta Hagen
Date of birth : 1919-06-12
Date of death : 2004-01-14
Birthplace : Gottingen, Germany
Nationality : German
Category : Famous Figures
Last modified : 2011-09-29
Uta Thyra Hagen was a German-born American actress and drama teacher. She originated the role of Martha in the 1963 Broadway premiere of Who's Afraid of Virginia Woolf? by Edward Albee (who called her "a profoundly truthful actress"). Hagen was on the Hollywood blacklist, in part because of her association with Paul Robeson, and this curtailed film opportunities, focusing her to perform in New York theaters. She won the Tony Award three times. She later became a highly influential acting teacher at New York's Herbert Berghof Studio and authored best-selling acting texts, Respect for Acting, with Haskel Frankel, and A Challenge for the Actor. She was elected to the American Theatre Hall of Fame in 1981.

Hagen was born in 1919 in Gottingen, Germany, into a learned and culture-loving family. Her mother had trained as an opera singer, and her father was an art history professor who named her after a statue in the cathedral in Naumburg. At the age of six, she was taken to see Shaw's classic St. Joan in Berlin, and the experience sparked her desire for a career on the stage. A year later, her family moved to Madison, Wisconsin, when her father began teaching at the state university there. In her late teens, Hagen took a few classes there herself, and also studied acting at the Royal Academy of Dramatic Art in London, but she remained largely untrained as a performer. Her instincts for the art, however, were flawless, and enough so to impress Eva Le Gallienne, an influential actor, director, and teacher of the era. Though Hagen botched her audition, Le Gallienne cast her in a Massachusetts production of Hamlet as Ophelia in 1937.

Hagen won excellent reviews, and joined Le Gallienne's theater company. She moved from there to a stunning list of roles on Broadway over the next two decades, appearing in some of the best-known American dramas of the twentieth century, often in their original productions. She played Blanche DuBois in the national company tour of A Streetcar Named Desire in 1948, and took over from Jessica Tandy on Broadway alongside Marlon Brando. In 1951, she won her first Antoinette Perry "Tony" award for The Country Girl, the Clifford Odets drama.

Married to actor Jose Ferrer in the 1940s, Hagen and her husband knew actor Paul Robeson from a production of Othello. That connection to the out-spoken Robeson, as well as her own political beliefs, landed Hagen on an unofficial Hollywood blacklist of the 1950s involving writers, directors, and actors who were suspected of harboring Communist Party sympathies. The shutout was a good thing in the end, Hagen later reflected, asserting it "kept me pure," Los Angeles Times writer Mike Boehm quoted her as saying. "Commercially, I was hot in the early 1950s. I might have been tempted by Hollywood. I might have gotten lost in all that crap."

Instead Hagen turned her energies to HB Studios in Greenwich Village, founded by her second husband, Herbert Berghof, whom she wed in 1951. They trained more than one generation of actors, and the list includes Lily Tomlin, Robert De Niro, Jack Lemmon, Al Pacino, and Matthew Broderick. Hagen continued to appear on Broadway, too, and originated the role of Martha in Edward Albee's 1962 drama Who's Afraid of Virginia Woolf? . The riveting play, centered on the combative, booze-fueled marriage of a college professor and his shrewish wife, became a classic, if not least for the play's opening line, "Jesus H. Christ," uttered by Hagen. Both she and Arthur Hill, as her husband George, won Tonys for their work. Though she was cast in the London version as well, the screen version featured Elizabeth Taylor opposite her real-life husband, Richard Burton.

Hagen did appear in a few films, including 1990's Reversal of Fortune, in which she played the suspicious maid of comatose Sunny von Bulow (Glenn Close). She took over HB Studios and its Playwrights Foundation after the death of her husband that year, and still appeared in the occasional stage work well into the 1990s.

A longtime resident of Greenwich Village, Hagen lived in an apartment overlooking Washington Square Park, where she died on January 14, 2004, at the age of 84. Her health had declined since suffering a stroke in 2001. She is survived by a daughter, Leticia Ferrer, as well as a granddaughter and great-granddaughter. The two books on acting she authored for students also serve as her legacy. In one of them, she set forth the six fundamental questions actors must ask themselves to prepare for a role, but conceded the necessary inward scrutiny was, in the end, futile.

View the full website biography of Uta Hagen.