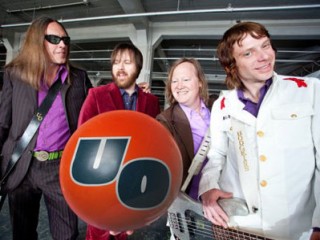 Urge Overkill
Date of birth : -
Date of death : -
Birthplace : Chicago, Illinois, U.S.
Nationality : American
Category : Arts and Entertainment
Last modified : 2012-03-30
Urge Overkill is an alternative rock band consisting of Nash Kato (vocals/guitar), and Eddie "King" Roeser (vocals/guitar/bass guitar). Their cover of Neil Diamond's song "Girl, You'll Be a Woman Soon" appeared prominently in the movie Pulp Fiction, and became a hit in 1994.

Kato and Roeser met at Northwestern University in 1985. They formed Urge Overkill (getting the name from a phrase in the lyrics of the Parliament song "Funkentelechy") in Chicago, with drummer Pat Byrne, and released an EP, Strange, I..., on Ruthless Records. The EP was recorded by Kato's friend, Steve Albini. A full length album, Jesus Urge Superstar, soon followed, again produced by Albini, and with Kriss Bataille taking over the drums. These two releases showcased a noise-rock sound common to other Chicago acts of the period.

Their next effort, Americruiser, saw a drastic change in style. Jack "Jaguar" Watt was the new drummer and their sound from then on has been described as a "Stonesy fusion of arena rock and punk". Produced by Butch Vig, Americruiser was widely praised, and scored a college radio hit with the lead-off track, "Ticket To LA." Watt returned to Baron Lesh and was replaced by Blackie Onassis (real name: John Rowan) on the next album The Supersonic Storybook, released in 1991.

After opening for Nirvana on the American Nevermind tour and Pearl Jam on the Vs. Tour, Urge Overkill returned to the studio to record another EP, Stull, in 1992 which featured the tracks, "Girl, You'll Be a Woman Soon" and "Goodbye to Guyville." Having a strong following by this time, they jumped from their indie label, Touch & Go to major label, Geffen Records. Despite much criticism for the label switch, Urge Overkill's major-label debut, Saturation received strong reviews upon release in 1993. Pop success wasn't forthcoming however, with singles "Sister Havana" and "Positive Bleeding" receiving only limited airplay.

In 1993, the band contributed the track "Take A Walk" to the AIDS-Benefit Album No Alternative produced by the Red Hot Organization. As the band recorded a follow-up album, cult filmmaker Quentin Tarantino used the group's cover version of the Neil Diamond song, "Girl, You'll Be a Woman Soon," in his 1994 movie Pulp Fiction. When the movie became a hit, the song made it to the Top 50 on the Billboard Top 100.

Urge Overkill retained their sound for their next album, Exit the Dragon, released in 1995. The first single "The Break" flopped, and the following tour ended earlier than planned. Onassis was arrested on drug charges toward the end of the year. While the band was recuperating, Kato and Roeser started feuding, resulting in Roeser leaving the band. Roeser went on to perform with Jim Kimball (formerly of The Jesus Lizard) as L.I.M.E. and with his brother John in the band Electric Airlines. Now a duo consisting of Kato and Onassis, Urge Overkill moved to 550 Music in early 1997. An attempt was made to fill Roeser's role in the band with guitarist Nils St. Cyr, but this led nowhere, and the band split after being dropped by the label.

After a break of several years, Kato and Roeser reformed Urge Overkill without Onassis, recruiting former Gaza Strippers guitarist Mike "Hadji" Hodgkiss, to play bass, keyboardist Chris Frantisak, and drummer Nate Arling, who was later replaced by Brian "Bonn" Quast from Cherry Valence. In 2004 the reformed Urge Overkill performed shows at The Troubador, (Los Angeles), Double Door, (Chicago), First Avenue Nightclub, (Minneapolis) and Bowery Ballroom, (New York) and continued to tour through Europe, North America, and Australia.

On September 19, 2010 on the free form radio program Anything Anything with Rich Russo on WRXP-FM in New York, the first new Urge Overkill song in 15 years was played. The song was called "Effigy". Russo also announced an Urge Overkill show on October 4, 2010 at Mercury Lounge in New York. Live shows began happening, including being the musical guest at a "Roast of Quentin Taritino" on December 1st, 2010. As of February 2011, the band was preparing the release of a new album titled Rock & Roll Submarine, their first new material in sixteen years. A subsequent 2011 tour followed the release of the album. On October 8th, 2011, Urge Overkill opened for Weezer at the 'Red Bull Riot Fest' at the historic Congress Theater in Chicago, IL.
View the full website biography of Urge Overkill.