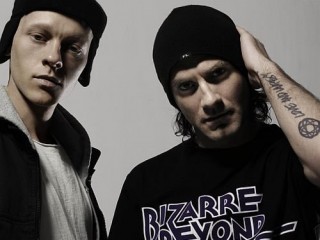 Unkle
Date of birth : -
Date of death : -
Birthplace : London, England
Nationality : English
Category : Arts and Entertainment
Last modified : 2012-03-30
Unkle (also written as U.N.K.L.E.) are a British musical outfit founded in 1994 by school friends James Lavelle and Tim Goldsworthy. Originally categorized as trip-hop, the group once included producer DJ Shadow and have employed a variety of guest artists and producers.

In 1995, while working on their debut album, Lavelle and Goldsworthy disagreed over the direction the music was taking. Goldsworthy wanted to continue with the Mo' Wax house style of earlier tracks, while Lavelle wanted to bring in singers, hip hop and rock artists. Goldsworthy left the group and went on to work with Belfast DJ and producer David Holmes and also co-founded The DFA with James Murphy.

From these early sessions, Berry Meditation and several tracks with Money Mark and Beastie Boys producer Mario Caldato Jr. were subsequently released as singles, and several without Lavelle surfaced on the album Major Force West in 1997. In early 1998 three exclusive Japanese EPs were released, Last Orgy 3, marking the last of the early Unkle material to surface.

Lavelle drafted in DJ Shadow to work on the debut album, and essentially discarded all previously recorded material. Lavelle and Shadow released Psyence Fiction in 1998 to critical acclaim. The album included collaborations with an all-star lineup including Thom Yorke (Radiohead), Mike D (Beastie Boys), Kool G. Rap, Jason Newsted (Metallica), Badly Drawn Boy and Richard Ashcroft (The Verve).The album was mixed by Shadow's long-time collaborator, producer Jim Abbiss.

Shadow left the group after touring Psyence Fiction and was replaced by turntablist group the Scratch Perverts, who deconstructed the album and performed it live on turntables in 1999. Also in 1999, former producer Richard File remixed the track "Unreal", adding vocals by Ian Brown, and the resulting track was released as the single "Be There".

In 2001, Lavelle and File resurfaced as Unklesounds, with a DJ mix created for Japanese radio entitled Do Androids Dream of Electric Beats? This highlighted a new, more electronic direction the group had taken, and featured a number of tracks from Psyence Fiction, remixed in an ambient style.

Richard File co-produced, played and sang on the second album, Never, Never, Land, released in 2003. The album again featured a number of high-profile contributors, including Ian Brown, Josh Homme (Queens of the Stone Age), Robert Del Naja (Massive Attack) and Mani (The Stone Roses, Primal Scream) among others.

In September 2006, Global Underground released Self Defence: Never, Never, Land Reconstructed and Bonus Beats, a CD box set of remixes and bonus tracks from the Never, Never, Land sessions, including tracks previously only available on the original DVD release of the album. It also contained remixes of a track mooted for their next album, featuring Ian Astbury of The Cult, titled "Burn My Shadow".

War Stories, the third album from Unkle, was released in summer 2007. The album again featured a number of guests including Josh Homme, Gavin Clark, Robert Del Naja, Ian Astbury, The Duke Spirit, Autolux and Neil Davidge. Following the release of the single "Hold My Hand", Pablo Clements (of The Psychonauts) became an Unkle member.

In January 2008 Unkle released More Stories, containing a mix of B-sides, remixes, unreleased War Stories session tracks, and music composed for the film Odyssey In Rome. The same month, Richard File announced he was leaving Unkle after 10 years' collaboration to pursue work with his new band, We Fell to Earth. In March the Lazarides Gallery in London showcased War Paint, an exhibition of artworks inspired by the recent Unkle album War Stories, with works from Robert Del Naja, Warren du Preez, Nick Thornton Jones, Will Bankhead and Ben Drury. Unkle began touring the UK with Zoot Woman and Sebastian and Mr. Flash from the french electro record Ed Banger Records. The concert, set across four acts, featured live performances from past Unkle contributors including Badly Drawn Boy, Liela Moss from The Duke Spirit, Gavin Clark and Joel Cadbury from South.

Unkle's fourth full album titled End Titles... Stories for Film was released in July 2008. It includes collaborations from Chris Goss, Black Mountain, Philip Sheppard, Dave Bateman, Joel Cadbury, and James Griffith (Lake Trout). The album is described in the sleeve notes by Lavelle as "not a new album in the usual sense, but new music that has been inspired by the moving image." As such, it can be considered a companion piece both to War Stories but also to the earlier Unklesounds mix, Edit Music for a Film.

It was announced on 18 April 2011 that Unkle would headline the Dance Stage at the Reading and Leeds Festivals. They will be performing a world-exclusive audio-visual DJ set at the festivals, playing songs from their back catalogue alongside remixes of other artists' songs as well as Unkle's own material. They will be performing under the name UNKLE Sounds.
View the full website biography of Unkle.