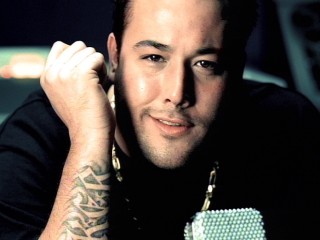 Uncle Kracker
Date of birth : 1974-06-06
Date of death : -
Birthplace : Mount Clemens, Michigan, U.S.
Nationality : American
Category : Arts and Entertainment
Last modified : 2012-03-01
Matthew Shafer is an American rock musician known as Uncle Kracker. His singles include "Follow Me", "Smile", and "Drift Away". His music was more rap rock-based at the start of his career before turning in a more rock and Top 40 style music direction on later releases.

Without apparently intending to do so, Uncle Kracker has made a habit out of breaking stereotypes. He served as deejay in Kid Rock's Twisted Brown Trucker band, an unlikely place for a mellow, low-key family man. Kid Rock helped him break out into his own solo music career, out of which he charted a new course with a country and Motown-influenced pop-style debut album that earned double-platinum sales.

Uncle Kracker was born Matthew Shafer in Mount Clemens, Michigan, on the outskirts of Detroit. His father, Sunny, owned a local Amoco gas station in which Shafer worked off and on until he was 21 years old. As he was growing up, his father listened to country and Motown music, and although Shafer hated it at the time, their influence showed up later in his own music.

In 1987, when Shafer was in the sixth grade, he went with his brother Mike to an all-ages deejay contest at a club called Dayton's. Mike was scheduled to compete against a kid named Robert Ritchie, who later became known as Kid Rock. Not long after Shafer and Ritchie met that day, they became best friends.

When Shafer was ten years old, he purchased his first rap album, the Fat Boys' self-titled debut, and immediately became a fan of the genre. When he was 13, Ritchie dubbed him "Kracker." "Somebody wanted to call Kid Rock 'Kracker,'" Uncle Kracker told Gavin Edwards in Rolling Stone. "He knew what it meant, but I didn't, so that's when it started." He added the "Uncle" after he began recording his debut album when the band Cracker objected to his use of the name.

Kid Rock gave Uncle Kracker more than just his name; he gave him much of his musical education. He taught him how to deejay, how to rap, and how to perform. "He was older than me, so I looked up to him and still do," Uncle Kracker told Charlie Craine at Hip Online. Although Kid Rock taught him many things, Uncle Kracker already had a talent for songwriting, and the two friends would spend time in Kid Rock's basement writing songs nearly every day.

When Kid Rock went on tour after the 1991 release of Grits Sandwiches for Breakfast, he invited Uncle Kracker to join his band as the deejay. He also cowrote and performed on Kid Rock's 1998 hit album Devil Without a Cause. That same year, Uncle Kracker married his high school girlfriend, Melanie Haas, in Las Vegas, Nevada.

With the success of Devil Without a Cause, Uncle Kracker was able to sign a recording contract with Lava/Atlantic Records. His partnership with Kid Rock did not end with the solo deal, as the friends wrote many of the songs together and Kid Rock produced the album. "I've always wanted to do my own thing," Uncle Kracker said in an MTV interview, "and being with Kid Rock, that is a great outlet for me. Y'know, two heads are better than one. We write together; we play together. But we've always had a plan to branch out and keep it all in the family."

Uncle Kracker did just that with his debut Double Wide, released in June of 2000. He, Kid Rock, and Twisted Brown Tucker recorded the album in the back of the bus while on Kid Rock's tour. "In the beginning, I expected it to be more of a Kid Rock record," Uncle Kracker told Brian McCollum in the Detroit Free Press. "But at the end of the day, I can't see myself bouncing off the walls like him. This is more like James Taylor meets EPMD. It's more of a pop record than anything else."

"Yeah, Yeah, Yeah" was the first single from Double Wide, and it appeared in the Jackie Chan film Shanghai Noon. But despite the exposure, the album sales didn't reach the expectations of Uncle Kracker or the record label. He was not about to give up, however, on all the hard work he'd put into the album, so Uncle Kracker asked a deejay in Detroit to listen to the song "Follow Me." Thinking it might be a hit, the deejay started playing it on the air. The song became the album's next single and sent Double Wide soaring into double-platinum sales.

Uncle Kracker spent the next couple of years alternating between Kid Rock's tour and his own. In late 2001 he returned to the recording studio to start work on his follow-up to Double Wide. He enlisted producer Mike Bradford, who had engineered his debut, to work with him in the studio. They wrote and recorded the album in the loft upstairs from Uncle Kracker's attorneys' offices in Mount Clemens, Michigan.

This time Kid Rock did not contribute to the recording process. "He was so busy with all his other stuff, and I needed to get it done," Uncle Kracker told Colin Devenish in Rolling Stone. "I love collaborating with him. He's my best friend, and we work so well together--but at the same time, I needed to finish it."

In September of 2002 No Stranger to Shame was released on Lava/Atlantic Records. It included the single "In a Little While," as well as a cover of Dobie Gray's "Drift Away," with vocals from Gray himself. Another guest appearance was from Sugar Ray singer Mark McGrath on the title track. Chuck Campbell wrote in his KnoxNews online review, "No Stranger to Shame is an earthy character study on our vagabond protagonist, an ostensibly humble Everyman who exudes charisma."

A song entitled "Letter to My Daughters" appears on the album as an apology to Uncle Kracker's two daughters for the many absences from home forced upon him by his job. "It sucks," he explained in a Hip Online interview, "but I've missed the majority of their lives.... It's going to be nice when they hear it in a couple of years and know how much I was thinking about them, even though I wasn't there a whole lot." Uncle Kracker followed the release of No Stranger to Shame with a tour opening for Aerosmith.
Although Uncle Kracker did not foresee his musical career lasting a lifetime (in 10 years, he expected to be fishing and looking after his kids), he did have long-lasting hopes for his music. "I like songs that are built to last," he continued in his Hip Online interview. "Instead of writing songs for today, I'm trying to write songs for tomorrow. I want it to sound like it could be from 20 years ago or 20 years from now."

Uncle Kracker's fourth studio album is entitled Happy Hour. The album has been in the works for five years and has since been delayed over because of Atlantic Records' decision to bring in Rob Cavallo to produce the album right as they were finishing their cut of the album in late 2007. The album was released on September 15, 2009.

Uncle Kracker's new six song EP, Happy Hour: The South River Road Sessions, was released on June 22, 2010. The EP features country remakes of songs off the Happy Hour album. Two songs released are a remake of "Smile" and Uncle Kracker's next single, "Good to Be Me," featuring Kid Rock.
View the full website biography of Uncle Kracker.