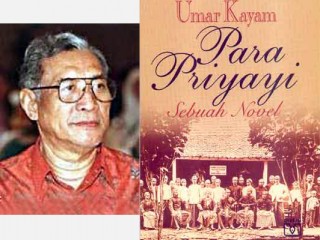 Umar Kayam
Date of birth : 1932-04-30
Date of death : 2002-03-16
Birthplace : Ngawi, East Java
Nationality : Indonesian
Category : Famous Figures
Last modified : 2011-01-12
Umar Kayam was an Indonesian sociologist and writer born in Ngawi, East Java.

Umar Kayam obtained M.A. at the University of New York (1963), and Ph.D. two years later from Cornell University, USA. Professor in the Faculty of Letters, Gadjah Mada University until his retirement in 1997, it is a member of trustees / advisory literary magazine Horison before stepping on 1 September 1993. In 1987, he won the SEA Write Award. His writing Seribu Kunang-kunang di Manhattan (1972), Totok dan Toni (1975), Sri Sumarah dan Bawuk (1975), Seni, Tradisi, Masyarakat (1981), Semangat Indonesia: Suatu Perjalanan Bangsa (1985), Para Priyayi (1992; mendapat Hadiah Yayasan Buku Utama Departemen P dan K 1995), Mangan Ora Mangan Kumpul (1990), Sugih Tanpa Banda (1994), Jalan Menikung (1999). Short stories, novels, short stories translated and published in the Harry Aveling Sri Sumarah and Other Stories (1976) dan Armageddon (1976).

He was also the author of many short stories and novels, of which one collection is available in English: Sri Sumarah and Other Stories; translated from the Indonesian by Harry Aveling. Heinemann Educational Books (Asia), (1980). In 1987 he won the S.E.A. Write Award.



View the full website biography of Umar Kayam.