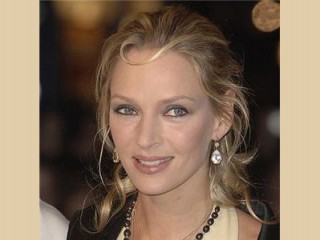 Uma Thurman
Date of birth : 1970-04-29
Date of death : -
Birthplace : Boston, Massachusetts, U.S.
Nationality : American
Category : Arts and Entertainment
Last modified : 2010-06-03
Uma Thurman was born in Boston, Massachusetts in 1970 into a highly unorthodox and Eurocentric family – her mother is a European socialite and former model, her father one of the nation's foremost Buddhist scholars. As a result, hers was a household in which the Dalai Lama was an occasional guest, she and her siblings all have names deriving from Buddhist mythology, and Middle American behavior was little understood, much less pursued.

And so it was that the young Thurman confronted childhood with an odd name and eccentric homelife – and nature seemingly conspired against her as well. Currently six feet tall, from an early age she towered over everyone else in class. Her famously large feet would soon sprout to size 11 – and even beyond that – and although they would eventually be lovingly filmed by director Quentin Tarantino, as a child she generally wore the biggest shoes in class, which only provided another subject of ridicule. Even her long nose moved one of her mother's friends to helpfully suggest rhinoplasty – to the ten-year-old Thurman. To make matters worse yet, the family constantly relocated, making the gangly, socially inept Thurman perpetually the new kid in class. The result was an exceptionally awkward, self-conscious, lonely and alienated childhood.

Unsurprisingly, the young Thurman enjoyed making believe she was someone other than herself, and so thrived at acting in school plays – her sole successful extracurricular activity. This interest, and her lanky frame, perfect for modeling, led the 15-year-old Thurman to New York City for high school and modeling work (including a layout in Glamour Magazine) as she sought acting roles. The roles soon came, starting with a few formulaic and forgettable Hollywood products, but immediately followed by Terry Gilliam's The Adventures of Baron Munchausen (1988) and Stephen Frears' Dangerous Liaisons (1988), both of which brought much attention to her unorthodox sensuality and performances that intriguingly combined innocence and worldliness. The weird, gangly girl became a sex symbol virtually overnight.

Thurman continued to be offered good roles in Hollywood pictures into the early 90s, the least commercially successful but probably best-known of which was her smoldering, astonishingly-adult performance as June, Henry Miller's wife, in Henry & June (1990), the first movie to actually receive the dreaded NC-17 rating in the USA.
After a celebrated start, Thurman's career stalled in the early 90s with movies such as the mediocre Mad Dog and Glory (1993). Worse, her first starring role was in Even Cowgirls Get the Blues (1993), which had endured a tortured journey from cult-favorite book to big-budget movie, and was a critical and financial debacle. Fortunately, Uma bounced back with a brilliant performance as Mia Wallace, that most unorthodox of all gangster's molls, in Tarantino's lauded, hugely successful Pulp Fiction (1994), a role for which Thurman received an Academy Award nomination.

Since then, Thurman has had periods of flirting with roles in arty independents such as A Month by the Lake (1995), supporting roles in which she has lent some glamorous presence to a mixed batch of movies such as Batman & Robin (1997), and the occasional starring role now and then, such as her role as a martial arts assassin in Tarantino's controversial Kill Bill: Vol. 1 (2003) and Kill Bill: Vol. 2 (2004), a grueling stretch for Thurman which proved her game for virtually any acting challenge.

Thurman had been briefly married to Gary Oldman, from 1990 to 1992. In 1998, she married Ethan Hawke, her co-star in the offbeat futuristic thriller Gattaca (1997). The couple had two children, Roan and Maya. Hawke and Thurman filed for divorce in 2004.

By 2005, Thurman was commanding a salary of $12.5 million per film. Her first film of the year was Be Cool, the sequel to 1995's Get Shorty, which reunited her with her Pulp Fiction castmate John Travolta. In the film, she played the widow of a deceased music business executive. The film received poor reviews, and came in below expectations at the box office. In 2005, she starred in Prime with Meryl Streep, playing a woman in her late thirties romancing a man in his early twenties. Thurman's last film of the year was a remake of The Producers in which she played Ulla, a Swedish stage actress hoping to win a part in a new Broadway musical. Originally, the producers of the film planned to have another singer dub in Thurman's musical numbers, but she was eager to do her own vocals. She is credited for her songs in the credits. The film was considered a bomb at the box office, but many praised Thurman's efforts, including A. O. Scott of the New York Times who said: "Uma Thurman as a would-be actress is the one bit of genuine radiance in this aggressively and pointlessly shiny, noisy spectacle."

With a successful film career, Thurman once again became a desired model. Cosmetics company Lancôme selected her as their spokeswoman, and named several shades of lipstick after her, though they were sold only in Asia. In 2005, she became a spokeswoman for the French fashion house Louis Vuitton.

On February 7, 2006, Thurman was named a knight of the Ordre des Arts et des Lettres of France for outstanding achievement in the field of art and literature.

In May 2006, Thurman bought the film rights to the Frank Schätzing novel The Swarm, which is in development and due for release in 2011. When the film remake The Women was in pre-production in 2006, Thurman was cast as Crystal Allen, alongside Annette Bening, Julia Roberts, Meg Ryan, Sandra Bullock, Ashley Judd, Lisa Kudrow and Anne Hathaway, being directed by James L. Brooks, but the director was changed and Thurman was no longer part of the cast.

In July 2006, Thurman starred opposite Luke Wilson in My Super Ex-Girlfriend. Thurman portrayed a super-heroine named "G-Girl" who is dumped by her boyfriend and then takes her revenge upon him. Thurman received a reported $14 million for the role, but the film flopped. Once again Thurman was well-received, yet the film was not.

In February 2008, she starred opposite Colin Firth and Jeffrey Dean Morgan in The Accidental Husband, a romantic comedy about a woman who finds herself married while engaged to another man. It seems like archetypal Hollywood contrivance, but according to Thurman, a similar situation happened in New York.

Thurman starred as "Elsa" in the British telefilm My Zinc Bed, in which she plays a cocaine addict, starring opposite Paddy Considine and Jonathan Pryce.

In 2010, Thurman's movie Motherhood, set a record for the biggest bomb in British cinema history garnering just £88 on 11 tickets on opening weekend. In the United States Motherhood didn't fare much better earning just $93,388 in three weeks of release.

She will star in the film version of the 1950s books Eloise In Paris, playing the role of Nanny, this film is to be directed by Charles Shyer.

Thurman also agreed to star in the new Muppets movie, playing a ticket clerk.

Bollywood director Vishal Bharadwaj has announced his interest in Thurman to star in his latest film venture opposite Hrithik Roshan, in a biographical film of the life of actress Nadira. The film is still in its pre-production stage. Uma Thurman has shown interest in playing either Marlene Dietrich or Greta Garbo.
View the full website biography of Uma Thurman.