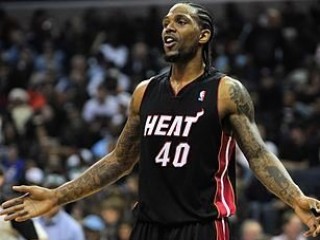 Udonis Haslem
Date of birth : 1980-06-09
Date of death : -
Birthplace : Miami, Florida
Nationality : American
Category : Sports
Last modified : 2011-03-29
Udonis Haslem is an American professional basketball player who plays power forward for the Miami Heat of the NBA. He is listed as 6 ft 8 in and 235 lb.

He was signed by the Miami Heat as an undrafted rookie in 2003. As a rookie, he backed up Brian Grant and provided rebounding and defense. He was named to the NBA All-Rookie Second Team, and played in the rookie challenge during All-Star weekend. He assumed the starting power forward position in 2004 after teammate Lamar Odom was traded as part of a package that was shipped to the Los Angeles Lakers in a deal that brought superstar center Shaquille O'Neal back to Florida. He was helpful yet again, being a tough rebounder and developing an effective 15 foot jump-shot. He has been called a perfect complement to O'Neal's style of play, and was critical in the Heat's playoff run to the Eastern Conference Finals against the Detroit Pistons. Following the season his two-year contract was renewed after upping his rookie averages of 7.3 points and 6.3 rebounds to 10.9 and 9.1 in his second season. In 2005–2006, he again was the starting power forward. Despite increased pressure from O'Neal battling injuries and the acquisition of three-time All-Star Antoine Walker, Haslem retained the starting spot.

Haslem won an NBA championship with the Heat in 2006, scoring 17 points in the title-clinching game 6 against the Dallas Mavericks.

On April 22, 2006, in a first-round playoff game against the Chicago Bulls, Haslem was ejected for throwing his mouthpiece at referee Joe Crawford. Haslem had been upset that a foul was not called on a play on the Bulls' end of the court. After the game, he claimed that he had not deliberately aimed at Crawford, and that the mouthpiece's trajectory was an accident. He apologized to fans and to his teammates, and stated that he would also apologize to Crawford when the opportunity arose. The NBA reviewed the incident, and they suspended Haslem for game 2 of the series against the Bulls on April 24, 2006.

On November 10, 2006, Haslem scored a career-high 28 points on 10-for-14 shooting and grabbed nine rebounds in a 113–106 win over the Nets.

When Shaquille O'Neal was traded and Alonzo Mourning went down with an injury, Haslem played the center position during the 2007–08 season.

On July 12, 2010, Haslem re-signed with the Heat.

2009-10 :
Came off the bench in each of the 78 games in which he appeared for the HEAT and averaged 9.9 points (.494 FG%, .762 FT%), a team-leading 8.1 rebounds, 0.7 assists and 27.9 minutes…was a team co-captain along with Dwyane Wade…sat out a pair of games (Nov. 18-20) with a left shoulder strain and one game (Mar. 22 at New Jersey) with a sprained right ankle…also sat out one game (Apr. 14 vs. New Jersey) as a healthy scratch on the inactive list…led the NBA in double-doubles off the bench (21)…ranked among the NBA leaders in rebounds per game (22nd), defensive rebounds (25th), total rebounds (27th), field goal percentage (32nd), double-doubles (tied 36th) and offensive rebounds (38th-167)…led the HEAT in offensive rebounds, defensive rebounds, total rebounds, rebound average and double-doubles…became just the second player to lead the HEAT in total rebounds in five consecutive seasons joining Rony Seikaly…became the first player to lead the HEAT in offensive, defensive and total rebounds in four consecutive seasons…is the only player to lead Miami in offensive rebounds in four straight years…ranked second on the team in field goal percentage and charges drawn and tied for second in games played…topped the HEAT in scoring once, in rebounds a team-high 33 times in blocks eight times and in minutes and steals three times each…was Miami's leading scorer off the bench a team-high 41 times and also topped the HEAT's non-starters in rebounds 63 times and in minutes 52 times…scored in double figures on 41 occasions, including three 20-point performances…grabbed double-figure rebounds a team-high 26 times…the 26 games in which he grabbed double-figure rebounds off the bench were the most in the NBA since Tyson Chandler grabbed double-figure rebounds 33 times off the bench during the 2004-05 season…additionally his 629 rebounds off the bench were the most in a season off the bench since Chandler grabbed 693 in 2004-05…grabbed double-figure rebounds in a career-high six consecutive games from Mar. 31-Apr. 11…his string of 12 consecutive field goal attempts made from Mar. 28-31 was the high on the HEAT in 2009-10…matched his career high in points with 28 vs. New Jersey on Nov. 14 while setting a career high in field goals made (12)…grabbed 18 rebounds (matching his career high), including a career-high 16 defensive rebounds at Milwaukee on Mar. 26…scored his 5,000th career point vs. the L.A. Clippers on Mar. 10…grabbed his 4,000th career rebound at Charlotte on Mar. 9…played in his 500th career game vs. Atlanta on Mar. 6 becoming just the 29th undrafted player since the NBA-ABA merger to appear in 500 games…hit a game-winning 14-foot jumper with 1.6 seconds left at Philadelphia on Apr. 12 to give the HEAT a two-point win…hit a game-winning 15-foot jumper with 15.4 seconds left to give the HEAT a one-point win over New Orleans on Nov. 22…Season Highs: 28 points (vs. New Jersey, Nov. 14), 18 rebounds (at Milwaukee, Mar. 26), five assists (at Houston, Jan. 15), three steals (at New York, Apr. 11), two blocks (twice) and 39:32 minutes.


View the full website biography of Udonis Haslem.