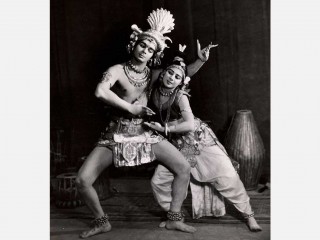 Uday Shankar
Date of birth : 1900-12-08
Date of death : 1977-09-26
Birthplace : Rajasthan, India
Nationality : Indian
Category : Famous Figures
Last modified : 2010-11-09
Uday Shankar was an internationally acclaimed Indian classical dancer. Born on 8 December in the year 1900 at the historic Udaipur city of Rajasthan to Bengali parents, Uday Shankar was the brother of the renowned musician Ravi Shankar. He later on attended the Royal College of Art in London and danced alongside ballerina Anna Pavlova.

Uday Shankar was also a choreographer and he made ballets themed on the life history of Radha-Krishna, Hindu marriages and so on for Anna. Shankar later toured the entire West along with his troupe in the 1930s. His fluxing of western dancing techniques with Indian ones made his art hugely popular among both Indian and the western audiences. So while he popularized Indian dance in the west, his brother Ravi did the same to Indian instrumental music.

An important point in the life history of Uday Shankar was when he married Amala Shankar. Together, the duo gave birth to son Ananda Shankar and daughter Mamata Shankar. While Ananda Shankar chose to become a musician after training with Dr Lalmani Misra, Mamata became a noted classical dancer and actress, who got opportunity to work in movies made by Satyajit Ray and Mrinal Sen. Uday Shankar too made a movie themed on dance called Kalpana.

Later Uday Shankar set up a dance center at Almora at the foothills of the Himalayas and invited here Shankaran Nambudirei for Kathakali, Kandappa Pillai for Bharatanatyam, Amobi Singh for Manipuri and Ustad Allauddin Khan for music. In order to recognize his contribution to the field of art and culture, the Government of India awarded Uday with the coveted Padma Vibhushan. He was also presented the Desikottama by the prestigious Visvabharati University

Uday Shankar's dancing style was not bound by any particular style as he freely amalgated the nuances of various Indian folk dances and other classical forms like Manipuri, Kathakali and so on to come up with his own unique style. What he had really imbibed from the west was presentation, duration and discipline. The mixing, however, up was so refined that it was often difficult to distinguish one style from another.

View the full website biography of Uday Shankar.