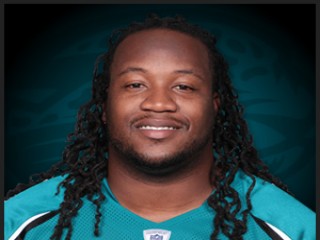 Uche Nwaneri
Date of birth : 1984-03-20
Date of death : -
Birthplace : Dallas, Texas
Nationality : American
Category : Sports
Last modified : 2010-11-01
Uchechukwu Eberechukwu "Uche" Nwaneri is an American football player who plays for the Jacksonville Jaguars. Uche was born in Dallas, Texas on March 20, 1984. He played Guard for Purdue University after graduating from Naaman Forest High School. He was drafted by the Jacksonville Jaguars with the 149th Overall pick in the 5th round of the 2007 NFL Draft.

Fourth-year OL who can play both guard and center … Has started 29 of 41 games (16 at LG, 13 at RG) since joining the club as a fifth-round pick in 2007 … Moved into the starting lineup in 2008 and made 15 starts at LG and started 13 games at RG in 2009 … Played in nine games with one start as a rookie … Regarded as one of the sleepers of the 2007 draft … Joined LB Akin Ayodele (2002) as only two players drafted from Purdue by the Jaguars …

2009
Played in all 16 games for the second consecutive season with 13 starts at RG … Saw limited action on 9/13 at IND and 9/20 vs. ARI … 9/27 at HOU: Saw extensive action at RG after Maurice Williams moved to RT to replaced injured Eben Britton … 10/4 vs. TEN: Made first start of the season at RG and helped team to 442 yards of offense including 323 passing yards by David Garrard, the third-most of his career … 10/18 vs. STL: Started at RG and helped offense to season-high 492 yards, the fourth-most in team history … 11/1 at TEN: Paved the way for season-high 217 rushing yards on 16 carries (13.6 avg.), the highest average per rush in the NFL since the 1970 merger … 11/8 vs. KC: Offense produced 426 total yards including 173 on the ground …

2008
Started career-high 15 of 16 games and did not miss a snap in the last 14 games … Moved into starting role at LG after season-ending injury to Vince Manuwai on opening day … 9/7 at TEN: Replaced RG Maurice Williams who left the game after the first series with a biceps injury. Moved to LG when Manuwai was injured. Injured knee in the first quarter but returned to finish the game at LG … 9/21 at IND: Started at LG and played the entire game. Helped the Jaguars rush for season-high 236 yards and part of an offensive line that did not allow a sack …

2007
Appeared in nine games with one start … Saw extensive action on special teams … Was inactive for both postseason games … Saw action on special teams in first four games … Was inactive for seven games … 12/30 at HOU: Made first career start at LG in place of rested starter Vince Manuwai in regular season finale.

COLLEGE

Played in 29 games at Purdue at LG … Offense ranked among nation's best in total offense during career … Started all 14 games at LG as a senior and helped team rank 13th in the nation in total offense, averaging 415.7 yards per game … Suspended for the entire 2005 season and enrolled at Ivy Tech Community College in Indianapolis before re-enrolling at Purdue … Started all 12 games at LG in 2004 and produced 44 knockdowns as part of an offensive line that helped the team rank fourth in the nation in passing offense at 321.2 yards per game … Appeared in three games as a redshirt freshman … Started career at DT before making the switch to the offensive line … Majored in law and society.

PERSONAL

Single … Resides in Garland, Texas. … Was born in Dallas … Parents are of Nigerian descent … Attended Naaman Forest (Garland, Texas) High … Rated the 48th-best DT in the nation by Student Sports Magazine as a senior … Recorded 57 tackles, three sacks and two fumble recoveries as a senior … Played in the Coca-Cola Classic All-Star Game … Also participated in track … Cousin, Ike Diogu, plays for the Sacramento Kings of the NBA … Held monthly event, "Gaming 4 The Cause," at Sneakers Sports Grille during the 2009 season at Jacksonville Beach to benefit the daniel home … Joined teammate Scott Starks to feed the homeless in 2008 at Clara White Mission ... Participated in fundraiser as a celebrity bowler for Big Brothers & Big Sisters of Northeast Florida ... Made several school visits in 2008 including trips to West Nassau High School, Julington Creek Elementary, Pinedale Elementary and spoke to group of students at Mandarin Middle School in 2009 … Supported Shop with a Jock event at Wal-Mart in December of 2008 for more than 50 children from the Bridge of Northeast Florida and the MaliVai Washington Kids Foundation … Visited Mandarin Middle School in 2009 to reward students for their work in the Super Bowl of Caring Program ... Teamed up with Activision Publishing and Pro vs. GI Joe in an online video game showdown in December of 2009 with military troops stationed across the world from the Touchdown Club at Jacksonville Municipal Stadium … Full name: Uchechukwu Nwaneri .
View the full website biography of Uche Nwaneri.