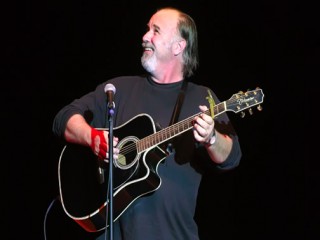 Tim Wilson (comedian)
Date of birth : 1961-08-05
Date of death : -
Birthplace : Atlanta, Georgia, U.S.
Nationality : American
Category : Arts and Entertainment
Last modified : 2011-04-29

Tim Wilson is an American stand-up comedian and country music artist. His act combines stand-up comedy and original songs. He has released more than a dozen comedy albums, including several for Capitol Records Nashville, and has made frequent appearances on the John Boy and Billy, Big D and Bubba and Bob and Tom Show.

Georgia-born country comedian Tim Wilson was a born funnyman, delivering dead-on impressions of his teachers while still in elementary school; he later MC'ed his high school's talent shows, but after taking up guitar as a teen he instead aspired to a career in music. While in college he accepted a job as a sportswriter, later convincing his editors to allow him to review local concerts as well; at an Atlanta Rhythm Section date, Wilson passed along his demo tape to the group's drummer, Roy Yeager, who agreed to produce a session at his Georgia studio. The resulting demo went nowhere, however, and so Wilson instead turned to comedy; immediately he earned a devoted local following, and soon after won a Cinemax standup competition.

A series of television spots followed, including an appearance on The Tonight Show with Jay Leno; in 1990, he also teamed with the duo of Pinkard & Bowden to write the song "Arab, Alabama," and its success convinced him to include music in his standup act. In addition to a series of LPs for the independent Southern Tracks label, including Tough Crowd, Waking Up the Neighborhood, Low-Class Love Affair, and Tuned Up, Wilson scored a hit single with his "Garth Brooks Ruined My Life," also co-writing Jeff Foxworthy's smash "The Redneck Twelve Days of Christmas." Upon signing to Capitol, he released his major-label debut, It's a Sorry World, in early 1999; Gettin' My Mind Right followed later that same year. In 2000 he issued Hillbilly Homeboy, which was helped by the success of its first single, "The Ballad of John Rocker," and waited three years to follow it up with his first funk concept album, Super Bad Sounds of the '70s. Three more traditional albums -- Church League Softball Fistfight (2005), But I Could Be Wrong (2007), and Mr. Wilson Explains America (2009) -- followed.
View the full website biography of Tim Wilson (comedian).