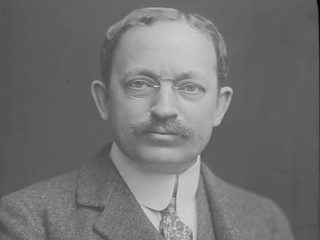 Thomas Hastings
Date of birth : 1860-03-11
Date of death : 1929-10-22
Birthplace : New York City, U.S.
Nationality : American
Category : Arhitecture and Engineering
Last modified : 2012-01-20
Thomas Hastings (March 11, 1860 – October 22, 1929) was an American architect.

He was born in New York City to Thomas Samuel Hastings, a Presbyterian minister, and Fanny de Groot. Hastings came from a colonial Yankee background, his ancestor Thomas Hastings (colonist) having come from the East Anglia region of England to the Massachusetts Bay Colony in 1634. Hastings's father was president of the Union Theological Seminary. His grandfather, also named Thomas Hastings, was the composer of the hymn Rock of Ages. He married Helen Benedict of Greenwich, Connecticut.Lawrence White, the young son of fellow New York architect Stanford White, served as page at the wedding.

Hastings abandoned his college preparation courses to work with the chief designer at Herter Brothers, the premier New York furnishers and decorators. He later traveled to Paris to study in the atelier of Louis-Jules André, returned to the U.S. to found the firm of Carrère and Hastings with John Merven Carrère. Their first major commissions came from a parishioner of Hastings' father, Florida developer Henry Flagler. The partners undertook two hotels for Flagler, the Ponce de Leon Hotel (1885–1888) in St. Augustine, Florida (now part of Flagler College) and the Hotel Alcazar (now the Lightner Museum), followed by a succession of St. Augustine hotels and churches.

The firm's most famous project was the New York Public Library building. His second most accomplished work was a house known as "the Knole". It was built in 1903 and was purchased as a gift by the steel magnet Henry Phipps. After Carrère's death in 1911, Hastings went on to design the Arlington Cemetery Tomb of the Unknowns and Henry Clay Frick's Louis XVI mansion on Fifth Avenue, now the Frick Collection, as well as residences for such distinguished names as Guggenheim, duPont, Harriman, even a 'poultry cottage' for William K. Vanderbilt. He also designed the Fort Washington Presbyterian Church (1913).

After World War I, Hastings designed the American Monument in Paris that memorializes the defeat of Germany at the Second Battle of the Marne.

Hastings outlived the Beaux-Arts world. Though he dressed up the Manhattan Bridge in a Beaux-Arts skin and helped clad conservative office buildings in Roman masonry, he denounced skyscrapers as "bad in style, definitely bad for city traffic and the health of the citizenry". He felt a zoning law should have been passed to limit their height to a maximum of eight stories as has been done successfully in Paris.
View the full website biography of Thomas Hastings.