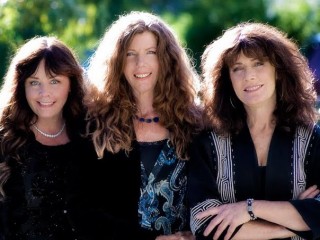 The Burns Sisters
Date of birth : -
Date of death : -
Birthplace : Ithaca, New York, U.S.
Nationality : American
Category : Arts and Entertainment
Last modified : 2012-04-18
Based in Ithaca, New York, the three Burns Sisters are noted for their rich vocal harmonies. As artists on the Rounder label, they draw from the traditions of country, folk, Irish, and pop music to create their own songs.

Marie, Jeannie, and Annie Burns began singing together as children. They came from a family of 12 siblings, many of whom had musical talents. Their mother, whose father was a vaudeville performer, sang at church and at weddings around Binghamton, New York, where the family lived, and she taught all her children to sing "like the Andrews sisters," Jeannie Burns told Seth Rogovoy in an article on Berkshire Web. Their older brothers had a band when they were in high school.

The Burns Sisters' break into professional singing came when Marie was 18 and Jeannie was 17. After high school, they headed to Florida. They sang at a friend's party, and a professional musician heard them, offering them each five dollars to sing with him at a local bar. "And that night we had this big revelation that, 'We should do this for a living,'" Marie Burns told Ed Will in the Denver Post. However, on the second night of their gig they were fired when the musician chose to sing a racy Jimmy Buffett song. "The club owner fired us. The night after our big revelation," Marie recalled to Will. "But it did not [deter us]. It just made us more careful of our material."

Jeannie and Marie were living outside of Tampa, Florida, when they formed their first band, called Swamp Stompers. They performed bluegrass and a variety of other musical styles. In 1978 they returned to New York and began singing with their younger sister Annie, who was still in high school. Two years later, they added two more sisters: when their younger sister Terry graduated from high school, she joined the group, and a fifth sister, Sheila, left a relationship, moved to Ithaca, and started singing with her sisters.

The five sisters worked together for ten years, performing in upstate New York, before signing a record deal with SBK Productions and Columbia Records in 1986. The group of five produced two records, The Burns Sisters Band in 1986 and Endangered Species in 1989, before losing the contract just before a third album was due to be released. Although this development was devastating to the sisters at the time, they later looked back on it as a blessing because it allowed them to pursue their own musical interests. For example, Marie Burns joined a string band that did "old-timey" country music, inspired by the work of the legendary Carter Family. "Then," the sisters told interviewer John Sandidge of the Snazzy Americana Music Mercantile website, "Terry went to Nashville, she's a writer down there at MCA Publishing, and Sheila is still writing songs and is an art teacher in Ithaca."

When Marie, Jeannie, and Annie decided to reunite as a band in 1990, they brought with them everything they had learned over the years, and their experience added dimension to their own sound. In 1994 they successfully auditioned for Rounder Records at the Folk Alliance in Boston, signed a contract, and produced Close to Home, followed by In This World, and Tradition. Tradition was a holiday album that drew from many different spiritual lineages, including Christianity, Islam, and Judaism. One song features Tibetan monks chanting for peace.

The three sisters are numbers seven, eight, and nine in their family. They are close in age and learned how to get along as children. Jeannie told Rogovoy, "We've worked together for years, and we even hang out together when we're not working." Marie Burns noted that their close genetic relationship also enhances their sound. "It's something in the vibrato of the voices, they match," she told Rogovoy. Their sound caught the attention of famed singer Janis Ian; according to Mike Hughes in Michigan's Lansing State Journal, Ian once said, "If I could split myself in three, I would be the Burns Sisters." Hughes also quoted an Entertainment Weekly writer, who commented, "Thanks to their gorgeous Everlys-in-triplicate voices, the Burnses turn in exhilarating folk rock."

At the Syracuse New Times website, Larry Hoyt compared the sisters to the well-known country group the Dixie Chicks, commenting that the Burns Sisters did not have the same "pop glitter" as the Dixie Chicks, but that their songwriting was superior. He commented that on Out of the Blue, their fourth album with Rounder, the sisters "continue their blend of sweet vocals, countrified pop-rock, and diary-inspired tales of longing, love, loss, regret and affirmation." Hoyt also wrote that their consistently high standards of "vocal quality, song selection, and musicianship" continue on this album. At the Rambles website, Robin Brenner noted that on Out of the Blue, the sisters are quite at ease taking turns as lead and harmony vocalists, and that they show great sensitivity in choosing the right voice for the right song.

The sisters told Sandidge that they all write their material, and that they usually reach consensus on songs quickly. Jeannie noted, "The person who brings a song to the table usually will know ahead of time whether it's going to work for this band, so [conflict over songs] is not something that we deal with very often." Marie added that though the group works on songs and may love them, sometimes the audience doesn't respond. "We can tell what our best songs are by the audience, really.... Those are the ones we end up playing, the ones that are going over well."

In addition to their group albums, the three sisters have all recorded solo albums. Marie performed traditional country ballads on Free Little Bird; Jeannie sang rock-influenced country on her Coming Up Close, and Annie sang in her own style on Days in Italy. Most recently, Marie released Good Dog, donating the profits to animal charities.

Marie Burns told Will, "No matter what happens we will be singing.... It is just what we do. It is what we love. It is what we have to do. It is a family tradition." By 1999 the sisters were touring frequently, performing over a 100 times a year, and they have continued to be popular on the country/folk music scene.

View the full website biography of The Burns Sisters.