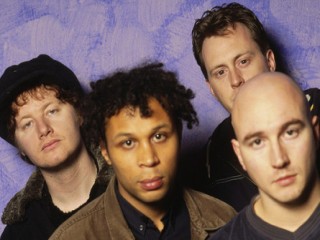 The Boo Radleys
Date of birth : -
Date of death : -
Birthplace : Wallasey, Merseyside, England
Nationality : English
Category : Arts and Entertainment
Last modified : 2012-04-12
The Boo Radleys were an English alternative rock band of the 1990s who were associated with the shoegazing and Britpop movements. They were formed in Wallasey in 1988, with Rob Harrison on drums, singer/guitarist Sice Rowbottom, guitarist/songwriter Martin Carr, bassist Timothy Brown . Their name is taken from the character Boo Radley in Harper Lee's 1960 novel, To Kill a Mockingbird. Shortly after the release of their first album, Hewitt replaced Rob Harrison on drums and he was in turn replaced by Rob Cieka. The band split up in 1999.

Martin Carr formed the Boo Radleys with his childhood friend Sice in the late 1980s in their hometown of Wallasey, England. Wallasey is a suburb located across the River Mersey from Liverpool, the town which produced the group most often cited as the Boo Radleys' primary influence--the Beatles. Other artists who had an acknowledged impact on Carr's songwriting and musical sensibilities include guitar heroes Jimi Hendrix, Brian Setzer, and J Mascis of Dinosaur Jr.

To get their band off the ground, Carr and Sice added bass player Tim Brown and drummer Rob Cieka to their lineup and appropriated the name of the recluse in Harper Lee's classic novel To Kill a Mockingbird. The Boo Radleys' official bio from Columbia Records portrayed the teen-aged Carr as a slacker and a dreamer trapped in a soulless town that squashed the ambitions and deadened the hearts of its brightest and most talented citizens--he and Sice included. "But way back in the early 1980s, Martin Carr glimpsed an alternative," the biography said. "Devouring books, films and records with ... Sice, the teen-aged Martin occupied a parallel world to that of his contemporaries, one in which he and his friends were pop stars, beautiful people living decadent lives in a dazzling metropolis a long, long way from this place." For years, however, that world existed only in Carr's head--until he overcame his slacker tendencies and made a commitment to pursue his dream. "I'm really proud," Carr stated in the band's bio, "of the way that we've gone from where we were when we started in Wallasey to where we (are) now. And we've done it just by doing it--not by sitting around waiting for other people to do it, which is what we did for seven years before that, wondering why ... we hadn't been on 'Top of the Pops' when we couldn't play a guitar."

In the summer of 1990, the Boo Radley's released their debut album, Ichabod and I, on the indie label Preston's Action! Records. One review described the band's sound at that time as "rudimentary sandblasts," and Carr has called the lyrics from his early compositions "meaningless wank." The band followed Ichabod and I with an EP series called Studies in Brutalised Melody on Rough Trade Records, before moving to the Creation label. Creation released Everything's Alright Forever in 1992. Afterward, the band changed record companies again, this time to Columbia, and released the critically acclaimed Giant Steps in 1994, and Wake Up the following year. Writing in Guitar Player, Mike Metler noted the remarkably eclectic collection of songs displayed on Giant Steps. "Carr bounces from texture to texture like a jumping bean on a trampoline," Metler wrote. "For starters, there's the rasta-fied 'Lazarus,' the Beach Boys-esque break in 'Barney (and I),' and the relentless right-channel squealback throughout 'Run My Way Runway.'

In 1996 the Boo Radleys changed record labels yet again, this time moving to Mercury, which released the disc C'mon Kids. Guitar Player's Metler described the disc as "More hyperactive pop from the witty U.K. combo whose tunes veer druggedly from anthemic bubblegrunge to full-blown psychedelia. The best of the overdubbed raveups attain the sort of ecstatic peaks some associate with Ecstasy." Stereo Review magazine went on to explain that the Boos' dramatically varied songs are much more a product of the studio than the concert hall: "Unquestionably the Boo Radleys' metier is the studio. They are disciples of that time and place (the late sixties and early seventies) when musicians aspired to create unified albums that couldn't possibly be duplicated on the stage.... Every song on Giant Steps is like a turn of the kaleidoscope yielding some startling acid-pop refraction. A squeal of feedback, filtered vocals, and light reggae accents give 'Up on 9th and Fairchild' its strange charm. One song later, the Boo Radleys are making like doe-eyed, winsome-voiced popsters on the strummy 'Wish I was Skinny.' Then they're tearing up your mind with the loud/soft dynamic shifts of 'Leaves and Sand'.... Giant Steps is a balm for the ears and a trip for the mind."

At times, Carr discusses his music in bewildering, fragmented non sequiturs that could have been lifted straight from the rock 'n' roll spoof Spinal Tap. In the Columbia bio, he reflected on his maturation as a lyricist: "It's the duality within. That all started with 'Lazarus,' 'cos that was a song about being a cabbage and saying f---ing get off your arse and do something. But the thing is, I can't think of anything to do. I have no other hobbies when we're not working with the band or I've got no songs to write. And it's hard to listen when Sice is singing sometimes, especially when he's referring to somebody else.... But you have to do it. You have to get on with it. It's the only way I can write. And it's weird, 'cos now these lyrics are very introspective, totally the opposite of universal. I think they're really selfish songs. And of course, they're also for everyone."

Perhaps that peek into Carr's thought process explains his band's "jumping bean" eclecticism and penchant for songs which Entertainment Weekly reviewer Mike Flaherty described as "melodically fragmented, lyrically obtuse onslaughts." In any event, while the Boo Radleys may not write a new chapter in the history of rock 'n' roll, they certainly will provide an intriguing footnote.

Under the name Bravecaptain, Carr has since released six albums, including The Fingertip Saint Sessions Volume 1, Go With Yourself, Advertisements for Myself (2002) and All Watched Over by Machines of Loving Grace (2004). His most recent album was titled Distractions. Carr has since announced that he will be retiring the Bravecaptain name to work on new projects, but these will not include reforming the Boo Radleys. His first solo album Ye Gods (And Little Fishes) was released in mid 2009. Cieka is now a member of the band Domino Bones, alongside Mark "Bez" Berry, formerly of the Happy Mondays.

After an album in 1996 (First Fruits) under the name Eggman, while still a member of the Boo Radleys, Rowbottom walked away from music for several years after the split. Then, following a guest vocal on Bravecaptain's, All Watched Over by Machines of Loving Grace, and also two songs with the Japanese musician Ryo Matsui's solo project, Meister, he formed Paperlung. The band featured Rowbottom on vocals, Simon Gardiner on bass, Ben Datlen on guitar and Guillaume Jambel of Transcargo on drums. They released two singles, "The Days That God Sold You" and "Do What Thou Will", and an album, Balance.
View the full website biography of The Boo Radleys.