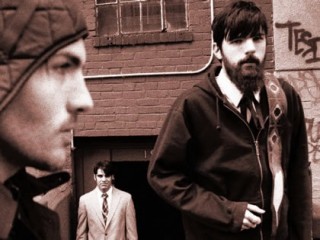 The Avett Brothers
Date of birth : -
Date of death : -
Birthplace : Concord, North Carolina
Nationality : American
Category : Arts and Entertainment
Last modified : 2010-12-13
When people ask Scott and Seth Avett how long they've been playing music, they'll usually say, "Forever." Under the name of the Avett Brothers, though, they've only been playing for a relatively short amount of time.

In 1998, during the time of the Avetts' rock band, Nemo, Scott began getting together with some friends and other flatpickers on Tuesday nights in Greenville, N.C., to drink liquor, play acoustic bluegrass and country music and occasionally perform on the street. Having gained an interest in acoustic music after meeting Doc Watson at an early age, Seth joined in and they called the gatherings "The Back Porch Project" or "Nemo Downstairs." During this time, Seth and Scott started writing original songs over the phone and would throw them in during the get-togethers. As time passed and 2000 rolled around, the Avetts, with friend and fellow Nemo guitarist John Twomey, compiled a six-song, self-titled record as the Avett Brothers. The three also began playing sporadic acoustic shows in their off time from Nemo.

Around Halloween in 2001, Nemo fell apart. At first, Scott, Seth and longtime friend Kenny Graham wanted to carry on, but they soon came to the realization it was time to move forward. Scott and Seth fell back on the acoustic music they had been crafting, realizing that it was more accessible than Nemo's brazen, rock sound. During this time, the Avetts also parted ways with Twomey.

In January 2002, after several months of songwriting and a few performances with various players, the Avett Brothers entered Pat Gauthier's studio in Marshville, N.C., to record their first album, Country Was. It was during that time the Avetts realized the music they were making was special, more natural and truthful than anything they'd created before. It was also during that time that stand-up bassist Bob Crawford became a permanent member of the band. After a self-booked, 11-state, 2-month summer tour , a series of regional shows and traveling to promote the Country Was album, the boys took a break in late 2002 to prepare to record the follow-up.

Unlike the past, where the songs were written and recorded without being toured on or played in a live setting, the majority of the new songs were thoroughly worked through and developed. With this confidence, the Avetts aimed to nail the intensity of their infamous live shows. After 70 hours in the studio, the Avett Brothers emerged with A Carolina Jubilee -- a mixture of old-time country, bluegrass, pop melodies, folk, rock n' roll, honky-tonk and ragtime.

In 2004, the band offered Mignonette, inspired by the story of the survivors of an ill-fated yacht. In addition to touring with honky-tonk band BR549, they will offer Four Thieves Gone: The Robbinsville Sessions in early 2006.

View the full website biography of The Avett Brothers.