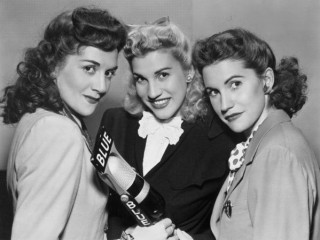 The Andrews Sisters
Date of birth : -
Date of death : -
Birthplace : Minnesota, United States
Nationality : American
Category : Arts and Entertainment
Last modified : 2012-04-05
The Andrews Sisters were a highly successful close harmony singing group of the swing and boogie-woogie eras. The group consisted of three sisters: contralto LaVerne Sophia Andrews (July 6, 1911 – May 8, 1967 Age 55), soprano Maxene Angelyn Andrews (January 3, 1916 – October 21, 1995 Age 79), and mezzo-soprano Patricia Marie "Patty" Andrews (born February 16, 1918 Age 95). Throughout their long career, the sisters sold well over 75 million records (the last official count released by MCA Records in the mid-1970s).

To evoke the happy, patriotic feeling of the 1940s, simply mention the Andrews Sisters--or for that matter, just the names Patty, Maxene, and LaVerne. The "girl" trio of Patty, Maxene, and LaVerne Andrews sang for the troops in Europe during World War II, starred in films, collaborated on several tremendous hits with superstar Bing Crosby, and continued to sing for decades. During their career the trio recorded some 1,800 songs and sold over 90 million records, earning 19 gold disks along the way. Although they added numbers to their repertoire through the years, they are most remembered for their earliest hits, among them "Beer Barrel Polka," "Beat Me Daddy, Eight to the Bar," "Boogie Woogie Bugle Boy," and "Don't Sit Under the Apple Tree." When co-producers Kenneth Waissman and Maxine Fox wanted to recreate the 1940s in their 1974 musical review Over Here!, they hired the Andrews Sisters. When choreographer Paul Taylor wanted to dramatize his memories of the war years, he created choreography with the Andrews Sisters as his muses. Into the early 1990s Maxene Andrews was still singing the old songs with gusto, and fans still loved her.

The Andrews Sisters began performing as teens, in the early 1930s. They listened to the Boswell Sisters and tried on their style. "LaVerne had a wonderful musical memory," Maxene told the New Yorker. "She figured things out. She would listen to a Boswell Sisters record and then teach me and Patty the parts." Patty sang soprano and any solos, Maxene second soprano, and LaVerne alto. For several years they toured the Midwest on the vaudeville circuit. In 1937 they relocated to New York City. At first they had no luck, but when they were almost to the point of giving up, Lou Levy, who would become their manager--and Maxene's husband--brought them to the attention of Jack Kapp, who signed the sisters to a recording contract with Decca Records. Their first release, "Why Talk About Love," sold poorly; their second attempt, 1938's "Bei Mir Bist du Schoen," however, became a million-seller.

"We only really became aware of how popular we were when we went overseas during the war and all the servicemen just mobbed us," Maxene told the New Yorker. The sisters were very popular, indeed, singing regularly on radio in the late 1930s and 1940s. They also performed with other popular musicians of the day, including crooner Bing Crosby and premiere swing outfit the Glenn Miller Orchestra. Between 1940 and 1948 Patty, Maxene, and LaVerne made 16 films, often portraying themselves. Their popularity was nearly matched by their financial reward; in 1949 Levy reported in Billboard magazine that the trio planned over one million dollars in bookings--and this figure did not even account for record royalties.

In the early 1950s musical styles began to change, and although the Andrews Sisters tried to keep up, they encountered some rough times. In 1954 Patty left the act to try a solo career. The following year Maxene performed on her own as well. In 1956, however, the siblings regrouped, vowing to remain together. A Variety reviewer wrote of their act, "They place an emphasis on their avowed pledge that [their] war is over when they take time out to kid the woes that befall an act that splits." For the next decade the Andrews Sisters continued to perform on the nightclub circuit. They mixed some new tunes into their repertoire but primarily relied on the old favorites. Variety opined in 1963 that their sound was attractively nostalgic: "In fact, the girls weave a nostalgic spell with a reprise of their disc licks." While the trio's vocal gifts were the main focus of their performances, they also enlivened their act with comedy routines and dance--from the Charleston to what Variety called a "bump and grind routine by Patty that's good for plenty of laughs."

The Andrews Sisters remained strong and popular well into the 1960s, but in 1966 the eldest, LaVerne, was forced to retire due to ill health. The following year she died of cancer. For a while, Patty and Maxene kept the trio alive, performing with Joyce de Young. But the act broke up for good in 1968 when Patty returned to solo work and Maxene traded in show business for an academic career. That year, the latter became an instructor of drama and speech and the dean of women at Tahoe Paradise College, a small liberal arts school. In 1969 she was made vice president in charge of planning and development. Maxene told Billboard, "It's a whole new world. Working and living and studying with young people is the biggest kick I've ever had. It beats a million-seller."

Interest in the trio was revived in 1973 when singer Bette Midler scored a hit with a cover version of the Andrews Sisters classic "Boogie Woogie Bugle Boy." Then, stage producers Kenneth Waissman and Maxine Fox decided to mount a Broadway show depicting the World War II years and big-band era and asked the sisters to star in it. Over Here! opened at the Shubert Theatre in 1974 to rave reviews. Actress Janie Sell, playing a comic spy, completed the singing trio. After the run of the show Maxene decided to resume her singing career. Variety reviewed her new act, reporting that she pleased her older fans and then some: "Andrews' style and catalog have relevancy to today. She recalls moments from the sisters' vast catalog of hits, but there are also moments from contemporary writing. In all, she does more than try to live up to a memory. It's another bag for her and apparently she has applied herself assiduously in meeting today's conditions." Maxene continued performing--and wowing audiences--into the next decade. In 1983 Variety again reviewed one of her performances, concluding, "Andrews looks in fine fettle, is obviously in fine voice and her 65-minute show is a lot of fun 'nostalgia' without cloying schmaltz, thanks in great part to Andrews' lively, infectious will."

In the early 1990s the Andrews Sisters received fresh attention when the Paul Taylor Dance Company choreographed a new work to nine of the Andrews Sisters' original recordings. The dance, Company B, contrasted the sisters' exuberance and good cheer with depictions of some of the harsher realities of World War II. Maxene attended the Kennedy Center opening of Company B in June of 1991 and loved the portrayal of both the joy and tragedy of the era. "I was entranced with having it explained in dance," she told the New York Times. "There was a dark side to the period, even though the whole country banded together and pitched in like a wonderful love-in. And [choreographer] Paul [Taylor] did it so clearly, so seamlessly. You knew the darkness was there, but no one thing stood out." In 1992 Maxene even shared the bill with the dancers; at age 76, she was still singing. And in later years she became active in a host of charities, including the American Heart Foundation, the Save a Heart Foundation, and several AIDS organizations.

The music of the Andrews Sisters has captured the spirit of and cheered America for much of the twentieth century. Even when the trio finally disbanded, their music kept going strong. As Maxene put it in the New York Times, "Bette [Midler] brought the Andrews Sisters into the '70s. Now I think Paul [Taylor] will bring us into the '90s." As a cherished gem of Americana, the music of Patty, LaVerne, and Maxene will undoubtedly be heard into the next century as well.

Shortly after her Off-Broadway debut in New York City in a show called Swingtime Canteen, Maxene suffered another heart attack and died at Cape Cod Hospital on October 21, 1995. Not long before she died, Maxene told music historian William Ruhlmann, "I have nothing to regret. We got on the carousel and we each got the ring and I was satisfied with that. There's nothing I would do to change things if I could...Yes, I would. I wish I had the ability and the power to bridge the gap between my relationship with my sister, Patty."

The Andrews Sisters were inducted into the Vocal Group Hall of Fame in 1998.

Selective Works:
-Boogie Woogie Bugle Girls MCA, 1973.
-16 Great Performances MCA, 1975.
-In Blossom Columbia Special Products, 1978.
-Rarities MCA, 1984.
-50th Anniversary Collection MCA, Volume 1, 1987, Volume 2, 1990.
-Greatest Hits CURB/Cema, 1990.
-At Their Best Pair, 1991.
-The Andrews Sisters: Capitol Collectors Series Capitol, 1991.
-The Andrews Sisters Pearl, 1991.
-Over Here! (soundtrack), Sony Broadway, 1992.
-(Contributors) Capitol Sings Cole Porter Capitol, 1992.
-The Best of the Andrews Sisters (two volumes), MCA.
View the full website biography of The Andrews Sisters.