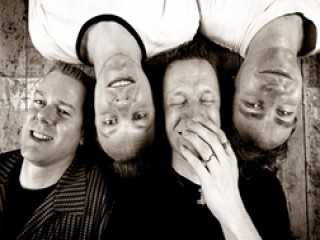 The AALY Trio
Date of birth : -
Date of death : -
Birthplace : Umeå, Sweden
Nationality : Swedish
Category : Arts and Entertainment
Last modified : 2011-06-30
Swedish free jazz group AALY Trio was formed around Umea natives Mats Gustafsson (reeds) and Kjell Nordeson (drums) in the mid-'80s, after they had been collaborating for a few years.

The earliest recording of AALY is one track, "Albumblatt," which documented the group's late-'80s incarnation with bassist Niklas Billstrom and appeared on the compilation Sounds: Contemporary Swedish Improvised Music. 1995 brought new bassist Peter Janson to the group and, a year later, Chicago reedsman Ken Vandermark was on board as a permanent guest. The chemistry of this group explodes into passionate and exciting albums filled with such energetic urgency the band can cover Ayler's "Ghosts" (and they do, twice), and it fits right in with the other material. Their debut full-length, Hidden in the Stomach, came out on Silkheart in 1998.

The next two albums, Stumble and Live at the Glenn Miller Cafe, were released by Superchunk guitarist/vocalist Mac McCaughan's small imprint Wobby Rail. Gustafsson launched his own label, Crazy Wisdom, which released the group's 2000 recording, I Wonder If I Was Screaming, a release that unfortunately failed to find wider release or distribution.


View the full website biography of The AALY Trio.