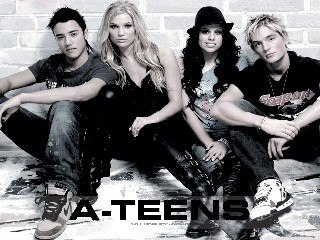 The A-Teens
Date of birth : -
Date of death : -
Birthplace : Stockholm, Sweden
Nationality : Swedish
Category : Arts and Entertainment
Last modified : 2011-06-23
The A-Teens was a pop music group from Stockholm, Sweden, formed by Niklas Berg in 1998 as an ABBA tribute called ABBA Teens and later renamed to A-Teens. They were composed of Marie Serneholt, Amit Paul, Dhani Lennevald and Sara Lumholdt. The band's debut album became a success around the world and in 2001 it was reported that the band had sold 6 million albums worldwide. The band disbanded in 2006.

The A-Teens assembled Stockholm, Sweden-based adolescents Marie Serneholt, Sara Lumholdt, Dhani Lennevald, and Amit Paul.

Beginning work on their debut album The ABBA Generation in 1998, two years later the group topped the European charts with their cover of "Mamma Mia," achieving the feat exactly a quarter of a century after the original ABBA hit number one with their own rendition of the song. The aforementioned LP contains similarly modernized renditions of ABBA classics like "Dancing Queen," "Mamma Mia," "S.O.S.," and "Take a Chance on Me." After tours with like-minded acts such as *N Sync and Britney Spears and an appearance on Nickolodeon's All That tour in summer 2000, the group delivered their follow-up album, Teen Spirit, which featured original material. In spring 2002, they covered the Elvis Presley classic "Can't Help Falling in Love," later performing the single on Nickelodeon's popular Slime Time Live in late May. The song was also included on the A-Teens' third album, Pop 'Til You Drop, which appeared on Universal in June.

Solo careers:

In September 2004 Dhani Lennevald released "Girl Talk", his first single as a solo artist, in Sweden. There it peaked at number twenty-nine, ensuring Gold status after nine weeks on the charts.Dhani and Universal Music parted ways in 2005, now he's preparing the release of his first solo album.

In 2005, Marie Serneholt signed with SonyBMG and in early 2006, she released her first single as a solo artist titled "That's The Way My Heart Goes". It reached number-two in Sweden in February, and was later released in Europe and certified Gold. This was followed by the album Enjoy the Ride which peaked at number-nine in her homeland. According to her personal MySpace she is recording her second album. She participated in Melodifestivalen 2009 with the track 'Disconnect Me'.

Amit Sebastian Paul is also preparing for his debut as well, "Songs In A Key of Mine" is a mini-album with eight demos. Amit Paul has released his first Solo album "Songs In A Key Of Mine" which features 12 songs in April 2008, with the first single "Judge You" being released soon after. Amit Paul has also a future career in business, as he is finishing his Masters at the prestigious Stockholm School of Economics, where he has done an internship at the management consultancy Bain & Company.

Sara Lumholdt released a cover of Olivia Newton John's song "Physical" for a compilation album. She released the song under the name of Sara Love, and according to her official MySpace she is working with producers from the United States and Europe to release more music this year. She has released "Glamour Bitch" to her MySpace and is said to be her debut single. She then switched to another project with Josh Skinner and Ted Perlman. She will release a new album titled "My Serenade" in Summer 2009. The first single "First" became available on iTunes in July 2008.

View the full website biography of The A-Teens.