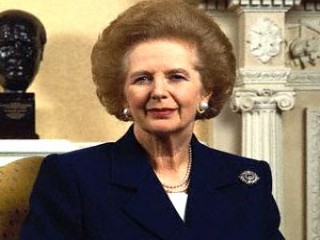 Thatcher Margaret
Date of birth : 1925-10-13
Date of death : -
Birthplace : Grantham, Lincolnshire, England
Nationality : British
Category : Politics
Last modified : 2010-05-24
Margaret Hilda Thatcher, Baroness Thatcher (born 13 October 1925) served as Prime Minister of the United Kingdom from 1979 to 1990 and Leader of the Conservative Party from 1975 to 1990. She is the only woman to have held either post.

Born in Grantham in Lincolnshire, United Kingdom, she went to school at Kesteven and Grantham Girls' School in Grantham, where she was head girl in 1942–43. She read chemistry at Somerville College, Oxford and later trained as a barrister. She won a seat in the 1959 general election, becoming the MP for Finchley as a Conservative. When Edward Heath formed a government in 1970, he appointed Thatcher Secretary of State for Education and Science. Four years later, she backed Keith Joseph in his bid to become Conservative Party leader but he was forced to drop out of the election. In 1975 Thatcher entered the contest herself and became leader of the Conservative Party. At the 1979 general election she became Britain's first female Prime Minister.


Elected as the first woman prime minister in all of Europe, Margaret Thatcher held office for a record 11 years, from 1979 to 1990. In the Conservative Party she served, she dedicated her tenure to boosting Britain's economy. Her controversial methods along with her strong personality would help Britain lay a foundation to become one of the strongest economies in the world.
Born to parents who worked as grocery shopkeepers, they taught her the value of saving money using conservative means. When they took a vacation, they would do so separately, so that their store was always in business. Following in her father's footsteps, Margaret felt an early desire to lead people to better not only themselves, but also their situation. In 1943, she attended Oxford University to study chemistry. After graduating, she worked as a research chemist while attempting to become a Conservative Party candidate in Dartford.
In her early 30s, Thatcher was the youngest woman elected to the House of Commons. She was a staunch advocate of moral standards, equal opportunity, and free choice in education. She also voiced her beliefs in England's military might and the privatization of many facets of government, including health care, education, and low-income housing units.
Margaret Thatcher served as the Secretary for Education and Science in the early 1970s. She gained the spotlight when she dismantled a controversial national program that distributed milk to under-privileged school children. While her policies were well grounded, she was still able to climb political ranks and join several cabinets, including the Health Cabinet. In Education, she made academic schools, geared for the elite, available to middle-class and lower-class children. In 1975, Thatcher had her eye set on becoming Prime Minister. No one in the Conservative Party was able to match her extensive portfolio of political experience.
In her role as the prime minister of Britain, Margaret Thatcher's first term was marred with never before seen unemployment, a rise in poverty, and great social tension. However, through all of this, she claimed that she was laying the groundwork for her next term in office, which she won by a landslide. In her second and third terms, she planned on shaving the powers of unions and their ability to strike. Even through threats, bombings, and public pressure, she wouldn't give into Unionists' demands. In her third tenure as prime minister, Margaret Thatcher resigned due to her growing resistance to join the European Union and a poll tax that she initiated.
Honours
In addition to her conventional appointment as a Member of Her Majesty's Most Honourable
Privy Council (PC)
upon becoming Secretary of State for Education and Science in 1970 Thatcher has received numerous honours as a result of her career, including being named a
Lady of the Most Noble Order of the Garter (LG)
. She is a
Member of the Order of Merit (OM)
as well as a
Fellow of the Royal Society (FRS)
and the first woman entitled to full membership rights as an honorary member of
the Carlton Club
, a gentlemen's club.
Thatcher became a peer in House of Lords in 1992 by the bestowal of a life peerage as Baroness Thatcher, of Kesteven in the County of Lincolnshire.Thatcher had already been honoured by the Queen in 1990, shortly after her resignation as Prime Minister, when awarded the Order of Merit, one of the UK's highest distinctions and in the personal conferment of the sovereign. At the same time it was announced that her husband, Denis, would be given a baronetcy, which was confirmed in 1991 (ensuring that their son, Mark, would inherit a title). She and her husband were one of the few married couples where both partners held noble titles in their own right. In 1995, Baroness Thatcher was appointed a Lady Companion of the Order of the Garter, the United Kingdom's highest order of Chivalry.
In 1999 Thatcher was among 18 included in Gallup's List of Widely Admired People of the 20th century, from a poll conducted of Americans. In a 2006 list compiled by New Statesman, she was voted 5th in the list of "Heroes of our time". She was also named a "Hero of Freedom" by the libertarian magazine Reason. In the Falkland Islands, Margaret Thatcher Day is marked every 10 January, commemorating her visit on this date in 1983, seven months after the military victory; the decision was taken by the Falkland Islands legislature in 1992. Thatcher Drive in Stanley, the site of government, is also named for her. In South Georgia, Thatcher Peninsula, where the Task Force troops first set foot on Falklands soil, also bears her name.
Thatcher has also been awarded numerous honours from foreign countries. In 1990, she was awarded the Presidential Medal of Freedom, the highest civilian honour awarded by the United States. She was also given the Republican Senatorial Medal of Freedom, Ronald Reagan Freedom Award, and named a patron of the Heritage Foundation. She was also awarded the Grand Order of King Dmitar Zvonimir, the fourth highest state order of the Republic of Croatia.
View the full website biography of Thatcher Margaret.