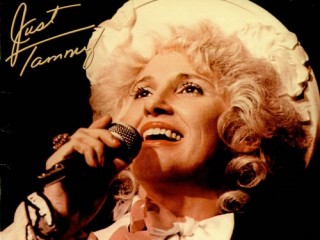 Tammy Wynette
Date of birth : 1942-05-05
Date of death : 1998-04-06
Birthplace : Itawamba County, Mississippi
Nationality : American
Category : Arts and Entertainment
Last modified : 2011-04-27
Virginia Wynette Pugh, known professionally as Tammy Wynette was an American country music singer-songwriter and one of country music's best-known artists and biggest-selling female vocalists.

Born Virginia Wynette Pugh in Itawamba County, Miss., on May 5, 1942, Tammy Wynette was raised mostly by her maternal grandparents after her father died. Amid the drudgery of farm work, she dreamed of becoming a Grand Ole Opry star, taught herself to play the guitar, served as pianist at the Providence Baptist Church and sang in school programs. Shortly before graduating from high school, she married Euple Byrd with whom she had three children. For a while they lived in a log cabin with no indoor plumbing and only a wood-burning fireplace for cooking and heat. Since Byrd was often unemployed and moved the family a lot, she worked as a waitress.

After separating from Byrd and moving to Birmingham, Ala., to live with relatives, she worked as a beautician and began singing on a local TV program. Beginning in 1965, she made several trips to Nashville looking for a record deal. In 1966, she moved to Music City and auditioned for Epic Records producer Billy Sherrill, who signed her after an impromptu audition and changed her stage name. Beginning with "Apartment #9" in 1966-67, the Wynette-Sherrill team ultimately racked up 20 No. 1 hits.

During the late 1960s, Wynette explored women's viewpoints in song. "I Don't Wanna Play House" and "D-I-V-O-R-C-E" voiced the agonies of women and children torn by family break-ups. "Stand by Your Man," which advised women to forgive wayward men, drew criticism from feminists, but Wynette defended it as an expression of triumph over adversity. Her winning streak extended into the mid-70s with hits such as "Good Lovin' (Makes It Right)" and "Woman to Woman," and she co-wrote top-selling songs like "Singing My Song" and "Till I Can Make It on My Own." During these years her stormy marriage to George Jones (whom she wed in 1969 and divorced in 1975) riveted audiences as much as the couple's hit duets, including "We're Gonna Hold On," "Two Story House" and "Golden Ring."

Wynette married songwriter-producer George Richey in 1978. But her 1979 autobiography Stand by Your Man, as well as a 1981 TV movie about her life, revealed her continuing troubles with illness, harassing telephone calls, financial difficulties, break-ins and vandalism at her home, death threats and being abducted.

Still she survived and went on to make more great music in the 1990s. In 1992, she teamed with the British pop act KLF to create the international dance-pop hit "Justified and Ancient." The next year, she joined forces with Dolly Parton and Loretta Lynn for their landmark Honky Tonk Angels album. She and Jones enjoyed a musical reunion with the 1995 album, One.

Wynette died on April 6, 1998. Three days later, fans and members of the music industry honored her with a televised memorial service broadcast from Nashville's Ryman Auditorium. Wynette won election to the Country Music Hall of Fame later that year.


View the full website biography of Tammy Wynette.