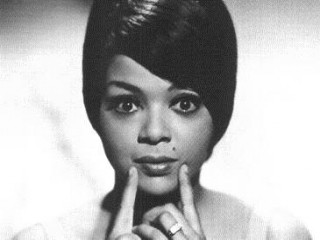 Tammi Terrell
Date of birth : 1945-04-29
Date of death : 1970-03-16
Birthplace : Philadelphia, Pennsylvania, U.S.
Nationality : American
Category : Famous Figures
Last modified : 2011-08-24
Tammi Terrell was an American singer-songwriter most notable for her association with Motown and her duets with Marvin Gaye.

As a teenager she recorded for the Scepter–Wand, Try Me and Checker record labels. She signed with Motown in April 1965 and enjoyed modest success as a solo singer. Once she was paired with Gaye in 1967, her stardom grew, but on October 14 of that year she collapsed on stage into Gaye's arms during a performance.

Terrell was born Thomasina Montgomery, the first daughter of Jennie, a former actress, and Thomas, a barbershop owner, on April 29, 1945, in Philadelphia, Pennsylvania. She began singing and winning talent contests at Philadelphia's Earle Theater at age 11, and was opening club shows for such headliners as Gary "U.S." Bonds and Patti LaBelle & the Blue Belles by the time she was 13 years old. Discovered at age 15 by producer Luther Dixon, Terrell was signed to New York's Scepter/Wand record label. Under the moniker Tammy Montgomery, she made her debut on Scepter with the single "If You See Bill," in 1961, which was followed in 1962 by "The Voice of Experience."

After the "Godfather of Soul" saw her perform live, Terrell recorded on James Brown's Try Me label in 1963. She released the single "I Cried" on Try Me in 1963 and toured with the James Brown Revue. It has been suggested that Brown claimed the two were romantically involved and that she left the tour because of her parents' objections. She released "If I Would Marry You" on the Checker record label a year later. She also took premedical school courses at the University of Pennsylvania for two years during this time.

1965 was a banner year for the young artist. She briefly married and assumed the surname of heavyweight boxer Ernie Terrell, the brother of Jean Terrell, a future member of Motown supergroup, the Supremes. Some reports claim that she did not marry Ernie Terrell and only took his name as a convenient stage name. Later that year, Berry Gordy Jr., head of Motown records, caught Terrell performing live in Detroit with Jerry Butler. Gordy signed Terrell to Motown and she made her label debut with the single "I Can't Believe You Love Me." She followed up with a series of "nothing-special" singles, according to author Don Waller in The Motown Story, including "Come On and See Me," "This Old Heart of Mine (Is Weak for You)," and "Hold Me Oh My Darling," but was not able to score a breakout hit for the legendary Detroit record label.

Terrell's hit-making luck changed in 1967, when she was chosen to replace Kim Weston as Marvin Gaye's recording partner. Though Gaye had previously recorded with Mary Wells as well as Weston, he and Terrell found a chemistry that neither of them had experienced before. "If you watch the videos of Tammi Terrell and Marvin Gaye, you can see how spirited she was," Susan Whithall, author of Women of Motown, told Hour Detroit magazine. "She was a real ball of fire, while Marvin was this laid-back, beautiful man." The duo broke into the top 20 pop chart in 1967 with "Ain't No Mountain High Enough." The twosome's string of hits continued with "If I Could Build My Whole World Around You," "Your Precious Love," which landed in the top five in 1967, "Ain't Nothing Like the Real Thing," and "You're All I Need to Get By," which topped the R&B charts in 1968.

The Terrell-Gaye chemistry produced some of the most memorable love songs of the Motown era, and the aura of romance that the two created in their songs "led to persistent rumors that they were lovers," according to the Encyclopedia of Popular Music. Though the partnership was creatively and professionally successful, Terrell and Gaye were doomed as a team from the start. After suffering from severe migraine headaches for some time, Terrell collapsed in Gaye's arms during a 1967 concert. Doctors first diagnosed exhaustion, but later discovered a brain tumor. Terrell underwent as many as eight operations over the next few years, but her condition continued to worsen.

Although her health prevented her from performing live with Gaye, Terrell continued to record with him. Writer and producer Valerie Simpson has stirred up a controversy by claiming that she sung in Terrell's place on several of the duo's final recordings, including "Good Lovin' Ain't Easy to Come By" and "What You Gave Me," both released in 1969, and "The Onion Song," which was released posthumously and became one of their biggest hits in the United Kingdom. To create several other tracks, Gaye recorded vocals over previously recorded Terrell singles.

Terrell died at age 24 in Philadelphia, on March 16, 1970. Her burial at Mount Lawn Cemetery in Sharon Hill, Pennsylvania, near Philadelphia International Airport, drew thousands of mourners, and many of her Motown colleagues were in attendance. Speculation and rumors abounded following her death. Accusations were brought to light by former Gaye assistant Elaine Jesmer, whose novel, Number One With a Bullet, featured a character obviously based on Terrell and suggested that the singer's brain disorders were a result of beatings at the hand of a Motown executive or from ex-Temptation David Ruffin.

Albums:

1967: The Early Show (Wand LP, side A is by Tammi Terrell, side B is by Chuck Jackson)
1969: Irresistible
2001: The Essential Collection (posthumous)
2010: Come On and See Me: The Complete Solo Collection (posthumous)

with Marvin Gaye:
1967: United
1968: You're All I Need
1969: Easy
1970: Marvin Gaye and Tammi Terrell's Greatest Hits (posthumous)
2001: The Complete Duets (compilation of United, You're All I Need, and Easy)

Singles:

1961: "If You See Bill" (as Tammy Montgomery)
1962: "Voice of the Experience" (as Tammy Montgomery)
1963: "I Cried" (as Tammy Montgomery)
1964: "If I Would Marry You" (as Tammy Montgomery)
1965: "I Can't Believe You Love Me"
1966: "Come On and See Me"
1968: "This Old Heart of Mine (Is Weak for You)"

with Marvin Gaye :
1967: "Ain't No Mountain High Enough"
1967: "Your Precious Love"
1967: "If I Could Build My Whole World Around You"
1968: "If This World Were Mine"
1968: "Ain't Nothing Like the Real Thing"
1968: "You're All I Need to Get By"
1968: "Keep On Lovin' Me Honey"
1969: "You Ain't Livin' till You're Lovin'"
1969: "Good Lovin' Ain't Easy to Come By"
1969: "What You Gave Me"
1969: "The Onion Song"
1970: "California Soul"

View the full website biography of Tammi Terrell.