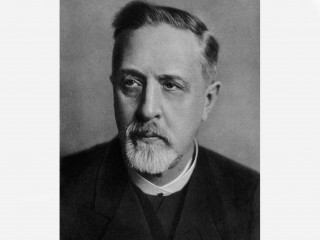 Tammann Gustav
Date of birth : 1861-05-28
Date of death : 1938-12-17
Birthplace : Jamburg, Russia
Nationality : Russian
Category : Science and Technology
Last modified : 2010-05-19
Gustav Tammann born 1861-05-28 in Jamburg, near St. Petersburg, Russia was a famous physicist.

He came to Göttingen from Dorpat (now Tartu, Estonia) in 1903 when he was appointed director of the newly founded inorganic chemistry institute. In 1908 he was appointed director of the physicochemical institute.

His interests focussed on the physics and physical chemistry of metals (metallurgy). He wrote textbooks on "Kristallisieren und Schmelzen", "Metallkunde" and "Heterogene Gleichgewichte". Other keywords related to his work are: glasses, amorphous phases, diffusion and solid state reactions, high temperature and high pressure physics, thermal analysis. In 1926 Tammann was awarded the Liebig-Denkmünze (Verein Deutscher Chemiker, now GDCh).

1936-05-28 (75th birthday) he was awarded the Adlerschild des Deutschen Reiches with the dedication "Dem Altmeister der deutschen Metallurgie".

Tammann died 1938-12-17 in Göttingen at age 77.
View the full website biography of Tammann Gustav.