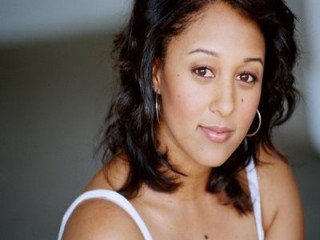 Tamera Mowry
Date of birth : 1978-07-06
Date of death : -
Birthplace : Gelhausen, West Germany
Nationality : American
Category : Arts and Entertainment
Last modified : 2011-05-17
Tamera Mowry is an American actress. She first gained fame for her teen role as Tamera Campbell on the ABC/WB sitcom Sister, Sister (opposite her identical twin sister Tia Mowry). She starred in the Disney Channel Original Movie Twitches and its sequel, Twitches Too. She has also made a break into dramatic television, and is also known for her role as Dr. Kayla Thorton on the medical drama Strong Medicine. In 2009, Mowry appeared in the ABC Family series Roommates.

Tamera Darvette Mowry was born on July 6, 1978 in Gelhausen, West Germany, two minutes before identical twin Tia ("The Game," CW, 2006- ). Some people have a hard time telling the twins apart, but Mowry had a mole on her cheek that distinguished her. She also described herself as the "messy twin." Her father Tim was a retired army sergeant. Her mother Darlene also worked for the military but went on to manage the twins' careers. Other siblings included two brothers, Tahj and Tavior. The family moved around constantly, settling in Fort Hood, TX when Mowry was two years old, then Honolulu, HA, and then back to Texas, where the twins competed in pageants. The acting bug bit them shortly thereafter, and the twins begged their parents to move to California.

When the family finally relocated to the Golden State, it was brother Tahj who got a recurring role in the hit comedy series "Full House" (ABC, 1987-1995). Mowry appeared on the show in 1992 for an episode titled "The Devil Made Me Do It," playing the same character as her sister.

In 1994, producer Irene Dreayer came up with a new show about twin sisters who got separated at birth and reunited as teens. Dreayer discovered the Mowry twins and cast them in the starring roles for "Sister, Sister." Jackee Harry and Tim Reid played the twins' parents. The show aired for six seasons and enjoyed a longtime syndication run. Mowry enjoyed working with her twin and their comedic chemistry was evident on screen.

While filming "Sister, Sister," the Mowry twins starred alongside brother Tahj in the movie "Seventeen Again" (2000). The story of a grandmother who drank a special formula that turned her 17 again, resulted in lots of laughs for both the audience and the cast. It was a delight to watch the three Mowry siblings showcase their acting talents. She followed that project with the movie "Something to Sing About" (2001), acting alongside Irma P. Hall and another ABC sitcom alum, Darius McCrary from "Family Matters" (ABC, 1989–1998) fame.

Education was always a big part of Mowry's life. She attended Birmingham High School in Van Nuys, CA. In 2001, Mowry graduated from Pepperdine University in Malibu, CA with a degree in Psychology, along with her sister. They spent the summer of 2001 at the university's campus in Florence, Italy.

The twins hit the big time in 2002 by joining the cast of "The Hot Chick." The comedy starred "Saturday Night Live" (NBC, 1975– ) alum Rob Schneider and Rachel McAdams, but it was the twins who lit up the screen every time they appeared.

Mowry took on a solo project in 2004 when she joined the cast of "Strong Medicine." She played Dr. Kayla Thorton for several episodes and proved she was a veritable dramatic actor. Her sister later made a guest appearance in an episode titled "My Sister, My Doctor, Myself" (2006).

In 2005, Mowry and her sister filmed the movie "Twitches" (Disney Channel). The plot was very similar to "Sister, Sister," with a magical twist. They were twin witches who got separated at birth. Mowry played Camryn Barnes/Apolla. Kristen Wilson played the girls' mother, even though in reality, she was only nine years older than them. Mowry made a return to TV comedy in 2006 when she voiced the character of Esther in four episodes of the hit animated series, "Family Guy" (FOX, 1999– ).

View the full website biography of Tamera Mowry.