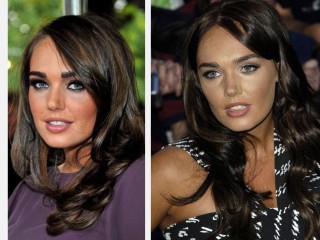 Tamara Ecclestone
Date of birth : 1984-06-28
Date of death : -
Birthplace : Milan, Italy
Nationality : English-Croatian
Category : Arts and Entertainment
Last modified : 2011-01-11
Tamara Ecclestone is an English-Croatian socialite, television personality and model.

After quitting her psychology degree at University College London, Ecclestone worked for her father's F1 magazine: "At the magazine, I was a skivvy. The staff loved bossing me around - they'd tell me to make tea with 57 sugars and then moan it was too sweet" After seeking advice from friend Naomi Campbell, she left to work for Armani, but: "They paid me peanuts - £15,000. How could anyone expect me to live on that?"

Tamara is presently presenter of Channel 4's "The Red Bull Air Race World Series." She has formed her own TV production company, and with sister Petra Ecclestone filmed a half-hour pilot of "The Ecclestone Girls" after being approached to make The Simple Life - a British version of the US reality series starring hotel heiress Paris Hilton and Nicole Richie. Ecclestone is hoping to sell the show with offers and discussions taking place with MTV, E4, and E!, but the show will most likely be placed with ITV/ITV2. The sisters also have plans to introduce a range of fashion products in the future, including sunglasses and watches.

Educated at the London private girls school Francis Holland Clarence Gate London.

Echoing the career of her mother Slavica Ecclestone, a former Armani model (both Tamara and her sister speak fluent Serbian), Ecclestone was voted one of the UK's most eligible women by FHM magazine. She lives in a mews house in London bought for her by her father, suggesting it's too small because she needs an extra bedroom and more space for her clothes and hundreds of pairs of shoes. In an interview with the Daily Mirror, she said she "makes do" with her pocket money, and wouldn't dream of spending less than £700 on a handbag. Ecclestone says: "We're not that rich. My mum doesn't even have a dishwasher. At school, people were forever spreading rumours about how we got dropped off in a Ferrari and had a plane with its own shower. But our jets don't have bathrooms and I was driven to lessons in my mum's Audi." She also described in an interview how she, her sister and mother would always root for Serbia, with her father being the lone England supporter in the family when matches between the two countries occur.


View the full website biography of Tamara Ecclestone.