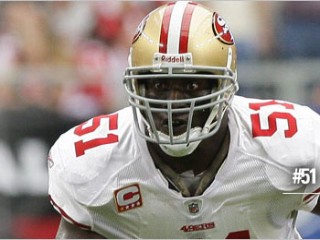 Takeo Spikes
Date of birth : 1976-12-17
Date of death : -
Birthplace : Augusta, GA
Nationality : American
Category : Sports
Last modified : 2010-10-14
Takeo Spikes provides the 49ers with a proven leader and playmaker at linebacker. The veteran had another solid season in 2009, ranking 4th on the team with 95 tackles. He also registered 4 sacks, his highest total since 2001. Spikes, a former first-round draft choice by Cincinnati in 1998, spent his first 5 years with the Bengals before playing 4 seasons with Buffalo and 1 season with Philadelphia.

TRANSACTIONS

Originally a 1st-round (13th pick overall) draft choice by Cin. in 1998... Signed by Buf. on 3/10/03...Traded to Phi. from Buf. on 3/26/07 as part of a three-player trade...Waived by Phi. on 3/6/08...Signed by SF as a free agent on 8/10/08...Signed by SF as an unrestricted free agent on 2/27/09.

•Was appointed by NFL commissioner Roger Goodell, in conjunction with the NFLPA, to the first-ever NFL Player Advisory Council in 2007. The six-man committee, which was composed of Spikes, Jaguars S Donovin Darius, Vi­kings FB Tony Richardson, Redskins WR James Thrash, and free-agent S Troy Vincent, was established to help regularly advise commissioner Goodell on a wide range of issues that affect NFL players. "This is a tremendous honor and I'm going to take it seriously. I am looking forward to being a link between the players and the league, the players and management.
•His parents named him "Takeo" after Japanese Prime Minister Takeo Miki, who served from 1974-76. "They didn't know a lot about him, but they're big into name research. Takeo means 'great warrior' in Japanese. I guess that's what sealed the deal."
•Launched 51 Ways, Inc. with former Eagles/Giants LB Carlos Emmons in 2003. Both Spikes and Emmons grew up in Georgia and have lost family members to cancer. The foundation is dedicated to supporting families of children diagnosed with cancer and/or blood disorders by providing finan­cial, spiritual, and physical resources. To learn more about 51 Ways, Inc. and their upcoming events, log on to www.TakeoSpikes51.com.

AWARDS & HONORS:
2001: AFC Player of the Week (Weed 2)
2003: AFC Pro Bowl
2004: AFC Pro Bowl, AP All-Pro
2008: Matt Hazeltine Award
2009: Perry/Yonamine Unity Award

CAREER HIGHLIGHTS

•A two-time Pro Bowl selection (2003-04) and one-time All-Pro (2004).
•Has totaled nine, 100-plus tackle seasons in his career, and his 1,394 ca­reer tackles ranks 9th among active NFL players.
•His 15 career INTs rank tied for t-5th among active NFL linebackers since 1998.
•Posted INTs in 3 consecutive games in 2008, marking the longest streak by a 49ers linebacker in team history.

2009 (San Francisco):
•Tallied 10 tackles at Min. (9/27).
•Registered 1st sack of the season (QB Kyle Boller), while recording 11 tack­les vs. StL (10/4).
•Sacked QB David Garrard vs. Jax. (11/29).
•Notched his 4th sack of the season at Sea. (12/6).

2008 (San Francisco):
•Ranked 2nd on team with 122 tackles and t-1st with 3 INTs and 2 FFs. Took over starting inside linebacker role 4 games into season after alternating with LB Jeff Ulbrich in first 3 contests.
•Tallied 5 tackles, 1 FF and 1 PD vs. Det. (9/21).
•Made first start as a 49er at NO (9/28) and posted 6 tackles, 1 INT and 1 PD. Picked off a QB Drew Brees pass in 1st qtr., marking his first INT since 2004 when he had 5.
•Recorded a season-high 14 tackles and an INT vs. NE (10/6). The pick came off a tipped ball by DT Aubrayo Franklin on third play of game.
•Posted an INT for the 3rd consecutive week vs. Phi (10/12). The INT occurred in 3rd qtr. off QB Donovan McNabb as Eagles were driving deep into 49ers territory.

2007 (Philadelphia):
•Finished 2nd on team with 139 tackles despite spending final 2 games on IR (12/19) due to a torn rotator cuff.
•Recorded 9 or more tackles in 12 contests, which includes 8 games with double-digit tackles.
•Registered 11 tackles and 1 sack vs. Sea. (12/2).
•Suffered a torn rotator cuff at Dal. (12/16), but managed to finish game.

2006 (Buffalo):
•Sacked QB Tom Brady and forced a fumble that was returned for a TD by LB London Fletcher at NE (9/10).
•Posted 13 tackles in season-finale at Bal. (12/31).

2005 (Buffalo):
•Started 3 contests and tallied 18 tackles, 1 sack and 1 FF before being placed on IR with a torn Achilles suffered in third game of season vs. Atl. (9/25).
•Tallied 6 tackles, 1 sack and 1 FF vs. Hou. (9/11).

2004 (Buffalo):
•Earned 2nd straight Pro Bowl appearance after posting 111 tackles, 3 sacks, 5 INTS (2 returned for TDs), 17 PDs and 3 FFs.
•Returned an INT 11 yds. for a TD vs. Mia. (10/17).
•Tallied 7 tackles, 1 INT and 3 PDs vs. StL (11/21).
•Recorded 4 tackles, 3 PDs and 1 sack at Sea. (11/28).
•Registered 7 tackles, 1 INT, 1 FF and 2 PDs at Mia. (12/5).
•Had 7 tackles, 2 FFs and 1 sack vs. Cle. (12/12).
•Returned an INT for a TD (62 yds.) and recovered a fumble at Cin. (12/19).

2003 (Buffalo):
•Earned first trip to Pro Bowl after helping team rank 2nd overall in defense.
•Tallied 7 tackles and first multi-INT game of his career as he picked off two QB Tom Brady passes vs. NE (9/7).
•Recorded 7 tackles and recovered one fumble, which he returned 29 yds. at Mia. (9/21).
•Registered a season-high 13 tackles vs. Hou. (11/16).

2002 (Cincinnati):
•Led team with 171 tackles.
•Posted a career-high 18 tackles vs. SD (9/8).
•Scored 2nd career TD after recovering a fumble from a muffed Panthers handoff and going 45 yds. for a score that put Bengals ahead 24-23 in 3rd qtr. at Car. (12/8).
•Registered 8 tackles and 2 FRs vs. NO (12/22).
•Had 16 tackles, 1 FF, 1 FR and a half sack at Buf. (12/29).

2001 (Cincinnati):
•Led team with 173 tackles to go along with a career-high 6 sacks.
•Named AFC Defensive Player of the Week for his 11-tackle, 1 INT perfor­mance vs. Bal. (9/23). Took a 4th qtr. INT 66 yds. for a TD, which extended Bengals lead to 21-10.
•Led team with 17 tackles at Cle. (11/25), and posted 17 stops at Bal. (12/23).

2000 (Cincinnati):
•Recorded 128 tackles and a team-high 3 FRs.
•Opened season with 6 tackles vs. Cle. (9/10) and intercepted a QB Tim Couch pass on final play of 1st half.
•Recovered a RB Emmitt Smith fumble at Bengals 1-yd. line in 1st qtr. at Dal. (11/12).
•Closed season at Phi. (12/24) with 2 FRs in 3rd qtr.

1999 (Cincinnati):
•Had team-highs of 3 FFs and 4 FRs.
•Recorded a sack at Ten. (9/12), forcing a fumble which he also recovered.
•Made first career NFL INT at Sea. (11/7), picking off a QB Jon Kitna pass in 3rd qtr.
•Led team with 12 tackles vs. Ten. (11/14), which included a FF on RB Eddie George.

1998 (Cincinnati):
•Became first rookie to lead Bengals in tackles (112) since James Francis in 1990.
•Posted first NFL sack vs. GB (9/20), dropping QB Brett Favre for a 12-yd. loss on a 4th-and-3 play with 1:53 to play.

COLLEGE

•Chose to enter draft following junior season at Auburn, a year in which he was named national Defensive Player of the Year by Football News and first-team All-American by The Sporting News. Led the 1997 Auburn club with 136 tackles as Tiger advanced to SEC Championship game. Tied for team lead in 1997 with 9 tackles for loss. As a sophomore, had 119 tackles and was only sophomore named a semifinalist in competition for Dick Butkus Award.

PERSONAL

•Earned All-America honors and was named Georgia Player of the Year as a senior at Washington County (Sandersville, GA) HS.
•Goes by nicknames "TKO" and "Spikedog."
•Has one daughter, Jakai, which means "beautiful flower" in Japanese.
•Was raised by father, Jimmie, and mother, Lillie. Jimmie worked in a chalk mining plant and Lillie was a special education teacher for children in grades 9-12. Takeo's first job was working with his father in the chalk mining plant.
•Born Takeo Gerard Spikes (12/17/76) in Augusta, GA.

View the full website biography of Takeo Spikes.