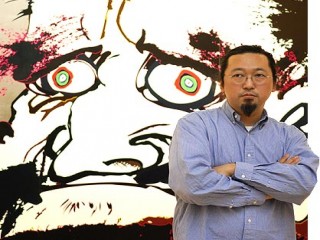 Takashi Murakami
Date of birth : -
Date of death : -
Birthplace : Tokyo, Japan
Nationality : Japanese
Category : Arts and Entertainment
Last modified : 2011-09-21
Japanese-born artist Takashi Murakami has become an international phenomenon by blurring the line between fine art and pop art. His edgy-yet-stunning, creepy-yet-cute cartoon-type characters appeal to a large audience and he deliberately makes his artwork accessible to all. Murakami's paintings sell in galleries for more than $250,000 and a sculpture of his fetched $1.5 million. He has also designed bags for Louis Vuitton, which sold for $4,500. Murakami's work, however, is also available on affordable coffee mugs, key chains, and stuffed animals. Because he believes artwork is more about creating goods to sell than about exhibitions, Murakami struggles to be taken seriously in some circles, although art curator Douglas Fogle called him "the most influential artist to come out of Japan in the last 15 years," according to Peter Marks of the New York Times.

Born in Tokyo in 1962, Murakami was raised in a family of art-lovers and artists. He has a younger brother who is also a painter. Growing up, Murakami had plenty of Western influences. His father worked at a U.S. naval base and Murakami also came of age during a time when Japanese society was filled with an ample supply of American pop culture, from rock music to films.
Inspired by a Japanese comic-book style called Manga, Murakami dreamed of becoming an animation artist but believed his drawing skills were not up to par. Hoping to improve his technique, Murakami entered the Tokyo National University of Fine Arts and Music in the 1980s. There, he studied a customary Japanese art form called nihonga. Nihonga, which dates to the late 19th century, is a style of Japanese painting that fuses both Western and Eastern art by mixing traditional Japanese subject matter with European-influenced painting techniques. Murakami earned his bachelor's degree in fine arts in 1986 and his doctorate in 1993.
In the early 1990s, Murakami taught drawing and continued painting but became disillusioned with his conventional nihonga training, believing the art form no longer appealed to the average Japanese person. Murakami wanted to make a lasting impact, so he began experimenting to find his own style. In a 2001 retrospective on his work, reprinted in Wired, Murakami expressed his thoughts this way: "I set out to investigate the secret of market survivability-the universality of characters such as Mickey Mouse, Sonic the Hedgehog, Doraemon, Miffy, Hello Kitty, and their knock-offs, produced in Hong Kong."
The results have been stunning. Most of Murakami's pieces contain often smirky, sometimes psychedelic, doe-eyed childlike characters rendered in dazzling, dripping Technicolor. He has a talent for creating art that is disturbing and beautiful at the same time. Though unconventional, Murakami's crazy-eyed creatures have found a place in the museum-centered art world. His signature character is a peevish Mickey Mouse lookalike called Mr. DOB, whose sculpture was sold for $1.5 million.
Not only is Murakami's style unconventional but so are his work habits. Computers play a key role in Murakami's creations, which are churned out at the Hiropon Factory, located just outside Tokyo in Saitama, Japan. A second art factory is located in New York. Murakami's art factory works like this: When Murakami has an idea, he sketches the design on paper and scans it into a computer. From there, Murakami fires up Adobe Illustrator and manipulates the piece. Murakami's artwork includes a number of recurring themes, like eyeballs, mushrooms and flowers. He keeps a digital clip-art file of these images and can simply cut and paste them into place on the computer screen. Next, he puts the colors into the file. An assistant takes over from here. The work is printed and the outlines of the images are silk-screened onto a canvas. At this point, Murakami becomes the supervisor. He watches over the piece as assistants paint on the 70 to 800 colors that make up a typical Murakami original. He may make color corrections, but seldom picks up a brush. Assistants paint on endless layers of acrylics to produce that remarkably shiny, signature sheen of a Murakami original. Some pieces take two months to produce; others take two years.
To describe his artwork, Murakami has coined the term "superflat," an acknowledgement of his style that lacks depth and perception. He believes it also reflects our technologically flat world of PDAs, flatscreen televisions, and digital billboards. The term also relates to the flattening out of boundaries in the art world.
Murakami's biggest break came when he was commissioned to create Louis Vuitton handbags. He replaced the traditional brown and gold colors with jellybean-colored logos. The bags sold for up to $4,500 apiece, though he was criticized for his commercialism.
Even though famous galleries around the world are showing his work, Murakami still battles to be taken seriously in some realms. London Guardian art critic Adrian Searle put it this way, according to Newsday writer Ariella Budick: "I recoil from its cuteness, and the sly, self-conscious and hyper-sophisticated cartoony artiness of what he does. Perhaps you need to be Japanese and addicted to Manga comics to get this stuff, or under 10 years old, or the kind of adult who likes to wear nappies, in which case this show would be an ideal environment to hang about in, sporting leaky Pampers."
Murakami, however, shrugs off such criticism. "I don't make my art intentionally childish just so I can appeal to children," he told Newsday. "Colorfulness, cuteness, simplicity-that's my aesthetic. I take those elements very seriously."
Demand for Murakami's work continues with respectable art houses handing him solo exhibitions, including the Serpentine Gallery in London, the Marianne Boesky Gallery in New York, the Boston Museum of Fine Arts, and the Tokyo Museum of Contemporary Art. In September of 2003, his artwork overtook New York City's Rockefeller Plaza in the form of a 30-foot-tall fiberglass sculpture of his best-known cartoonish creature, Mr. Pointy, in a show called Reversed Double Helix.
While some criticize Murakami for his marketing, he makes no apologies and intends to go on creating for the masses until he dies. "I am looking for the crossing point between fine art and entertainment," Murakami told Marks in the New York Times. "I have learned in Europe and America the way of the fine-art scene. Few people come to museums. Much bigger are movie theaters. The museum, that space is kind of old-style media, like opera. That's why I am really interested in making merchandise for ordinary people."

Awards:
Received Japan Fashion Editors Club Awards for his Louis Vuitton bag designs, 2003.
View the full website biography of Takashi Murakami.