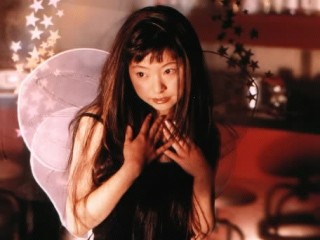 Takako Minekawa
Date of birth : 1969-06-03
Date of death : -
Birthplace : Japan
Nationality : Japanese
Category : Arts and Entertainment
Last modified : 2011-12-14
Takako Minekawa is a Japanese musician,composer and writer.Described as "an underground genius" by Julianne Shepherd in the Portland Mercury, Japanese singer-songwriter Takako Minekawa is known for her blend of a girlishly sweet voice, keyboards, and synthesized sounds. Matthew Schaefer wrote in Ink19 that her sound is reminiscent of "a cross between Kraftwerk and the demonstration mode on a Casio keyboard."

Minekawa got an early start in the entertainment business as a child actor in Japanese movies and television. Her work led her to feel different from other children, and as she grew up she always felt like an outsider. She became interested in music while in college, and formed the band Lolita with a friend. In 1980 Minekawa began performing live with a band called Fancy Face Groovy Name, which included pop singer Kahimi Karie. Minekawa went on to play with a variety of groups, but by 1995 she had gone solo with her own style of music, a blend of synthesizers and breathy, childlike vocals. Her songs focused on her private obsessions with cats, keyboards, and French pop.

Minekawa's debut album, Chat Chat, was released in 1995 by Polystar. It was modestly successful in Japan, and she followed it with a collection of Christmas songs, A Little Touch of Baroque in the Winter. Her next album, Roomic Cube, sent her popularity soaring in Japan and also began attracting listeners in North America. In the Stanford Daily, a reviewer described the album as "a perfect mix of cuteness, introspection and danceable hooks, all powered by her supreme programming know-how."

In Metro, Christian Bruno described Minekawa's next release, Cloudy Cloud Calculator, as a collection of "wonderfully cute, all-synthesizer musings." In Splendidezine, George Zahora commented that the album was more subtle than Roomic Cube, and would reward listeners who were looking for "more subtle pleasures" than the previous album provided. In Pitchfork Media, Mark Richard wrote that the album repays the patient listener: "Upon hearing the record a couple of times (preferably with headphones), you start to realize how subtly complex the arrangements and production are, and all sorts of little sonic details ... begin to pop out."

In 1999 Minekawa released an EP, Recubed, which featured remixes of Roomic Cube songs by friends Sukia, the Pulsars, and Buffalo Daughter. In that same year, Schaefer asked Minekawa about her focus on the minutiae of daily life---cats, math, dessert, milk. She told him that she has "cats living in her brain---lonesome, aloof cats," and that the cats serve as her muses, inspiring her songs. She also commented, "I'm not really writing about daily life, but rather the trivial aspects of it."

Minekawa's 1999 release, Fun 9 (pronounced "funk"), showed a shift from Cloudy Cloud Calculator's sweetness to a more introspective sound. This may have resulted from the presence of Minekawa's husband, Japanese musician Keigo Oyamada, known as Cornelius. Cornelius's heavy guitar, according to Christian Bruno in Metro, gives "a ponderous tone to [the album's] cutesy lyrics." The lyrics were characteristic of Minekawa, featuring diarylike comments describing a girl watching her cat play or wondering what kind of music clouds would make. However, as Bruno noted, "unlike the rock edge of ... Roomic Cube, or the innocent obsession with consumer-grade synthesizers on Cloudy Cloud Calculator, Fun 9 reflects a maturity in its blending of better electronics with "organic" rock instrumentation, including acoustic guitar." He also commented that Minekawa's music "beautifully remains outside of arm's reach of predictability." In Drawer B, a reviewer noted that Minekawa's music "seems fluffy and cute on the surface, but do not be deceived." He added, "Her voice is soft and charming and sounds like a typical Japanese girl struggling with English, but her lyrics are obtuse, philosophical, and stream-of-consciousness."

Maxi On, released in 2000, was described as "the most mature Takako release yet" by Julianne Shepherd in the Portland Mercury. Shepherd praised Minekawa's style, describing it as "minimalism at an accelerated evolution," noting that she takes "extremely simple, sometimes archaic (keyboard technology-wise) sounds and layer[s] them until there is a bursting, shape-shifting landscape of a song." She also noted that Minekawa's unique use of sounds "forms a slightly strawberry-scented protective cloud around the listener." In Bluedark, however, Austen Zuege noted that "it is hard to tell where Takako Minekawa is coming from. Is she just having fun or seriously being funny? Is she satirical or serious?" He noted that Minekawa would probably answer "Yes" to both questions, as she "is not about answers, just having fun as she goes." On the Stranger website, Jamie Hook wrote of Maxi On, "Her instrumentation could have been lifted from a Pokemon video, but what she does with it is frankly stunning."

Perhaps because so much of her music resembles the soundtracks of video games, Minekawa is heard worldwide as the voice on Sony Playstation commercials. At the end of commercials for the game system, Minekawa says "Playstation." Speaking of her career and her aspirations as a musician, Minekawa told Schaefer that she would be "really happy to create one piece of music in my life in my own way."

Selected discography:
-Chat Chat Polystar, 1995.
-A Little Touch of Baroque in the Winter Polystar, 1997.
-Roomic Cube Polygram, 1997.
-Cloudy Cloud Calculator Emperor Norton, 1997.
-Fun 9 Emperor Norton, 1999.
-Recubed (EP), Polystar, 1999.
-Ximer Emperor Norton, 1999.
-Maxi On (EP), Emperor Norton, 2000.

View the full website biography of Takako Minekawa.