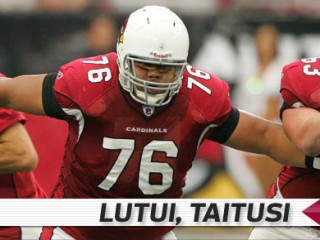 Taitusi Lutui
Date of birth : 1983-05-05
Date of death : -
Birthplace : Ha'pai, Tonga
Nationality : Tongan-American
Category : Sports
Last modified : 2010-11-29
Taitusi "Deuce" Lutui is a Tongan-born American athlete who currently plays professional American football for the Arizona Cardinals of the National Football League (NFL).

Pro Career:
Drafted in the second-round (41st overall) of the 2006 NFL Draft, Lutui appeared in 15 games, starting the final nine at right guard in his rookie season. Has started all 16 games the last two seasons while also starting all six postseason contests during that span. Signed a one-year contract as a restricted free agent on 6/14/10.

2009: Started all 16 games and both postseason contests at RG for the second straight season … member of a line that allowed 26 sacks, the second lowest regular season total by a Cardinals o-line (24-2007) since sacks became an official statistic in 1982 … helped clear the way for 182 yards rushing @ Chi (11/8) … part of line that, despite 38 pass attempts, did not allow sack for the second time in '09 and cleared the way for 122 rushing yards vs. Sea (11/15) … helped clear the way for 183 rushing yards on 30 carries @ StL (11/22); marked the most rushing yards by the Cardinals since 10/3/04 vs. NO (211 yards) … part of line that didn't allow a sack and cleared the way for 113 rushing yards vs. Min (12/6); broke Vikings streak of recording at least one sack in 23 consecutive games … part of line led the way for 110 yards rushing vs. StL (12/27); marked the sixth time in eight games that Arizona recorded 100+ yards on the ground … part of line that did not allow a sack for the fourth time in '09 vs. GB (1/3/10) … cleared the way for 156 rushing yards against the NFLs number one ranked rush defense in the Wild Card matchup vs. GB (1/10/10); marked the highest rushing total against a GB defense that only gave up 83.3 yards per game.

2008: Started all 16 regular season games for the first time and was part of an offensive line that had the same five starters for all 20 regular and postseason games ... helped RB Edgerrin James collect 100 yards on 26 carries in season opener @ SF (9/7) ... part of line that did not allow a sack for the first time in '08 vs. Buf (10/5); helped clear the way for Arizona to record three rushing TDs in back-to-back weeks (@ NYJ, vs. Buf) for the first time since 1979 ... for the second time in '08 was part of line that did not allow a sack despite 42 pass attempts vs. SF (11/10) ... helped clear way for RB Edgerrin James to register his 57th career 100-yard game and eighth as a Cardinal in the season finale vs. Sea (12/28) ... started first career playoff game and was part of an offensive line that allowed zero sacks vs. Atl (1/3/09); including the regular season it marked the fourth time they have not allowed a sack ... helped Cardinals run the ball a season-high 43 times for 145 yards @ Car (1/10/09).

2007: Started first 15 games before suffering a knee injury vs. Atlanta (12/23) … helped Arizona gain 161 rushing yards on 38 carries in the season opener @ SF (9/10) … assisted RB Edgerrin James in racking up 128 yards on 24 carries as well as not allowing a sack in the home opener vs. Sea (9/16) … started vs. SF (11/25) and helped offense rack up 552 total yards which is the most by a Cardinals offense since 1949 (Chicago Cardinals, 572 yards, 11/13) … started vs. Cle (12/2) and helped not allow a sack for the third time this season while helping James to his second 100+ yard rushing performance of the year … helped James eclipse 1,000-yards on the season @ NO (12/16) becoming only the second Cardinal running back to record back-to-back 1,000-yard rushing seasons (Ottis Anderson 1983 and 1984) … before leaving in the second quarter with a left knee injury, contributed to a line that did not allow a sack for the fourth time this season (only happened once in 2006) vs. Atl (12/23) … inactive (knee) vs. StL (12/30).

2006: Appeared in 15 games with starts in the final nine contests of his rookie campaign … made his NFL debut on special teams in the season opener vs. SF (9/10) … inactive @ Atl (10/1) … saw his first career action on the offensive line when he replaced the injured Milford Brown vs. KC (10/8) … logged the first start of his NFL career at RG @ GB (10/29) … started his third NFL game just hours after his wife gave birth to a baby girl vs. Det (11/19) … helped lead James to his second straight 115-yard performance and was part of a line that did not allow a sack vs. Sea (12/10) … started at RG and was part of an offensive line that led James to 105 yards rushing; James became the first Cardinals RB to rush for 1,000 yards in a season since Adrian Murrell in 1998 … finished the season with his ninth consecutive start at RG @ SD (12/31).

College:
After attending Mesa (AZ) Community College and then Snow (UT) Junior College, transferred to USC in 2004 and immediately stepped in as the starter at QB Matt Leinart's blindside tackle … moved inside to LG in 2005 and started every game … moved to LG from RT as a senior and was named to the 2005 Football Coaches, Football Writers, The Sporting News, ESPN.com, SI.com, CBS Sportsline.com and Rivals.com All-American first team … named USC's Offensive Lineman of the Year, co-Most Inspirational Player, and co-Lifter Award … transferred to USC and started all 13 games at RT as a junior on the team that finished undefeated and won their second consecutive National Championship … named J.C. Grid-Wire and National Junior College Athletic Association All-American first team at Snow Junior College … Snow finished 9-1 and tied for fourth in the final NJCAA poll … originally signed with Utah in 2002 but did not qualify for admission.
View the full website biography of Taitusi Lutui.