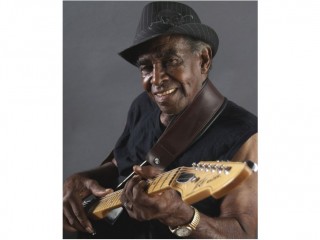 T-Model Ford
Date of birth : 1921-06-26
Date of death : -
Birthplace : Forest, Mississippi, US
Nationality : American
Category : Arts and Entertainment
Last modified : 2011-11-14
James Lewis Carter Ford is an American blues musician, using the name T-Model Ford. He began his musical career in his early seventies, and has continuously recorded for the Fat Possum label, then switched to Alive Naturalsound Records. His musical style melds the rawness of Delta blues with Chicago blues and juke joint blues styles.

Born in 1921, T-Model Ford waited until he was 58 to start playing the guitar and until he was 75 to start recording. "He has been shot, stabbed, and poisoned," wrote Jim Dickinson in the liner notes to Bad Man. "His ankles wear the ragged scars of chain gang shackles. He learned the hard way." Ford's music incorporates his life experience to create a potent brand of juke-joint blues. "In an era when the blues scene is dominated by white musicians who pick note-for-note renditions of blues warhorses...," noted Jim Mcguinness in Bergen County, New Jersey's Record, "Ford comes off as the genuine article." Despite a late start, Ford wasted little time establishing himself as a Mississippi bluesman with deep roots in the Delta.

Born James Lewis Carter Ford, he grew up in a violent household in Mississippi and began working in the fields at an early age. "You see, I never went to school," he told Ted Drozdowski in an interview for Amazon.com. "My daddy started me plowing with a mule when I was 6. I wish I could read or write just a little bit." After leaving home, he was convicted for killing a man with a switch blade in Tennessee. "I had to kill the man because he was gonna kill me," Ford told Mcguinness. "He cut me first and I didn't back down." His mother hired a lawyer who helped reduce the ten-year sentence, and Ford spent the next two years on a chain gang. Dan Oko noted in the Austin Chronicle that Ford has the "perfect résumé for singing the blues."

Ford picked up the guitar for the first time at the age of 58. He had been angry when his wife bought him a guitar and amplifier as a present: he worked as a truck driver for a log company and the family had little money. The guitar remained in the box it arrived in until a week later, when Ford's wife left him. "It wasn't tuned and I didn't know how so I tuned it my way...," Ford recalled to Ed Mabe for Delta Boogie online. "So I learned myself how to play guitar. But I never got back with my ol' lady after she left that night."

In the mid-1990s, Ford was approached by Matt Johnson and Bruce Watson of Fat Possum Records. "They come to my house for two weeks trying to catch me," Ford told Mabe. "Around that time I didn't know I was that good to get out and play. I could play 'em but I didn't know how good." In 1997, at the age of 75, Ford released his debut on Fat Possum Records. Pee Wee Get My Gun was a stripped-down affair, with Ford playing guitar and singing and his musical partner, Spam, playing drums. "Get My Gun indelibly sears his name on to the face of both American blues and rock 'n' roll," noted Cheryl Botchick at CMJ.com.

Ford followed Pee Wee Get My Gun with You Better Keep Still in 1998. "He's got everything down perfect," noted Adam Bregman of All Music Guide, "and the wild blues that flow naturally from him are as real and feisty as blues music gets." Ford and Spam seemed oblivious to commercial considerations, which meant that their studio recordings sounded little different than their live performances in Mississippi juke joints. You Better Keep Still includes traditional as well as original songs. When asked by Mabe how he composed songs, Ford replied: "I don't write cause I can't write. And I can't read and can't spell what I'm doing. I just get it in my head and just hold it there."

Ford's lyrics are filled with acts of violence including threats to brawl with anyone who provokes him. His lyrics are also often misogynist, with lines like, "The woman's job is no matter what the man does, she's got tuh stands it." The bluesman, however, downplays these recurring motifs of violence and misogyny. "That's just songs I made...," he explained to Randy Trammell of Cyclops online. "I don't like to fight ... I used to when I had strength. But now I'm just an old man on this stick.... My hip's displaced. I ain't like I usta to be." Ford's often turbulent life has nonetheless left a singular mark on the blues he plays, leading Rick Bragg of the New York Times to joke: "He did not sell his soul, as legend says Robert Johnson did, to master the blues. The Devil, people say, would run from Mr. Ford."

In 2000 Ford temporarily quit working with his longtime drummer Spam and replaced him with Sam Carr and Bryan Barry on the sessions for She Ain't None of Your'n. The songs, however, continued to mine the same primal style of the blues. "Ford doesn't pull any punches on She Ain't None of Your'n," wrote Jeffrey Konkel in All Music Guide. "[L]isteners are left with a strong collection of raw, timeless Delta blues." Critics often describe his style as a "one-chord stomp," a style that gains intensity through repetitive electric guitar strumming and untamed percussion. "Spam beats the tom-tom skeleton with a vengeance," noted Ro McGonegal in Hot Rod. "T-Model lays in the earthly flesh with a primitive, irresistible energy and inspiration that is absolutely indifferent to commercial success."

Ford has never been shy about discussing his own contribution to the blues. "There's not a man living who can play like I can," he told Oko. "I'm ready anytime. I'm ready to play." In 2002 he released his fourth album, Bad Man, which also features a reunion with his longtime drummer, Spam. "[I]t's a disc that is easily recommended," wrote Alex Henderson in All Music Guide, "to anyone who likes his/her electric blues rugged, unpolished and totally sincere." Ford lives in Greenville, Mississippi, and has toured frequently, introducing his rough-hewn blues throughout the United States and Europe. "T-Model Ford is the rare musician who still practices blues the old-fashioned way," noted Eric Danton in the Hartford Courant. "He's possibly the best thing to happen to blues in decades."

Since 2008, Ford worked with the Seattle-based band, GravelRoad. The project began as a single event, with Ford needing assistance to play the Deep Blues Festival in Minnesota in July 2008. GravelRoad, long time fans of Ford and performers already scheduled for the festival, agreed to provide support for a ten-show US tour for Ford through July.

Ford had a pacemaker inserted at the end of that tour, but appeared on stage again with GravelRoad in 2008, 2009 and 2010. He suffered a stroke in early 2010, but despite difficulty with right-hand mobility, managed to complete a successful tour with GravelRoad. This tour concluded with an appearance at Pickathon Festival. Ford and GravelRoad opened the third day of the All Tomorrow's Parties Festival, in New York over Labor Day weekend, 2010, curated by American independent film-maker Jim Jarmusch.

GravelRoad backed Ford on his 2010 and 2011 albums, The Ladies Man and Taledragger, both released by Alive Naturalsound Records.

Selected discography:
-Pee Wee Get My Gun , Fat Possum, 1997.
-You Better Keep Still , Fat Possum, 1998.
-She Ain't None of Your'n , Fat Possum, 2000.
-Bad Man , Fat Possum, 2002.
View the full website biography of T-Model Ford.