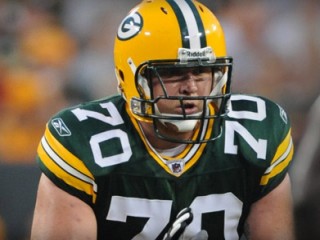 T.J. Lang
Date of birth : 1987-09-20
Date of death : -
Birthplace : Ferndale, Michigan
Nationality : American
Category : Sports
Last modified : 2011-01-31
T. J. Lang is an American football tackle/guard for the Green Bay Packers of the NFL.

HIGHLIGHTS:

• Played three different positions up front during his rookie season, starting games at both tackle spots and becoming the first Packers rookie to start consecutive games at left tackle since Chad Clifton in 2000.
• Began his college career as a defensive lineman, but converted to offensive line as a sophomore and started 36 straight games (10 at RT, 26 at LT) over his final three years.
• Went head-to-head three straight years with Northern Illinois DE Larry English, the first-round draft pick (No. 16 overall) of the San Diego Chargers in 2009.
• Is just the third draft pick in franchise history from Eastern Michigan, and the first in 37 years (LB Dave Pureifory, 1972).

PRO CAREER:

Versatile second-year lineman who could fill any number of roles in the coming years... Could become a starting right tackle, look to eventually take over for Chad Clifton at left tackle, or battle for a spot at guard, but enters training camp in 2010 having missed all of OTAs and mini-camp due to April wrist surgery... Played all three positions at different times during an impressive rookie season, working all of training camp at left guard and then starting games at both tackle spots during the year – on the left side when Clifton was injured and on the right side in a temporary rotation with Mark Tauscher... Became the first Packers rookie to start consecutive games at left tackle since Clifton in 2000... Possesses a prototypical offensive lineman's frame and impressed the coaching staff with his readiness to play at multiple positions, as well as special teams, as a rookie... Came to Green Bay as a fourth-round draft choice, No. 109 overall, from Eastern Michigan, the team's first pick after the first round last year... Started his final two seasons in college at left tackle, after converting from defensive lineman and originally starting at right tackle upon moving to the offensive side... Showed his ability to play guard at the Texas vs. The Nation all-star contest following his final college season... Any doubts about his level of competition, coming from the Mid-American Conference, were eased by going head-to-head each of his final three years with Northern Illinois DE Larry English, the first-round draft pick of the San Diego Chargers in '09 (No. 16 overall)... Became Green Bay's third draft pick from Eastern Michigan and first since LB Dave Pureifory in 1972 (D6b, 142).

2009 : Played in all 16 games with three starts, opening games at both tackle positions, and also played on special teams and in playoff contest...Saw time primarily at LG during preseason... At St. Louis (Sept. 27): Made his debut from scrimmage when he came in at LT for Daryn Colledge for one play in the third quarter when Colledge's shoe came off and he had to leave the game... At Minnesota (Oct. 5): Came in at LT for most of the fourth quarter after Colledge, playing there for an injured Clifton (ankle), left with a knee injury... Vs. Detroit (Oct. 18): Filled in at LT for Clifton for the entire fourth quarter after Clifton re-injured his ankle late in the third... At Cleveland (Oct. 25): Started first game of NFL career, opening at LT in place of Clifton (ankle). Part of a line that did not allow a sack of QB Aaron Rodgers and blocked for RB Ryan Grant's season-high 148 yards on 27 carries (5.5 avg.). Team's 202 rushing yards was also a season best... Vs. Minnesota (11/1): Started second straight game at LT, becoming the first Packers rookie to do so since Clifton did it as a rookie in 2000... Vs. Dallas (Nov. 15): Started his third game of the season, and his first as a pro at RT, helping block for Grant's 79 yards on 19 carries (4.2 avg.)... Vs. San Francisco (Nov. 22): Rotated in at RT with Tauscher, playing three series.

COLLEGE:

Originally came to Eastern Michigan as a defensive lineman and played one season there before successfully converting to the offensive side and starting his final three seasons at tackle... Started 36 games in all on offense, 10 at RT and 26 at LT, including every game the last two years on the left side... A four-year letterman, went head-to-head each of the last three years with NIU's English, the first-round draft pick of the San Diego Chargers in '09 (No. 16 overall)... Majored in criminal justice... Senior season (2008): For the second straight year, started all 12 games at LT... Earned first-team All-MAC honors and was a Super Sleeper Team selection by The NFL Draft Report... Also was a second-team all-conference pick by the league's coaches and earned the Harold E. Sponberg Award, given to his team's top down lineman scholar-athlete... Part of an offense that ranked 20th in the nation with 417.5 yards per game, including three games with more than 550 yards... Held English to just one tackle and two QB pressures vs. Northern Illinois (Sept. 27)... Was named his team's offensive player of the week three times – vs. Toledo (Sept. 13), at Army (Oct. 11) and vs. Akron (Oct. 18)... Junior season (2007): Started all 12 games at LT... Named second-team All-MAC by The Gridiron Report... Part of an offensive line that ranked second in the MAC, allowing just 1.42 sacks per game... Selected for a 'championship performance' by the coaching staff following season finale, when the Eagles tallied a season-best 441 yards, went 6-for-6 on fourth-down conversions, and rallied for 20 points in the fourth quarter for a 48-45 win at rival Central Michigan (Nov. 16)... Sophomore season (2006): Started all 12 games, the first 10 at RT and the final two at LT.

PERSONAL:

Born Thomas John Lang, Jr. in Royal Oak, Mich ... Nicknamed T.J.
High school: Played on both the offensive and defensive lines at Birmingham (Mich.) Brother Rice H.S. ... As a senior and team captain, totaled 93 tackles (59 solo), including 8½ sacks, and recovered a fumble... Was nominated for Gatorade Player of the Year in Michigan and received special mention on The Associated Press all-state Division 2 team... Named first-team all-state in Division 2 in the Detroit Free Press, which also listed him as No. 33 on the Fab 50 list of the top players in the state... Was named his team's Lombardi Award winner as the most outstanding lineman and won the defensive line award at the University of Michigan 2004 summer camp... As a junior, was named his team's most improved lineman and helped lead the team to the state finals... Began his prep career at Lakeland H.S. in White Lake, Mich., earning letters in both football and baseball... Community involvement: Participated in the local United Way NFL Hometown Huddle event, helping build new and refurbish old playground equipment for Nicolet Elementary School in Green Bay... Also attended the annual Pals Halloween party and rang bells for the Salvation Army during the holidays.

As Hobbies/interests: Enjoys fishing, golf and being outdoors... Names Seinfeld and Lost as two of his favorite TV shows, and Dumb and Dumber as his favorite movie... Attended the NCAA men's basketball championship game in Detroit in 2009 and visited Las Vegas this past offseason.


View the full website biography of T.J. Lang.