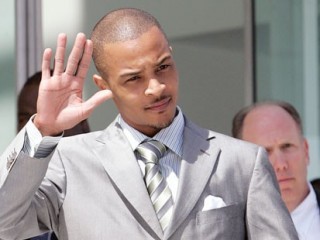 T.I.
Date of birth : 1980-09-25
Date of death : -
Birthplace : Atlanta, Georgia, United States
Nationality : American
Category : Famous Figures
Last modified : 2010-11-01
T.I. also known as T.I.P , born Clifford Joseph Harris is an American recording artist, producer, actor, co-CEO/founder of Grand Hustle Records (A division of Atlantic Records) has been dubbed the generations' most captivating speaker and the King of the South. T.I's wasn't always at the top of his game. His road to stardom was long and bumpy, but not reaching the top was never an option for the Atlanta, Georgia native.

He broke into the music industry with his debut album 'I'm Serious' in 2001. Following his first success, T.I released a string of chart topping albums in the subsequent years. They included Trap Muzik in 2003 and Urban Legend in 2004. 2005 was the year that T.I had reached a monumental milestone in his career. His album, 'King,' sole half a million copies in its first week. This brought him four Grammy award nominations. During the 49th annual Grammy Awards, T.I brought home his first ever Grammy; his confirmation in stardom.

His next two albums, T.I vs T.I.P and Paper Trail both won him the top spot on Billboards 200. As of March of 2009 T.I has had 10 Billboard top 100 singles including his collaboration with American pop star Rihanna, 'Live Your Life.'

In 2006, T.I crossed industry borders with an appearance in his debut film, 'ATL.' The following year he appeared in 'American gangster.'

Not one to stay with one thing, in late 2007, T.I. linked up with Los Angeles based production company 828 Entertainment to executive produce a new reality show titled Life on Mars which chronicles the life of young prodigy music producer LaMar "MARS" Edwards. T.I. partnered 828 Entertainment with his company Grand Hustle Records to produce a slate of both television and film projects. He also created a reality show on MTV called "T.I.'s Road to Redemption".

Not only has T.I worked strenuously to bring his brand to the heights it has reached today but he gives back as well. I n addition to helping with Hurricane Katrina relief efforts, T.I. worked with troubled youths at Paulding Detention Center in Atlanta, provided scholarships for single parent families at Boys and Girls Clubs, and headlined the Boost Mobile Rockcorps concert at New York's Radio City Music Hall.

View the full website biography of T.I..