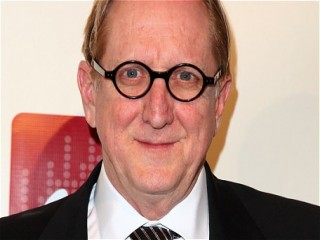 T-Bone Burnett
Date of birth : 1948-01-14
Date of death : -
Birthplace : St. Louis, Missouri, U.S.
Nationality : American
Category : Arts and Entertainment
Last modified : 2011-10-26
Joseph Henry Burnett, commonly known as T-Bone Burnett, is an American musician, songwriter, and soundtrack and record producer.

As well known for his production of other artists as for his own pop and folk-inflected albums, T-Bone Burnett has been a familiar figure on the rock scene since the late 1960s, when he first left his Texas hometown for Los Angeles. His abilities as producer, singer, songwriter, and studio musician combined with his wide-ranging tastes have brought him into contact with a broad spectrum of musicians. His vast production credits include albums by Elvis Costello, Delbert McClinton, Maria Muldaur, Leo Kottke, Los Lobos, Marshall Crenshaw, Peter Case, Roy Orbison, the BoDeans, Bruce Cockburn, Counting Crows, and his wife, Sam Phillips. Burnett often contributes instrumental and writing support when he produces.

Burnett is notable for his intense commitment to making thoughtful, high-quality, socially conscious music. He is outspoken on the subject of politics and frequently critical of the recording industry, and he and his wife--unlike many of his colleagues in the music business--are practicing Christians. Impatient when he finds himself pegged as a "Christian rocker," Burnett insists that labelling him in that way misses the point: in a Rolling Stone interview he told Steve Pond, "Morality is a moment-to-moment process of making decisions. It is not a specifically Christian thing. The moral point of view in my songs is something I've always had, not something that comes with my religion."
Burnett has always balanced his own recording career with his work as a producer and band member for other people's acts. Born in St. Louis, Missouri, in 1948, Burnett grew up in Fort Worth, Texas, where he played in local bands, frequented blues bars, and was a member of a performance group called Lo Creativos. He picked up the nickname "T Bone" at the age of five. After finishing high school he tried college for a little while, but before long he quit in order to establish a small recording studio. By the end of the 1960s Burnett left Texas and headed for Hollywood. There he began playing with Delaney and Bonnie, produced a record for Delbert and Glen, and, in 1972, released his first solo album, The B-52 Band & the Fabulous Skylarks, under the name J. Henry Burnett.

Burnett wasn't ready to tour in order to promote the album. As passionate as he was about making music, live performance did not come naturally to him. Later he explained to George Kalogerakis in Rolling Stone, "I never had any ambition to be a famous performer. I started out being a record producer.... I've just poked around in this and that a bit." After the tour, Burnett founded the Alpha Band with Revue veterans David Mansfield and Steven Soles. They recorded three albums before disbanding in 1978, and Mansfield and Soles appeared on Burnett's 1980 Truth Decay.

Burnett made his film debut in Renaldo & Clara, a 1976 documentary by Sam Shepard about the Rolling Thunder experience; in 1980 Burnett appeared in Francis Ford Coppola's colossal flop, Heaven's Gate. Around this time Burnett returned to the Episcopalian faith he had left behind in Texas; it was a period when many of his Rolling Thunder bandmates, including Dylan, were discovering Christianity.

Burnett opened for Elvis Costello on tour in 1984, and the two began working together. They briefly performed as the Coward Brothers, sort of a spoof on the 1950s pop vocal duo the Everly Brothers, and even made a single, "The People's Limousine." Burnett went on to produce two albums for Costello, King of America and Spike.

Burnett worked on Orbison's "comeback" album, the 1989 Mystery Girl, along with other Orbison fans such as Elvis Costello, Bono, George Harrison, and Tom Petty, and acted as musical director for an Orbison Cinemax concert special, A Black and White Night. Around this time Burnett also produced work by Leo Kottke, Marshall Crenshaw, Peter Case, the debut album of the BoDeans, and three records for Los Lobos that catapulted them onto the charts.

Costello describes Burnett's production style as thoughtful and patient. Discussing the making of King of America, Costello told Musician, "'Generosity' is a word that flew around a lot. It's something to do with T Bone's influence.... T Bone was saying, 'Remember what the point was. Why did you write it?' People don't often do that. Producers obviously don't do that enough." Sam Llanas of the BoDeans commented in Billboard, "[Burnett] can be brutally frank without being brutal; he would make suggestions that clarified the whole thing." Evaluating his own skills in an interview with Dan Ouellette of Acoustic Guitar, Burnett reflected on his commitment to the music itself: "My goal as a producer is to try to help the song live and, hopefully, not simply live, but live passionately or defiantly or gloriously or humbly or honestly."
Burnett's solo career, meanwhile, was developing more slowly. In a pattern that would characterize his work, his first two releases after the breakup of the Alpha Band, 1980's Truth Decay and the 1982 EP Trap Door, were received enthusiastically by the critics but did not sell. Burnett's lyrics wrestled with everyday ethics, focusing on personal hypocrisy, daily compromise, and faithless love, but also on the possibility of transcending despair.

Burnett has appeared to take his relative lack of popular success in stride. In concerts, joking about the media's references to his "cult" status, he would ask audiences, "Are you guys a cult?" In Acoustic Guitar, Ouellette asked Burnett if he ever doubted his abilities. Burnett answered, "Sure, but it's only been during periods when I've believed in and conformed to the competitive aspect of the music business.... I would think I wasn't very good because I wasn't selling enough records." Despite discouraging sales figures, Burnett continued to make records that were more artistic than commercial and got first-rate studio support on them; Ry Cooder and Richard Thompson played on the 1983 Proof Through the Night, for example, and Billy Swan and Los Lobos' David Hidalgo both appeared on T Bone Burnett.

Warner dropped Burnett in 1984 after two critically acclaimed but poor-selling records. Burnett, however, went on to release another EP, Behind the Trap Door, in England shortly afterward. In 1986 he made the well-received T Bone Burnett on Dot, an MCA label. That album, with its country influence and relatively spare sound, is regarded by some critics as Burnett's best. Throughout the 1980s Burnett experimented with a range of sounds, from the rockabilly flavor of Truth Decay and simple song-centered Trap Door to the more highly produced Proof Through the Night. His last album of the decade, 1988's The Talking Animals, is among his most ornate and ranks among Burnett's least favorite. A Billboard article reported that Burnett considered the album "calculated and pretentious"; the critics tended to agree.

Tired out by a long busy spate of producing and recording, Burnett took some time off after The Talking Animals. Around 1986 he had been introduced to a singer and songwriter named Leslie Phillips, who had made several successful records in the early 1980s for the Christian record label Word and wanted to shift out of the Christian rock formula. Burnett produced her 1987 crossover gospel/pop album The Turning, after which she took the name Sam Phillips and, with Burnett's help, signed with Virgin. Burnett and Phillips were married in the late 1980s. Burnett did not rush back into the studio to record his own work but with encouragement from Columbia, which had released The Talking Animals, he made The Criminal Under My Own Hat in 1992.

In order to make a record he was satisfied with, Burnett had to reevaluate his earlier work. He told Pulse!, "I listened to all of my old records and tried to pick out what I do well. I noticed that the more simple stuff, the stuff which comes more naturally to me, is generally the stuff that works best, so I tried to work within that vein." The strategy seemed to work as far as the critics were concerned. The reviews were favorable and the decision to scale back on production was praised: A Rolling Stone review commended the album's "broad palate of simple yet subtle instrumental touches," and Detroit's Metro Times noted Burnett's use of "simple, straightforward arrangements to deal with the thornier aspects of morals and ethics." Burnett's songs again focused on human treachery and social decay but, as always, dealt as sternly with himself, "the criminal under my own hat," as with uncaring governments or a cruel lover.

It appears likely that Burnett will continue to make thoughtful albums that will be welcomed by his loyal band of listeners and by the critics, and that he will continue to do his best to make his corner of the music business more humane. In Acoustic Guitar he discussed problems he had encountered and observed: "There is a sense of camaraderie with many of the people I work with. But there's also that hierarchy of fame that is completely debilitating to everyone.... It puts up too many walls between people to allow for any community." It seems that if anything can create a sense of camaraderie and community within the recording industry, the dedication and diverse talents of T Bone Burnett can.

View the full website biography of T-Bone Burnett.