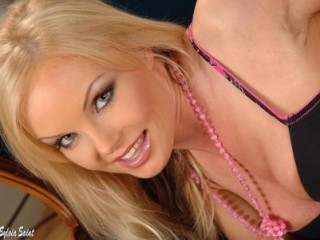 Sylvia Saint
Date of birth : 1976-02-12
Date of death : -
Birthplace : Kyjov, Czech Republic
Nationality : Czech
Category : Arts and Entertainment
Last modified : 2011-06-28
Silvia Tomcalova, born Silvia Tomcalova is a Czech former porn actress. After graduating school Sylvia Saint studied management for two years at an institute in Brno.

Sylvia Saint was employed as a hotel manager in Zlin, and held jobs in other companies as an accountant and marketing coordinator. Financially Sylvia Saint wasn't going anywhere, so she decided that a career in modeling would be more rewarding than her previous jobs.

Sylvia Saint quickly graduated from modeling underwear in lingerie shows to nude layouts in magazines. Sylvia Saint's boyfriend took her to a casting session for an American porn production, and she soon found herself in Frank Thring's "Lee Nover: Search for the Perfect Breasts". After some layouts in "High Society", "Swank", "Cheri" and "Club International", Sylvia Saint hit the jackpot in 1996, when she became a "Penthouse" Pet in the Czech "Penthouse" magazine. Two years later she was a "Pet" in the American issue of "Penthouse".

Sylvia Saint's first movie was shot in Prague for Private Media, and was a great success. From there, Sylvia Saint moved across the Atlantic where she has spent over three years on U.S. soil. Much of Sylvia Saint's work includes anal sex and she is noted for her performance of oral sex, lesbian themed films as well as interracial scenes.

On March 19, 2001, Sylvia Saint officially announced that she was leaving the porn industry and moved to Prague, Czech Republic. According to a rumor Sylvia Saint met a businessman, with whom she fell in love. Sylvia Saint has yet to divulge the man's name. A wedding was apparently planned, but never took place. There was a claim made that Sylvia Saint was pregnant with her first child, though no further information could be found in support of those rumors.

Sylvia Saint had been involved in a long-term relationship with porn actor Mr. Marcus. When her involvement with the business man came to light, Sylvia Saint ended her relationship with Marcus.

During 2001, Sylvia Saint ventured into the antiques business with the aforementioned businessman fiance. Sylvia Saint aided him when able, but eventually left the business venture.

Sylvia Saint has been featured in the following magazines: Penthouse, Swank, Cheri, Club International, Leg Show, Leg Action, High Society, Hustler, Private, Pirate, Sex, Brejk, Front and Arena Magazine.

View the full website biography of Sylvia Saint.