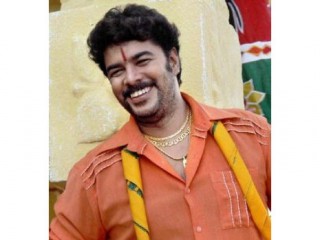 Sundar C.
Date of birth : -
Date of death : -
Birthplace : Tamil Nadu, India
Nationality : Indian
Category : Arts and Entertainment
Last modified : 2011-08-10
Sundar C. is a Tamil film director and actor. He had directed 28 films in Kollywood and debuted his acting career in 2006 with the film Thalai Nagaram.

His most notable films include Ullathai Allitha, Arunachalam and Anbe Sivam and other notable films include Mettukudi, Winner, Naam Iruvar Nammaku Iruvar, London.

He made his directorial debut through Murai Maman in 1995 and his second film is murai mapillai which was also the debut film of Arun Vijay.He directed big stars Rajinikanth in Arunachalam, Kamal in Anbe Sivam.He has worked with Karthik for 5 times, Prashanth, Arjun and Sarathkumar 2 times. he directed Ajith for only one time. He never directed Vijay and Surya. Sundar. C started his acting career in 2006 in Thalai Nagaram after quitting direction.Thalainagaram upon release only received lukewarm response but later turned out to be a surprise success at th box office.After a great debut in 2007 he released Veerappu which also took a lukewarm opening.But after the highly positive word of mouth the film turned out to be a sleeper hit too.After getting recgonised well in 2008 he released Sandai in which he worked under director Shakti Chidambaram.However this film took a huge opening and turned out to be a huge success at the box office.However his streak of succcessses went out when his Aayudham Seivom despite taking a good opening flopped badly at the box office.In 2009 his first release Perumal turned out to be a disaster.But his next film Thee turned out to be a flop after taking a huge opening.After that his Aiyantham Padai was a average grosser.In 2010 his first release Guru sishyan turned out to be a flop despite a good opening.His following film Vaadaa turned out to be a huge bomb too.His last release in 2010 which was Nagaram was a flop despite receiving highly positive reviews for its good story,vadivelu's comedy and Anuya's glamour avatar.He is currently shooting Murattu kaalai.

Filmography:

2010 Vaadaa vetrivel
2010 Nagaram Marupakkam
2011 Murattu Kaalai

Directing:

2010 Nagaram Marupakkam
2006 Rendu
View the full website biography of Sundar C..