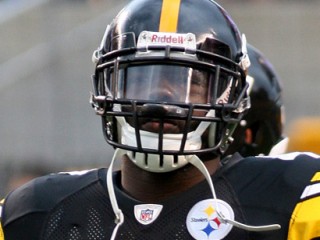 Stevenson Sylvester
Date of birth : 1988-07-18
Date of death : -
Birthplace : Las Vegas, Nevada, USA
Nationality : American
Category : Sports
Last modified : 2010-11-25
Stevenson Sylvester is an American football Linebacker for the Pittsburgh Steelers of the National Football League.

PRO:
Drafted by the Steelers as their third of three selections in the fifth round (166th overall) of the 2010 NFL Draft.

COLLEGE:
Three-time all-conference rover linebacker made the first-team as a senior...played in 49 games and started 37 in his career...two-year team captain...defensive MVP of the 2009 Poinsettia Bowl…double-major in mass communications and economics…graduated in Fall of 2009 with a bachelor's degree in communications. 2009: First-team all-MWC...started all 13 games at rover linebacker...Utah's tackle leader had 81 stops, 5 tackles for loss and 2 sacks...defensive MVP of the 2009 Poinsettia Bowl with eight tackles (0.5 TFL), an interception for a touchdown (27 yards) and a pass breakup in Utah's 37-27 win over Cal...fourth quarter "pick six" against Cal put Utah in control 37-21...season-high 13 tackles against Air Force included an assisted tackle for no gain on fourth-and-2 in overtime to give Utah the win...eight tackles with an 11-yard sack vs. BYU. 2008: Second-team all-MWC...started all 13 games...won team's Top Linebacker award...second on the team in tackles with 73...Ute leader in tackles against league schools (53)...all but unstoppable in the Sugar Bowl, recording seven tackles, three sacks and a fumble recovery against Alabama...season-high 10 tackles against TCU...nine tackles with 1.5 TFL against UNLV...nine tackles, a forced fumble and a pass breakup vs. Colorado State...two pass breakups against New Mexico...eight tackles (1.5 for loss) vs. Air Force. 2007: Honorable mention all-MWC...played in all 13 games, starting eight at rover linebacker...second on the team in both tackles (86) and tackles for loss (10)...five pass breakups and a forced fumble...career-high 14 tackles, including 2.5 for loss, against UNLV...nine tackles against both TCU and Wyoming...eight tackles against San Diego State...recorded sacks against UCLA, Utah State and Louisville...six tackles in bowl win over Navy. 2006: True freshman played in 10 games, making three starts (two at rover and one at middle linebacker)...injured his knee on the opening kickoff against Wyoming and missed the next week's game at New Mexico...started against Northern Arizona, Utah State and TCU...23 tackles with 1.5 tackles for loss and 0.5 sacks...also had a pass breakup, forced fumble and interception...returned an interception 45 yards for a score at Utah State.

PERSONAL:
First-team all-state and all-league linebacker and tight end in 2005...Valley High (Nevada) MVP and team captain...recorded 67 tackles (44 solo) in 2005...also had 22 tackles for loss, five sacks, four forced fumbles and five pass breakups...had over 400 receiving yards and six touchdowns as a senior tight end...won three letters in football and two in basketball...hoops team won the 2004 conference and region titles...also played in the band for two years…son of Worrel Sylvester and Angela Levi...mother played basketball for Southern Utah for four years...raised with his two brothers and four cousins from age 4 to 15 before moving to Las Vegas...brother Jason played basketball for Santa Rosa JC...cousin Geno Odong plays football at Utah State...cousin Jennifer played basketball for Cerro Coso CC...coached in basketball by his mother, who also critiqued him after every football, basketball, baseball and soccer game he ever played...played the saxophone from fifth through 10th grades...nickname is Sly...Full name: Stevenson Ellis Sylvester.

View the full website biography of Stevenson Sylvester.