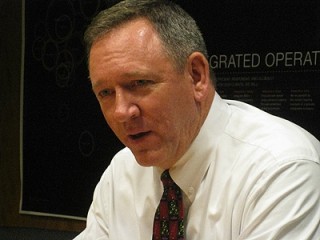 Steven J. Heyer
Date of birth : 1952-06-13
Date of death : -
Birthplace : New York City, New York, U.S.
Nationality : American
Category : Famous Figures
Last modified : 2011-09-07
Steven J. Heyer heads Starwood Hotels & Resorts Worldwide, the third-largest hotel chain in the world, behind Best Western and Marriott. A veteran of both the broadcasting and consumer-beverage industries, Heyer is known for his swift and decisive management style, cost-cutting skills, and talent for recognizing new marketing opportunities. He is still sometimes referred to by his college-era nickname of "Tank," and among the ranks of American corporate executives is also known for his drive and indefatigable dedication to his job. "Lots of people are smart; Steve is scary smart," friend Michael Reene, a business leader in Atlanta, told Atlanta Journal-Constitution , writer Scott Leith. "Lots of people are focused; Steve is scary focused."

Heyer was born on June 13, 1952, in New York City. He grew up in the borough of Queens, in a family headed by his attorney-father. After attending a private college-preparatory academy, Heyer entered Cornell University in Ithaca, New York, where he and some friends decided to build their own army tank with parts they began ordering through the mail and became campus legends when they put it together. His parents hoped he would enter law school, but when he graduated from Cornell in 1974 with a degree in industrial relations, he went on to New York University's Stern School of Business instead. During his two years in the M.B.A. program, he took night classes while working at a plant of 3M, the chemical giant, in New Jersey.
In 1976, Heyer joined Booz, Allen & Hamilton, the international strategy consulting firm, in New York City. The company's clients include some of the world's most prestigious corporations, and Booz Allen consultants provide advice on how to improve financial performance and gain market share. Over the next 15 years, Heyer rose to the post of senior vice president and managing partner at the firm, becoming the youngest person ever to achieve the latter title. One of his accounts was Turner Broadcasting, the Atlanta, Georgia, company that owned super-station WTBS as well as the Cable News Network (CNN). After decamping to serve as president and chief operating officer of Young & Rubicam Advertising Worldwide between 1992 and 1994, Heyer was hired as president of Turner Broadcasting Sales, Inc. In that post he became "the point man in the cable industry's campaign to convince ad agencies that widely distributed cable channels should be as much a part of a marketing plan as broadcast television, prompting an increase in cable ad revenues overall," noted New York Times journalist Jim Rutenberg.
Heyer spent several years at Turner; he was promoted to president of Turner Broadcasting System's worldwide sales, marketing, distribution and international networks. In January of 1998, he became chief operating officer for Turner Broadcasting System Inc., and was given responsibility for the CNN property in late 2000. With an imminent merger of CNN's parent company, Time Warner, with America Online (AOL), excess spending at the news outlet needed to be reined in, and Heyer was considered the ideal candidate for that unpopular job. It marked the first time that someone without a journalism background was making key decisions at CNN, and for a time Heyer's name was even mentioned as a possible head of the merged Time Warner/AOL entity.

That job failed to materialize, and Heyer was recruited by the Coca-Cola Company, another Atlanta powerhouse, to head Coca Cola Ventures, its new-business unit, in March of 2001. His arrival marked a shift for the venerable beverage-maker, which had been known as a closed shop for much of its century-plus history by then meaning one that rarely hired key executives from the outside. Once again, Heyer rose quickly within the organization, taking over the global marketing direction in the spring of 2002 and then becoming president and chief operating officer in December of that year. Coca-Cola had once been one of the most impressive multinational corporations in U.S. business history, but had faltered in recent years, and Heyer's vision was considered crucial to re-establishing its hegemony for the twenty-first century. Over the next year, Heyer oversaw a company restructuring, the introduction of several new products, and a new entertainment tie-in strategy, such as a deal with the producers of the hit television show American Idol to place cans of Coca-Cola and Vanilla Coke on the judges' table.
Again, Heyer was in line for the top job at Coca-Cola, which would have been the chief executive officer post. In a development much chronicled in the business press, Coca-Cola's board began to consider other names, and Heyer lost out on the job to E. Neville Isdell, a retired Coca-Cola executive, in the spring of 2004. He walked away with a $24 million severance package, which incited debate on the compensation deals parceled out to exiting executives at a time when a company's financial outlook was less than auspicious. Prompted by angry shareholders, the Coca-Cola board was forced to adopt a rule that gave shareholders a vote on packages that came in at 2.99 times the annual salary and bonus of the executive in question.

Heyer had moved on to Starwood Hotels & Resorts Worldwide by October of 2004. He became chief executive officer for the White Plains, New York-based company, which owns or franchises 850 hotels. Its brands include the Sheraton and Westin chains as well as the boutique W hotels. In 2005, it acquired Le Méridien hotels, and was readying a new brand, called Aloft, aimed at the mid-priced travel market. Once again, Heyer found opportunities to work with other companies for lucrative tie-in deals; American Express, for example, was one of the many companies eager to reach guests at Starwood's upscale hotel properties, and Heyer oversaw new partnerships with them as well as with Internet-service portal Yahoo!, which opened Yahoo! cocktail lounges with Internet access in some Sheraton properties.
Though there was some industry unease about the risks of inundating travelers with advertising pitches, Heyer responded by asserting he had carefully chosen the potential partners. "If we were to put a big sign in a Westin room that said 'Buy one, get one free' and there was a big picture of a roast turkey dinner," he told Melanie Wells and Allison Fass in Forbes , "I would run from that brand as fast as I could."

View the full website biography of Steven J. Heyer.