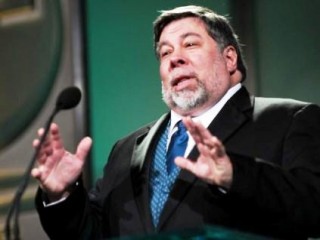 Steve Wozniak
Date of birth : 1950-04-11
Date of death : -
Birthplace : San Jose, California, U.S.
Nationality : Polish-German-American
Category : Science and Technology
Last modified : 2011-08-31
Stephen Gary "Woz" Wozniak is a Polish-German origin American computer engineer and programmer who founded Apple Computer, Co. (now Apple Inc.) with co-founders, Steve Jobs, and Ronald Wayne. His inventions and machines are credited with contributing significantly to the microcomputer revolution of the 1970s. Wozniak created the Apple I and Apple II computers in the mid-1970s.

The son of an engineer at Lockheed who worked on satellites, Stephen Wozniak enrolled at the University of California, Berkeley in 1971, the same year he began to collaborate with Steve Jobs in building "blue boxes" that allowed people to make free long-distance calls.

The pair then began to make computers out of borrowed "chips" and, working out of a family garage, he and Jobs designed a more "user-friendly" alternative to the new computers being introduced by International Business Machines (IBM). Wozniak was now working for Hewlett-Packard, and when that company refused to back the new computer, he and Jobs founded Apple Computer Inc. in 1976 to make their Apple I. The next year he introduced the Apple II personal computer which featured a central processing unit, a keyboard, color graphics, and a floppy disk drive. It can be said that this launched the personal computer industry.

In the following years, Wozniak played a major role in designing later Apple models such as Lisa and Macintosh. He took several years leave from Apple after being injured in a plane crash in 1981. He returned to Apple in 1983 but left the company in 1985 after a series of disagreements with Jobs.

In 1985 he started a new company, MBF, to explore new possibilities for electronics. That same year, Stephen Wozniak was awarded the National Medal of Technology by the President of the United States in 1985 for his achievements at Apple.He also became involved in other projects, including UNUSON ('unite us in song'), with its goal of eliminating international enmities by using new communication devices. In 1990 he also joined Mitchell Kapor in establishing the Electronic Frontier Foundation to provide legal aid for computer hackers facing criminal prosecution, and to research the legal aspects of computer communication.
Most recently, Wozniak serves as Chief Scientist for Fusion-io and in 2006 published his autobiography iWoz: From Computer Geek to Cult Icon. He's also made several television appearances including the reality show "Kathy Griffin: My Life on the D-List" and season eight of ABC's "Dancing with the Stars."

View the full website biography of Steve Wozniak.