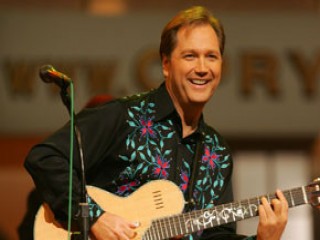 Steve Wariner
Date of birth : 1954-12-25
Date of death : -
Birthplace : Noblesville, Indiana
Nationality : American
Category : Arts and Entertainment
Last modified : 2011-05-05

Steve Wariner was born Dec. 25, 1954, in Noblesville, Ind., and was playing in Dottie West's touring band at age 17. He later worked with Chet Atkins, who signed him to RCA in 1977. However, it wasn't until 1981 that he cracked the Top 10. A year later, he topped the chart with "All Roads Lead to You." Two more Top 5 hits followed before he moved to MCA Nashville in 1984. Emerging as a strong songwriter, Wariner's smooth vocals and commercial sound led some to criticize his music as uninspired. But that didn't prevent 18 singles from MCA reaching the Top 10, with eight of them peaking at No. 1.

At a time when country music was selling its best numbers in quite a while, Wariner left the star-studded MCA Nashville roster for the start-up label Arista Records in 1991. Within a few years, though, Wariner again found himself on a label among the genre's biggest stars -- Brooks & Dunn, Diamond Rio, Alan Jackson and Pam Tillis. After charting four Top 10 singles for the label and releasing an instrumental album, he was released from his contract.

In a career lull, Wariner joined the Grand Ole Opry in 1996. A year later, he joined Anita Cochran on her ballad "What If I Said." Although Cochran was unproven and Wariner was considered out of vogue as a performer, the duet surprised the industry by eventually reaching No. 1 in 1998. Plus, two songs that Wariner had co-written -- "Longneck Bottle" by Garth Brooks and "Nothin' but the Taillights" by Clint Black -- also reached No. 1 that same year.

With his career momentum regained, Wariner signed to Capitol Records and offered "Holes in the Floor of Heaven," which won the CMA single and song of the year in 1998. A collaboration with Asleep at the Wheel brought Wariner his second Grammy in 1999. After three additional Top 10 hits for Capitol, Wariner launched his own imprint, Selectone Records. His first release included new material and re-recordings of his biggest hits.

View the full website biography of Steve Wariner.