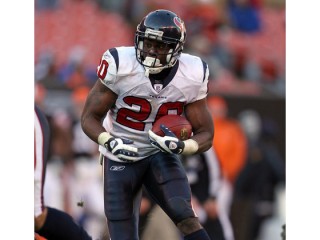 Steve Slaton
Date of birth : 1986-01-04
Date of death : -
Birthplace : Fairless Hills, Pennsylvania
Nationality : American
Category : Sports
Last modified : 2010-12-09
Steve Slaton is an American football running back for the Houston Texans of the National Football League.

Selected by Houston Texans in third round (89th pick overall) of 2008 NFL Draft…Signed by Texans on July 22, 2008...Placed on reserve/injured list on December 9, 2009.

HONORS: 2008 AFC Offensive Player of the Week (13), 2008 AFC Offensive Rookie of the Month (December), Houston Texans 2008 Rookie of the Year.

PRO:
Speedy young runner who possesses a tremendous burst and surprising strength…has rushed for 1,719 yards and 12 touchdowns in his career and has caught 94 passes for 794 yards and five touchdowns...took over the starting role two games into his rookie season and never looked back, starting 15 games in 2008…set the franchise single-season rushing record with 1,282 yards…rushing total led all rookie running backs in 2008...has five career 100-yard games.

2009 (Houston 11/10): Suffered through an injury-shortened sophomore campaign but still managed to lead the team in rushing for the second straight year...finished the season with 437 rushing yards on 131 carries and scored three touchdowns before being placed on injured reserve with a right shoulder injury...also caught 44 passes for 417 yards and caught a career-high four touchdown passes...started at RB vs. the New York Jets (9/13) and carried nine times for 17 yards to go with three catches for 35 yards...had 17 carries for 34 yards at Tennessee (9/20)...also had three receptions for 25 yards...started and ran for 76 yards on 12 carries while also hauling in three receptions for 37 yards vs. Jacksonville (9/27)...had 65 yards rushing and 24 yards receiving and tied the team record with two touchdowns vs. Oakland (10/24)...scored on a 32-yard run and an 18-yard reception...caught six passes for 59 yards and had 39 yards rushing on 13 attempts at Arizona (10/11)...had six receptions for a career high 102 yards and a touchdown at Cincinnati (10/18), his first 100-yard receiving performance of his career. He also had 19 carries for 43 yards...scored two touchdowns (1 rushing, 1 receving) while rushing for 67 yards on 18 carries and four receptions for 22 yards vs. San Francisco (10/25)...made two catches for 10 yards and one carry for one yard at Buffalo (11/1)...had six carries for 17 yards and made three catches for 12 yards at Indianapolis (11/8)...caught five passes for 42 yards and a touchdown as well as five attempts rushing for 21 yards vs. Tennessee (11/23)...carried 10 times for a team-high 57 yards vs. Indianapolis (11/29) and tied for the team lead with seven receptions for 49 yards...inactive at Jacksonville (12/6)...placed on injured reserve (12/9).

2008 (Houston 16/15): Started in 15-of-16 games played as a rookie…led all rookie running backs with a franchise-record 1,282 yards…also scored nine rushing touchdowns…caught 50 passes for 371 yards and one touchdown…led the AFC with 1,659 total yards from scrimmage…led all running backs in fourth-quarter rushing, gaining 464 of his 1,282 yards in the final period…topped the 100-yard mark five times…made his NFL debut and carried the ball 13 times for 43 yards with a long of 14 at Pittsburgh (9/7)…caught three passes for six yards…started at RB for the first time in his career at Tennessee (9/21) and had 18 carries for 116 yards and one touchdown, posting the first 100-yard game of his career…rushed 10 times for 33 yards and caught eight passes for 83 yards, including a 30-yard touchdown catch in the second quarter, at Jacksonville (9/28)…ran for 93 yards and two touchdowns on 16 attempts vs. Indianapolis (10/5)…ran for 80 yards on 17 carries, including a one-yard touchdown in the second quarter, vs. Detroit (10/19)…carried the ball 15 times for 53 yards vs. Cincinnati (10/26) and scored his fifth rushing touchdown of the season…ran for a Texans rookie-record 156 yards on 14 carries at Indianapolis (11/16), including a career-long 71-yard touchdown run…his 71-yard rush was the longest run from scrimmage in Texans history, bettering RB Domanick Williams' 51-yard run at Cincinnati on 11/9/03…156 yards rushing were the second-highest in franchise history, trailing only Williams' 158-yard day at Jacksonville on 12/26/04…averaged 11.1 yards per carry, which was the highest single-game average in Texans history…ran for 130 yards and two touchdowns on 21 carries and caught two passes for 52 yards on Monday Night Football vs. Jacksonville (12/1)…rushed for 120 yards on 26 carries and caught three passes for 40 yards at Green Bay (12/7)…went over 1,000 yards for the season with a five-yard gain in the third quarter…became the second Texan to run for over 1,000 yards in a season and registered the third 1,000-yard season in team history…gained 100 yards on 24 carries vs. Tennessee (12/14)…broke the team rookie rushing record in the game and established another team record with his fifth 100-yard rushing day this season…became the first Texans running back to have three consecutive 100-yard rushing games in a season…ran for 66 yards on 18 carries at Oakland (12/21)…surpassed the previous franchise single-season rushing record of 1,188 yards during the game…ran the ball 20 times for 92 yards and one touchdown and also caught five passes for 36 yards vs. Chicago (12/28)…finished the season as the NFL's leading rookie rusher and also set the Texans single-season rushing record with 1,282 yards.

COLLEGE:
Rushed for 3,923 yards during his career at West Virginia, ranking third on the school's all-time record list and third in Big East history…set the WVU career record for rushing touchdowns with 50…664 rushing attempts were third-most in school history…second-team All-Big East choice as a junior in 2007 when he rushed for 1,051 yards and 17 touchdowns on 211 carries…17 touchdowns rushing in both 2005 and 2007 tied for third on the school's season-record list…was a first-team All-American selection as a sophomore in 2006 by the American Football Coaches Association, Football Writers Association, Walter Camp, The Sporting News and Associated Press, and added second-team honors from The NFL Draft Report and Rivals.com…finished fourth in the voting for the Heisman Trophy and was a Maxwell Award semi-finalist…selected by the Philadelphia Sports Writers as the Amateur Athlete of the Year...named the team's Most Valuable Player…finalist for the Doak Walker Award, given to the nation's top running back…All-Big East Conference first-team pick…1,774 yards rushing in 2006 set a school season-record, topping the old mark of 1,710 yards by Cobourne in 2002…freshman All-American first-team choice in 2005 by Rivals.com and a second-team pick by The Sporting News…second-team All-Big East Conference selection and named the league's Rookie of the Year...rushed for 1,128 yards on 205 carries, including 17 touchdowns…ran for a Sugar Bowl-record 204 yards vs. Georgia in the 2006 game, the second-highest total by a player in a BCS bowl game... Athletic Coaching Education major.

PERSONAL:
Attended Conwell-Egan (Levittown, Pa.) Catholic High School…made the varsity football team as a freshman, going on to earn All-Conference honors in each of his four seasons on the gridiron…named the Most Valuable Player of the Philadelphia Catholic League and was chosen All-Area by most of the local news services, in addition to adding All-State accolades as a junior and senior…rushed for 1,836 yards and 26 touchdowns to lead the team to a 10-3 record as a senior…added 1,626 yards with 19 scores on offense and broke up six passes while intercepting two others as a defensive back during his junior campaign…rushed for more than 6,000 yards and 73 touchdowns, setting five school records in his career…also excelled on the school's track team.

View the full website biography of Steve Slaton.