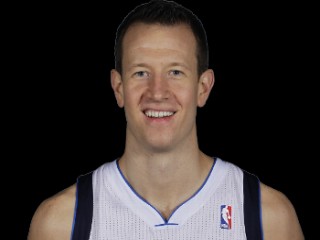 Steve Novak
Date of birth : 1983-06-13
Date of death : -
Birthplace : Libertyville, Illinois
Nationality : American
Category : Sports
Last modified : 2011-04-28

Steve Novak is an American professional basketball player who plays with the San Antonio Spurs of the National Basketball Association. He is listed as 6'10", 240 lbs. He played college basketball in the NCAA at Marquette University. Novak splits time at both small forward and power forward.

Career history

Houston Rockets (2006–2008)
Rio Grande Valley Vipers (2007)
Los Angeles Clippers (2008–2010)
Dallas Mavericks (2010-2011)
Reno Bighorns (2011)
San Antonio Spurs (2011-present)

CAREER:




2009-10:
In 54 games with LAC, averaged 2.1 points, 0.6 rebounds and 6.7 minutes while shooting 28.2% (42-108 FGs) from the floor, 31.0% (22-71 3FGs) from 3-point range and 77.8% (7-9 FTs) from the line…scored in double figures 4 times…15 points (6-8 FGs, 3-5 3FGs) and 2 rebounds vs. DAL (4/12/10).

2008-09:
In 71 games (3 starts) with LAC, averaged a career-high 6.9 points, 1.8 rebounds and 0.6 assists in 16.4 minutes per game…shot 41.6% for 3FG ranking 19th in the NBA…scored 10+ points 17 times and 20+ points 4 times…team-high 21 points (7-11 FGs, 7-11 3FGs) including the game winning 3-pointer as the buzzer sounds to give the Clippers the win vs. NJ (3/15/09)…21 points (7-11 FGs, 6-10 3FGs, 1-1 FTs) vs. WAS (3/18/09). 2007-08 (Houston): Averaged 3.9 points, 1.0 rebounds and 7.5 minutes in 35 games played…connected on 49-102 FG (.480), 34-71 3FG (.479) and 3-4 FT (.750)…made 15-25 3FG (.600) over the final five games of the season…spent 31 games on the inactive list and recorded 15 DNP-CD's on the year…assigned to Houston's NBA D-League affiliate the Rio Grande Vipers on November 11…in nine games with the Vipers, averaged 18.2 points, 7.2 rebounds and 1.6 assists…recalled from the Vipers on December 16…12/31/07 vs. Golden State, scored eight points (2-3 3FG) and grabbed five rebounds in 18:35 off the bench…1/11/08 vs. Minnesota, scored all nine of his points (3-5 3FG) in the fourth quarter…2/13/08 vs. Sacramento, hit the game-winning three-pointer with 2.5 seconds left in an 89-87 win…4/9/08 vs. Seattle, scored a career-high 17 points including a career-high five three-pointers…4/13/08 at Denver, tied his career-high with five three-pointers, on the way to 15 points and five rebounds…averaged 13.0 points and 3.2 rebounds for the Rockets' entry in the 2007 NBA Summer League in Las Vegas

COLLEGE:

Averaged 12.4 points, 4.2 rebounds and 1.0 assists during his four-year collegiate career…set the Marquette record with 354 career 3-pointers made (.461, 354-768 3FG), surpassing Travis Diener for the top spot…finished 10th on the all-time school chart for career points (1,567) and became the sixth player in Marquette history to reach career marks of 1,500 points and 500 rebounds (524)…finished as Marquette's all-time free throw percentage leader (.931, 243-261 FT)…2005-06 (Senior): Averaged a career-best 17.5 points to earn unanimous First-Team All-Big East selection…topped Big East in 3-point field goal percentage (.467, 121-259 3FG) and finished sixth in scoring (17.5)…led team in free throw shooting (.974, 74-76 FT) in 2005-06…set career highs in points (41) and rebounds (16) vs. Connecticut (1/3/06)…set Marquette record with 68 consecutive free throws made…named Great Alaska Shootout MVP, tying the Shootout Championship Game record with six 3-pointers vs. South Carolina (11/26/05)…2004-05 (Junior): Averaged 13.5 points per game and connected on .905 (76-84 FT) of his free throw attempts, both setting single-season junior records at Marquette…ranked sixth in the nation in 3-point field goal percentage (.461, 89-193 3FG)…2003-04 (Sophomore): Averaged 12.5 points and 4.6 rebounds in 31 games…led the C-USA in free throw percentage (.912, 62-68 FT) and finished second on the team in scoring average (12.5)…ranked 20th in the nation in 3-point field goal percentage (.430, 89-207 3FG), setting school sophomore single season records for 3-pointers made and attempted…scored 30 points vs. Louisville (1/31/04), including a career-high eight 3-pointers made…2002-03 (Freshman): Earned Conference USA All-Freshman Team honors and C-USA Sixth Man of the Year in 2002-03, averaging 6.7 points in 33 games…led the C-USA in 3-point field goal shooting (.505, 55-109 3FG), which established a school freshman record and ranked second overall in a season at Marquette…named to the NCAA Midwest Regional All- Tournament Team after shooting .560 (14-25 3FG) from 3-point territory in five NCAA Tournament outings…

PERSONAL:

Full name is Steven Michael Novak.
Was born in Libertyville, Illinois and raised in Brown Deer, Wisconsin.
Met his wife, Christina, while both were attending Marquette.
Is the son of Michael and Jeanne Novak.
Was coached at Brown Deer High School by his father.
Brother, Chris, also played basketball at Brown Deer High.
Sister, Andrea, played basketball at Michigan Tech University.
Was a three-time Parkland Conference Player of the Year in high school.
Earned All-State acclaim as a junior and senior.
Averaged 20.6 points, 10.4 rebounds and 5.0 assists per game his senior year in helping Brown Deer to a 21-5 mark.
Players he admired most while growing up were his father's high school players.
If he was not playing basketball, he would own a restaurant.
Lists pasta and chicken as his favorite pre-game meal.
Majored in communications studies at Marquette.
Played on NIT All-Star Team that toured China in the summer of 2004.


View the full website biography of Steve Novak.