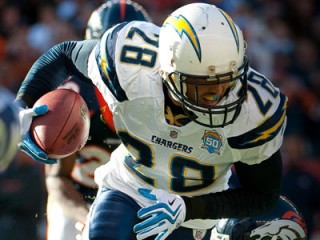 Steve Gregory
Date of birth : 1983-01-08
Date of death : -
Birthplace : Brooklyn, New York, United States
Nationality : American
Category : Sports
Last modified : 2010-09-17
Stephen "Steve" Gregory born January 8, 1983 is an American football defensive back for the San Diego Chargers of the National Football League. He was originally signed by the Chargers as an undrafted free agent in 2006. He played college football at Syracuse. Gregory signed a one year exclusive rights contract for the 2008 season and will be the starting dime back and back up Eric Weddle. Gregory is a legitimate commodity for the Chargers who may want to extend his contract before he becomes a free agent after this season.


Stephen's career
In 2009, Gregory firmly asserted himself as a fixture in the Chargers' secondary. He was on the field for 676 defensive plays, played in all 16 games and started six. Gregory logged a career-high 63 tackles, along with the first sacks and interception of his career.
Always around the ball, Gregory did his part to key the Chargers to a big win in Denver last November that allowed the Bolts to seize control of first place in the AFC West. He had two fumble recoveries against the Broncos, one that led to a touchdown and another in the end zone that prevented a Denver TD and resulted in a touchback. Gregory also logged a season-high three passes defensed that afternoon against the Broncos.
Gregory has teamed up with the nonprofit Athletes for Education Foundation to start the "SG Squad" with his girlfriend and former Syracuse field hockey star, Rosanne Geraty. The Found"tion's goal is to promote fitness, education and healthy lifestyles for the students, educators and administrators in the SanYsidro School District, an area south of San Diego near the Mexican border. It rewards the hardest working students with school supplies, clothing and Chargers tickets. Similarly, the SG Squad has lent its assistance to the Little Falls High School football team in Little Falls, New York. In 2008, Gregory received a President's Volunteer Service Award from the President's Council on Physical Fitness for his work with the SG Squad.
Gregory grew up in Staten Island, New York, and his family still resides there. His father, Steve, and stepmother, Judy, are both retired from the New York Police Department, however both were on active duty when the terror attacks of 9/11 struck New York City. Unsure of his own future in football, Gregory took the New York City Police test upon graduation from Syracuse.
Gregory's hobbies include golf, video games, movies, pool, bowling, darts and poker. He played baseball through high school as a SS and CF and had tryouts with the New York Mets and Yankees before enrolling at Syracuse.
TRANSACTION HISTORY: Signed with Chargers, May 8, 2006...waived Sept. 2 and re-signed to practice squad, Sept. 4, 2006...signed to active roster, Sept. 30, 2006...signed March 17, 2008 and extended to four-year contract, Aug. 25.
2010: Sept. 13 at KC, led team with seven tackles.
2009: Game Ball Oct. 25 at KC after INT and sack...first-career sack on 3rd-and-8 in 2Q...4Q INT leads to FG for 30-7 lead...eight-yard sack on 3rd-and-10 in 3Q week later vs.OAK...Nov. 22 at D, two FRs and season-high three PBUs...first FR led to TD and second in end zone for touchback...3Q PBU at goal line prevented TD and forced DEN to take FG for only points of game...Game Ball after career-high eight TTs at DAL Dec. 13...Jan. 17 Wild Card vs. Jets, tipped 3Q pass INT by Quentin Jammer.
2008: Apparent INT overturned by replay challenge Oct. 26 vs. NO in London's Wembley Stadium…stinger Wk 9 vs. KC and INA Wk 10 at PIT…extensive action Wk 12 vs. ATL for Clinton Hart (stinger)…started Dec. 4 vs. OAK and Dec. 14 at KC for Hart.
2007: Textbook open-field tackle late in 2Q of Nov. 11 game vs. IND forced 42-yard FGA that was missed allowing Chargers to hold 23-7 lead at half. 2006: PS Weeks 1-2...first-career game Oct. 1 at BAL,took over at CB for injured Jammer in 4Q and made great play to break up deep 3rd down pass on first play…season-high three STTs vs. STL Oct. 29 and DEN Dec. 10.
COLLEGE: Four-year starter...three seasons as CB and junior year as WR…third in school history with 40 PBUs...school-record six PBUs vs. North Carolina in '02…finished career with
168 TT, six INTs and two FFs…five-career blocked kicks, tied for second all-time at SU…Frosh All-America and All-Big East after leading nation frosh with 21 PBUs …Big East ST POW in '02 for Central Florida game…redshirted in '01…played at Syracuse from 2001-05…degrees in finance and marketing.
PERSONAL: Born in Brooklyn…Newsday and New York Daily News all-city WR at Curtis HS in Staten Island….played in '01 NY-NJ Governor's Bowl…MSG Network/Downtown Athletic Club/Heisman Trophy Tri-State All-Star as senior after rushing for borough-record 2,060 yards…Al Fabbri Award as Staten Island's best player…played on NY PSAL champ teams as soph and junior…51 career TDs, 184 TTs and five INTs.
View the full website biography of Steve Gregory.