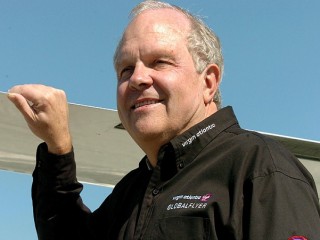 Steve Fossett
Date of birth : 1944-04-22
Date of death : 2007-09-03
Birthplace : Jackson, Tennessee
Nationality : American
Category : Arhitecture and Engineering
Last modified : 2011-05-30
James Stephen Fossett was an American businessman, aviator, sailor, and adventurer and the first person to fly solo nonstop around the world in a balloon.

Millionaire adventurer Steve Fossett is remembered for his record-breaking balloon flights and for his mysterious 2007 disappearance and apparent death. Fossett made his fortune in American financial markets with his brokerage companies Lakota Trading, Inc. and Marathon Securities, Inc. before turning his attention to aviation and other daredevil pursuits. He made the first solo balloon crossing of the Pacific Ocean in 1995, and in 2002 he became the first person to fly around the world alone, nonstop, in a balloon. (He launched from Northam, Western Australia on 19 June 2002 and returned to Australia on 2 July 2002.) Fossett then became the first person to fly solo around the world in an airplane without stopping to refuel, landing at Salina, Kansas on 3 March 2005 after a 67-hour trip. According to Fossett's web site, "Long fascinated by endurance sports, he has swum the English Channel, run Alaska's famed Iditarod Dogsled Race, driven the 24 Hours of Le Mans sports car race and finished the Ironman Triathlon in Hawaii." He disappeared on 3 September 2007 after taking off for a short flight in a small plane from a private Nevada airstrip. Despite extensive searches, his plane was not found. On 15 February 2008 a probate court judge in Chicago declared Fossett to be legally dead.

Fossett was 5'10" tall, according to his FAA card... He also tried (but failed) to become the first to circle the globe nonstop in a multi-person balloon; his attempts included a 1998 flight with British businessman Richard Branson, which ended with their craft ditching in the Pacific near Hawaii. The first circumnavigation was then accomplished in March 1999 by Swiss pilot Bertrand Piccard and Englishman Brian Jones... Fossett also completed the longest nonstop flight in aviation history by flying, solo, for 26,389.3 miles over 76 hours and 45 minutes in 2006.

Fossett joins novelist Agatha Christie in our loop on famous Disappearing Acts... Other daring aviators include solo pilot Charles Lindbergh and parachutist Albert Berry.
View the full website biography of Steve Fossett.