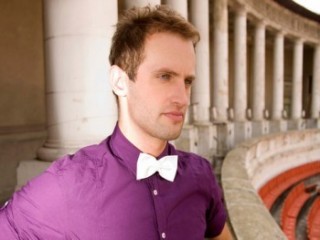 Sorin Brotnei
Date of birth : 1980-12-15
Date of death : -
Birthplace : Baia Mare, Romania
Nationality : Romanian
Category : Arts and Entertainment
Last modified : 2011-05-09
Sorin Ştefan Brotnei is a Romanian dance-pop singer. Sorin was born in a winter day, in December 1980.

Sorin is a member of boy-band Akcent since releasing her first album In Color(In Colors) in 2002 until now.

After art school, he continued throughout the area, following the Faculty of Fine Arts, and until he get to play with Akcent, Sorin had presented multiple modeling and famous fashion houses, but chose to pursue a music career alongside Akcent .

Sorin enjoys to listen to house music, and he is also a faithful person. When he has time, Sorin reads the Bible and listens to some orthodox Christian music.

During high school, Sorin was tough and looked like a person rather than by "Glen Glen" from "Life with Louie" was always something that is shared with colleagues around which we can not say that is happening now. In fact, after graduating from high school Sorin became a pacifist and a really calm person.

The other band members say about Sorin Brotnei that is what makes the atmosphere of their gang, who always makes them laugh.

Being inclined towards the arts, knows how to give the best advice on how to dress his fellow band, both on stage and beyond. Regarding all of the artistic Sorin experienced over time his hair different colors, from black to red and blond. Sorin has a look and very very special, very special: "The idea was to fit us in different genres of photography. And I chose to be a splash of color ... blonde band. "

Sorin also flirts with photography. He made his own profile of photographer on the social network website (facebook).

Akcent have 8 released albums:

2002: In Culori (In Colors)
2003: 100 BPM
2004: Poveste de Viata (Life Story)
2005: S.O.S.
2006: Primul Capitol (First Chapter)
2006: French Kiss With Kylie
2007: King of Disco
2009: Fara Lacrimi (Without Tears)
2009: True Believers
2011: My Passion

The latest single from Akcent is called Feelings On Fire and features Romanian singer Ruxandra Bar:



View the full website biography of Sorin Brotnei.