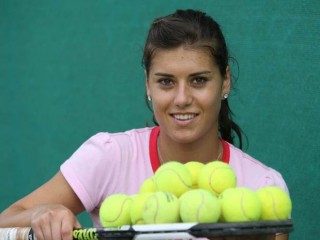 Sorana Cirstea
Date of birth : 1990-04-07
Date of death : -
Birthplace : Bucharest, Romania
Nationality : Romanian
Category : Sports
Last modified : 2011-05-18
Sorana Mihaela Cirstea is a Romanian tennis player. Her career high rank was World No. 23, achieved on 17 August 2009, after she reached the quarterfinals of the 2009 French Open and the semifinals of the 2009 Los Angeles Open. She is ranked 63rd in the world as of August 2, 2010.

CAREER:

She is a former ITF Junior Circuit top-ten player, reaching her highest ranking of number six on June 26, 2006. Her best results include a title in the 2005 German Junior Open (Grade 1) defeating Erika Zanchetta 6–2 6–7 6–3 in the final, a tournament she was finalist the year before and a runner-up place in the 2006 Trofeo Bonfiglio (Grade A) where she lost in the final to her compatriot Ioana Raluca Olaru after having defeated the then-top ranked world junior player Anastasia Pavlyuchenkova in the semifinals. Cîrstea lost in the finals of the doubles tournament at the 2007 French Open, when she and Alexa Glatch lost 6–1, 6–4 to the third seeds, Ksenia Milevskaya and Urszula Radwańska. She also made final appearances at the year-ending ITF Grade 1 juniors tournaments Eddie Herr International and Yucatán World Cup in 2005 and 2006, and in the Opus Nottinghill International in 2006.

2010:

Cîrstea began 2010 ranked 45th in the world. In the 2010 Hopman Cup in early January, she played on behalf of Romania with Victor Hănescu. Romania was seeded sixth and finished last in their group, winning against the Australian team of Samantha Stosur and Lleyton Hewitt, but losing to the Spanish team of María José Martínez Sánchez and Tommy Robredo, the eventual champions, and the American team of Melanie Oudin and John Isner. Cîrstea posted a 3–6 6–4 6–3 win over Stosur and, with Hanescu, a 7–5 6–1 win over Stosur and Hewitt to win the Australian match. She lost in straight sets to Sanchez and Oudin. Leading up to the Australian Open, she lost in the first round of the Hobart tournament to Shuai Peng 1–6 4–6. At the Australian Open in January, she defeated Olivia Rogowska in the first round 6–3 2–6 6–2, but lost in the second round to Alisa Kleybanova 4–6 3–6. She partnered with Anastasia Pavlyuchenkova in the doubles tournament, losing to Kirilenko/Radwańska in the first round 6–0 6–7 (4) 6–2. Her next tournament was the Open GDF Suez in Paris, where she fell to Melanie Oudin 3–6 0–6. She lost in straight sets in the first rounds of the Dubai, Acapulco, and Monterrey tournaments, to Francesca Schiavone, Sharon Fichman, and Sara Errani, respectively. At the 2010 BNP Paribas Open in Indian Wells, California, she reached the second round, first defeating Kaia Kanepi 6–7(1) 6–3 6–4, but ultimately losing to Jie Zheng 3–6 5–7. In Miami two weeks later at the 2010 Sony Ericsson Open, Cîrstea defeated Michelle Larcher de Brito in a two-set thriller 7–5 7–6(9) before losing in the second round to 3rd seed Venus Williams 6–4, 6–3. Moving into the clay season, Cîrstea prevailed over 6th seed Maria Kirilenko in the first round of the 2010 Andalucia Tennis Experience 4–6 7–6(2) 6–4. She then lost in the second round to fellow Romanian Simona Halep 4–6 6–7. At the 2010 Barcelona Ladies Open she defeated Tamira Paszek 6–4, 7–6(6), but lost in the second round to Iveta Benešová 1–6, 4–6. Cîrstea was seeded 2nd at the 2010 Estoril Open and defeated compatriat Ioana Raluca Olaru 6–3, 3–6, 6–1 in the first round and Michelle Larcher de Brito 7–5, 7–5 in the second. In the quarterfinals, she beat Arantxa Rus 6–4, 6–1, but fell to Arantxa Parra Santonja, 6–1, 6–4 in the semifinals. In doubles, she partnered with Anabel Medina Garrigues to win the tournament, receiving a bye in the first round and posting wins over Peng/Zhang, Manasieva/Olaru and Diatchenko/Vedy. Cîrstea lost to Flavia Pennetta 1–6 6–1 1–6 in the first round of the Madrid tournament in May. Two weeks later, she qualified for the Strasbourg tournament, losing to Elena Baltacha 3–6 5–7 in the first round. At the 2010 French Open, she lost in the first round to defending champion Svetlana Kuznetsova 3–6 1–6. At the 2010 AEGON International she defeated seed 2 Francesca Schiavone losing in the second round to Svetlana Kuznetsova with the score 4–6 7–6(6) 7–6(4). At the 2010 Wimbledon Championships she was defeated by defending semifinalist Petra Kvitová with the score 2–6, 2–6. At the 2010 GDF SUEZ Grand Prix she lost in the first round to a qualifing player Zuzana Ondrášková with the score 4–6, 2–6. She lost in the quarterfinal at tne turnaments 2010 İstanbul Cup to Anastasia Pavlyuchenkova and 2010 e-Boks Danish Open to Klára Zakopalová. At the 2010 Western & Southern Financial Group Masters and Women's Open were she qualifing to tournament she lost in the first round to Sybille Bammer with the score 6–7, 2–6.

PERSONAL:
Coached by Alina Tecsor; fitness coach is Teo Cercel
Introduced to tennis at age 4 by mother, Liliana and father, Mihai; brother, Mihnea, is five years her junior
Full name is Sorana Mihaela Cirstea
Speaks Romanian, English and Spanish and is studying French
Likes all surfaces; favorite shot is forehand
Enjoys playing all ball sports, going shopping, watching movies, reading, doing crosswords and looking after her two parrots
Favorite cities are New York and London ("big cities with lots to do")
Self-described as ambitious, stubborn and happy
Most admires Steffi Graf
Goal is to reach Top 10.

View the full website biography of Sorana Cirstea.