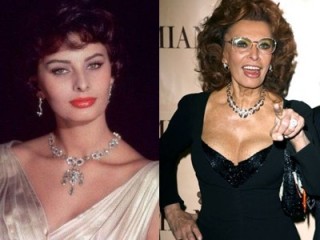 Sophia Loren
Date of birth : 1934-09-20
Date of death : -
Birthplace : Rome, Italy
Nationality : Italian
Category : Arts and Entertainment
Last modified : 2010-10-19
When one talks about some of the most beautiful seductresses in cinema, Sophia Loren gets a special mention. Known for her striking face, voluptuous body and her tag of being a 'sex symbol', Sophia Loren has made many men go weak at knees. It is hard to believe that this talented actress, who has also had Sophia Lorena short singing career, was actually brought up in impoverished conditions. Born in Rome, Italy, Sophia Loren has been a two time Academy Award winner and a very popular Italian actress of her time. Her profile as an actress is striking and even though there may not be many impressive hits, her performances were worth watching.


Childhood and Early Life
Sophia Loren
was born
Sofia Villani Scicolone
on September 20, 1934 in Rome, Italy. She was an illegitimate child, born to an aspiring actress and a piano teacher known as Romilda Villani and Riccardo Scicolone. Her father refused to marry her mother and Sophia was branded as an illegitimate child. She was brought up in extremely impoverished conditions and her surroundings were war-struck. Once, she was even struck by shrapnel as she was running to seek shelter during a raid. Her mother took off to Pozzuoli and lived with Sophia's grandmother and sang at a pub to raise her kids.
Career
When Sophia was 14 years old, she underwent a miraculous transformation and blossomed from a reed thin child to a beautiful teenager with a curvy figure. She entered a beauty contest in Naples and was selected as one of the finalists even though she didn't win it. She won the second place in Miss Rome competition in which her future husband, Carlo Ponti was one of the judges, who gave her a big break in movies. She was launched as a motion picture actress when she performed as an extra in 'Quo Vadis'. By the mid 1950's Sophia Loren was launched in Hollywood and shot to fame due to her mesmerizing looks. She starred in 'The Pride and Passion' along with Frank Sinatra and Cary Grant. Even though married, Cary Grant was struck by her beauty and immediately proposed. Though she was also married to Ponti, there are rumors that Grant and Loren had an affair.
Sophia Loren shot to fame when she signed a five-picture contract with Paramount Pictures. She expressed herself more dramatically and freely in Italian films and earned a good name for herself as a talented actress. Movies like Desire Under the Elms with Anthony Perkins; Houseboat co-starring Cary Grant and George Cukor's Heller in Pink Tights made her quite famous. Her best performance for which she is remembered was in the movie 'Two Women' in 1960. She won the Academy Award for Best Actress, the first major Academy Award for a non-English-language performance, along with awards at the Cannes, Venice and Berlin film festivals. She received $1 million to act in 'The Fall of the Roman Empire' in 1964.
Her career sky-rocketed during the sixties and some of her memorable films are 'The Millionairess', 'It Started in Naples', Peter Ustinov's 'Lady L' with Paul Newman, 'Arabesque' with Gregory Peck and Charlie Chaplin's final film, 'A Countess from Hong Kong' with Marlon Brando. She also established herself as a talented singer and recorded some two dozen songs throughout her career. This included a best-selling album of comedic songs along with Peter Sellers, who apparently had special feelings for Loren. Sophia Loren reduced to do films once she achieved motherhood. In 1980, she starred as herself in a made-for-television biopic adaptation of her autobiography. She was also sent to prison for 18 days for tax evasion. Even such a drastic incident did not deter her popularity among fans. In 1991, she was presented the Honorary Academy Award for her invaluable contribution to cinema.
In 1999, Sophia Loren was listed by the American Film Institute on AFI's 100 Years... 100 Stars as one of 25 American female screen legends of all time. In 2002, she was honored by the National Italian American Foundation (NIAF) at its annual Anniversary Gala and was inducted into its Italian American Hall of Fame.She is the only actor in history to win the Praemium Imperiale,The "Nobel Prize of art" .
Filmography
* Charlie Chaplin: The Forgotten Years (2005)
* Peperoni Ripieni e Pesci in Faccia (2004)
* Between Strangers (2002)
* Francesca and Nunziata (2001)
Francesca Montorsi
* Soleil (1999)
Mama Titine
* Grumpier Old Men (1995)
Maria Ragetti
* Ready to Wear (1994)
Isabella de la Fontaine--Widow of Olivier
* Angela (1990)
* Saturday, Sunday and Monday (1990)
Rosa Priore
* Running Away (1989)
Cesira
* Courage (1986)
* Angela (1984)
Angela Kincaid
* Aurora (1984)
* Sophia Loren - Her Own Story (1980)
* Firepower (1979)
Adele Tasca
* Brass Target (1978)
Mara
* Fatto di sangue fra due uomini per causa di una vedova. Si sospettano moventi politici (1978)
Concetta Paterno
* A Una Giornata Particolare (1977)
Antonietta
* The Cassandra Crossing (1977)
Jennifer Rispoli Chamberlain
* Get Rita (1975)
* Il Viaggio (1974)
Adriana
* La Pupa del gangster (1974)
* Le Testament (1974)
Teresa
* La Mortadella (1972)
Maddalena
* Man of La Mancha (1972)
Aldonza/ Dulcinea
* Bianco, Rosso e... (1971)
Sister Germana
* La Moglie del Prete (1971)
Valeria
* The Sunflower (1970)
Giovanna
* Cinderella - Italian Style (1967)
Isabella
* A Countess From Hong Kong (1967)
Natascha
* Arabesque (1966)
Yasmin Azir
* Judith (1966)
Judith
* Lady L (1966)
Lady L
* Operation Crossbow (1965)
Nora
* Marriage - Italian Style (1964)
Filomena Marturano
* The Fall of the Roman Empire (1964)
Lucilla
* Five Miles to Midnight (1963)
Lisa Macklin
* Yesterday, Today, and Tomorrow (1963)
Adelina/ Anna/ Mara
* Boccaccio 70 (1962)
* Madame Sans-Gene (1962)
Madame Sans-Gene
* Showman (1962)
Herself
* The Condemned of Altona (1962)
Johanna
* Neapolitan Carousel (1961)
Sisina
* Two Women (1961)
Cesira
* El Cid (1961)
Chimene
* The Millionairess (1961)
Epifania Parerga
* Heller in Pink Tights (1960)
Angela Rossini
* It Started in Naples (1960)
Lucia Curcio
* A Breath of Scandal (1960)
Princess Olympia
* That Kind of Woman (1959)
Kay
* The Black Orchid (1959)
Rose Bianco
* Attila (1958)
Honoria
* Desire Under the Elms (1958)
Anna Cabot
* Houseboat (1958)
Cinzia Zaccardi
* La Donna del Fiume (1958)
Nives
* The Key (1958)
Stella
* Boy on a Dolphin (1957)
Phaedra
* Legend of the Lost (1957)
Dita
* The Gold of Naples (1957)
Wife
* The Miller's Wife (1957)
Carmela
* The Pride and the Passion (1957)
Juana
* Bread, Love and... (1956)
Donna Sofia
* Too Bad She's Bad (1956)
Lina
* What a Woman! (1956)
* The Sign of Venus (1955)
* Aida (1954)
Aida
* Two Nights With Cleopatra (1954)
* Brief Encounter (1946)
* Women of Courage (1932)
* Femina
* Nine (2009)
Song Performer ("Guarda La Luna")
* Houseboat (1958)
View the full website biography of Sophia Loren.