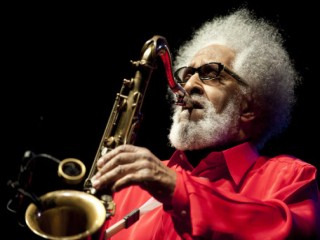 Sonny Rollins
Date of birth : 1930-09-07
Date of death : -
Birthplace : New York City, U.S.
Nationality : American
Category : Arts and Entertainment
Last modified : 2012-01-16
Theodore Walter "Sonny" Rollins is a Grammy Award-winning American jazz tenor saxophonist. Rollins is widely recognized as one of the most important and influential jazz musicians. A number of his compositions, including "St. Thomas", "Oleo", "Doxy", and "Airegin", have become jazz standards.

"Rollins played with a vivacity and amplitude so far beyond the ken of most musicians," wrote Gary Giddins in the Village Voice about tenor saxophonist Sonny Rollins's 1988 Town Hall concert, "that it might shame many into another line of work." Revered as a jazz master whose improvisational work has made him one of the most influential musicians in the genre, Rollins is a complex performer. He has remained popular over four decades, despite periodically dropping out of the jazz scene, and is often considered one of the greatest saxophonists in the music industry.

Rollins was born Theodore Walter Rollins on September 7, 1930, in New York City. "The year was 1930, but I had to put my age up when it came time to get working papers, so some of the books say 1929," Rollins explained to Bob Blumenthal in Rolling Stone. Located in Harlem, his family's first apartment was within walking distance of such popular jazz hangouts as the Savoy Ballroom and the Cotton Club. The young Rollins dreamed of visiting both night spots, but contented himself at the Apollo Theater. "I went down there at least once a week and caught practically everybody--Lionel Hampton, Fletcher Henderson, Duke Ellington, Count Basie," Rollins recounted to Blumenthal.

At home, Rollins's parents expected him to study piano like his sister, but the eight-year-old rebelled. He preferred the baseball field, where he acquired the nickname "Newk" because he idolized Brooklyn Dodgers pitcher Don Newcombe. Two years passed before Rollins, struck by the sight of a saxophone in its case, discovered his instrument. He began taking lessons on an alto while spending his time listening to Louis Jordan records.

In the early 1940s, Rollins's family moved to a new neighborhood further uptown, which was home to numerous well-known musicians. Proximity to the post-World War II Harlem jazz world made introductions easy for Rollins and, entranced by the music of Charlie Parker and Coleman Hawkins, he bought his first tenor sax in 1946. In 1948 when he was 18 years old, Rollins began recording on the tenor sax with trombonist J. J. Johnson and vocalist Babs Gonzales. He soon made contact with pianists Bud Powell and Thelonious Monk, and trumpeter Miles Davis; in 1951 Davis asked Rollins to join his band.

Critical and popular acclaim came easily while Rollins jammed with Davis during the early 1950s, but the saxophonist's personal life was overshadowed by his addiction to heroin. Charlie Parker, his mentor at the time, urged Rollins to get away from drugs, which were prevalent among jazzmen. Rollins recalled to Blumenthal, "Charlie Parker told me I could be a great musician if I didn't mess around, and that stayed on my mind." In 1954 Rollins finally gave up his habit at a federal drug facility in Lexington, Kentucky. Parker, himself an addict, died without knowing about Rollins's recovery. While continuing his work with Davis, Rollins joined the Clifford Brown-Max Roach quintet in 1955. Rollins's career soared with the group, which is considered one of the outstanding combos in the history of jazz.

Landmark albums, including Saxophone Colossus and Worktime, appeared in 1956 and secured Rollins's standing as a premier saxophonist. New Leader contributor Bruce Cook had nothing but praise for Rollins's sound, which he felt "accelerated, if it did not start, the very healthy shift away from the 'cool school' of the West Coast that had come to dominate jazz." In 1957 Rollins left Roach and Davis to lead his own group after Clifford Brown and pianist Richie Powell were killed in an automobile accident.

Rollins subsequently entered an intensely productive period, during which he defined his own style as a leader by omitting the customary piano player. Forming trios with only tenor sax, bass, and drums, Rollins made three more landmark albums: Way Out West with Ray Brown and Shelley Manne and A Night at the Village Vanguard with Wilbur Ware and Elvin Jones appeared in 1957, and Freedom Suite with Oscar Pettiford and Roach followed in 1958.

Rollins quit performing in 1959 in order to practice his sax alone on a walkway over New York City's Williamsburg bridge. His "woodshedding" in Manhattan meant to other musicians that Rollins was taking time to turn inward in a solitary exploration of his craft. Writer Ralph Burton even penned a short story in 1961 entitled "Metronome," which was inspired by Rollins's romantic vigil. Rollins, however, called this and future exits from the music business "sabbaticals," explaining to Blumenthal, "I've always been about getting my own self together."

In 1961 Rollins reappeared on the jazz scene and was labeled by the New Yorker "the most influential practitioner on his instrument to come along since Lester Young and Coleman Hawkins." The hero of the hard-bop school, Rollins experimented, making several albums with a young Jim Hall and using a piano anew, but his composing for the soundtrack to the 1966 film Alfie was his major success of the decade. In 1968 Rollins took another sabbatical--this time to India--after becoming disillusioned by a growing preoccupation with finances rather than quality in the recording industry.

The appointment of his wife, Lucille, as his manager in the 1970s initiated Rollins's return to jazz at a time when less emphasis was on the player than on the instrument. In New Leader Bruce Cook described Rollins's sound as "an increasingly coarser and rougher tone," influenced by the variety possible with fusion. He applauded the saxophonist's push "further in a new direction" and increased use of electronics and rock, demonstrated in the 1978 album Don't Stop the Carnival and in the recordings of the 1980s. The artist, awarded a Guggenheim fellowship in 1972, told Blumenthal, "You have to change as you hear different sounds.... I like to think of myself as relating to all these things, not just as some guy who made great records in the Fifties."

In a Down Beat interview at the close of the 1980s, Gene Kalbacher designated Rollins "the world's greatest living improvisor," paying tribute to the musician's ability to take a tune like "There's No Business Like Show Business" and tenderize the unlikely song into a jazz vehicle. In 1986, G-Man --a compilation of the music Rollins mixed for Robert Mugge's movie Saxophone Colossus --and The Solo Album won Rollins further praise, and the nearly 60-year-old saxophonist expressed to Kalbacher that he was ready for more risks.

Though critics' reactions to Rollins's albums of the late 1980s and early 1990s were mixed, the musician continues to stun fans with his live performances. People contributor David Grogan watched Rollins "nearly blow" Branford Marsalis off the Carnegie Hall stage at a live concert. And when Grogan reviewed the album Falling in Love With Jazz, he concluded, "No one is better than Rollins when it comes to transforming a familiar melody into an occasion for utter astonishment."

In 2006, Rollins went on to complete a Down Beat Readers Poll triple win for: "Jazzman of the Year", "#1 Tenor Sax Player", and "Recording of the Year" for the CD Without a Song (The 9/11 Concert). The band that year was led by his nephew, trombonist Clifton Anderson, and included bassist Bob Cranshaw, pianist Stephen Scott, percussionist Kimati Dinizulu, and drummer Perry Wilson.

After a highly successful Japanese tour Rollins returned to the recording studio for the first time in five years to record the Grammy-nominated CD Sonny, Please (2006). The CD title is derived from one of his late wife's favorite phrases. The album was released on Rollins' own label, Doxy Records, following his departure from Milestone Records after many years and was produced by Clifton Anderson. Rollins' band at this time, and on this album, included Bob Cranshaw, guitarist Bobby Broom, drummer Steve Jordan and Kimati Dinizulu.

View the full website biography of Sonny Rollins.