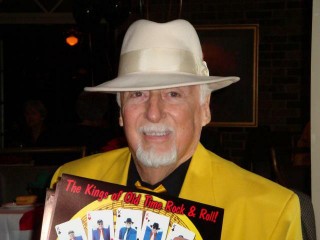 Sonny Burgess
Date of birth : 1931-05-28
Date of death : -
Birthplace : Newport, Arkansas, United States
Nationality : American
Category : Arts and Entertainment
Last modified : 2011-10-27
Sonny Burgess is an American rockabilly guitarist and singer.

Born in a farming community that raised cotton, soybeans, and corn, Burgess first heard country music via broadcasts on WSM radio. "That's all we could hear," Burgess said, as quoted in Blue Suede News. "Back at that time all we had were battery radios. We'd pick up the Grand Ole Opry on Saturday night, and you know them batteries didn't last too long." A grade school classmate, Bud Hunt, who played guitar in the clean style used on Ernest Tubb's records, taught the young Burgess what he knew. Eventually, he played guitar with his uncles at barn dances and informal gatherings.

Burgess's early ambition was to play big-league baseball. Although he played on the same Class D team as future major leaguers Bobby Winkles and Skeeter Kell--George's brother--young Burgess's two-year minor-league stint proved a washout. "I started out at shortstop and wound up as a third baseman," he recalled, as quoted in Blue Suede News. "just couldn't handle that good curveball."

It was his two-year stint in the army that heightened Burgess's musical ambitions. While serving as an MP in Germany, he hooked up with two cooks from the second armored division who formed a country band for the U.S. European Service version of the Grand Ole Opry in Frankfurt. "It was a country club set-up," explained Burgess, as quoted in Blue Suede News.

Back home in Arkansas, Burgess helped form a country band called the Rocky Road Ramblers and began playing around Newport. Initially the group just played part-time for the fun of it, but as the gigs piled up, the loose aggregation jelled into a professional unit. With bassist Johnny Ray Hubbard, drummer Russ Smith, boogie piano man Kern Kennedy, and a Hank Thompson soundalike named Paul Whaley, Burgess mixed gospel dates with work as the house band behind future country superstar Freddie Hart (then billed as Freddie Waynard) at KMBY radio. When Whaley left, the self-conscious Burgess became the lead singer out of sheer necessity.

Blues and R&B were part of Arkansas's sonic environment and Burgess himself was especially fond of recordings by Big Joe Turner and Jimmy Reed. However, the Pacers didn't really incorporate blues into their act until they shared a bill with the up-and-coming Elvis Presley. Rechristened the Moonlighters, they witnessed firsthand Presley's impact on an audience and it immediately changed their style. The Hillbilly Cat was impressed with the Moonlighters as well, and wanted to hire away Kennedy and saxophonist Punky Caldwell. Both turned Elvis down. "Who knew that Elvis would be that big," Burgess pointed out in Blue Suede News. "He was big then, but who knew he would be the star of all stars?"

With the arrival of guitarist Joe Lewis and saxophonist/trumpeter Jack Nance, Burgess's band was renamed the Pacers, after a fast-moving, light airplane. Eventually the band gathered up the nerve to audition at Sun Records, where label owner Sam Phillips told them to come back when their sound was more polished. After intensive practice sessions, they joined Sun's roster in late 1956.

As quoted in Blue Suede News, Burgess explained the label chief's psychological importance, "Well, we played for Sam. He was our audience and we tried to impress him the same way we did an audience." A great believer in a performer's innate qualities, Phillips seldom sought technical perfection. "All he wanted was to get that good feel, get in that groove; that's what he wanted. I think that's where his success came from, because he usually listened to everything, even after [producer/songwriter] Jack Clement came to work for him, and say, 'Well, I like this but I don't like this.'" As with all his artists, Phillips had Burgess emphasize his fondness for black-inspired music.
Burgess's first record, "Red Headed Woman" b/w "We Wanna Boogie," featured call-and-response lyrics reminiscent of New Orleans jazz clubs. Sporting a pounding rock beat and a rampant southern feel, it inexplicably sold quite well in Boston. An arguably finer single "Ain't Got a Thing" b/w "Restless," sank without a trace. Ricky Nelson picked up on Burgess's acoustic-led rockabilly version of "My Bucket's Got a Hole in It"--but hardly anyone else did. Burgess and the Pacers fashioned their greatest record for Sun's sister label, Phillips International. Unfortunately, "Sadie's Back in Town," replete with manic giggles, galloping electric guitar, and a wacky Donald Duck impression, was just too weird for the times.

Despite his lack of success, the artist continued recording dozens of spirited boogie and rockabilly songs at Sun. His versions of "One Night," "So Glad You're Mine," and "My Babe" top Elvis Presley's for authentic blues attitude, while "Find My Baby for Me" and "I Love You So" were distinctive, superior performances. However, these amazing sides wouldn't be heard until the Charly label began releasing them to rockabilly-crazed Europeans during the late 1970s.

Frustrated by their inability to break nationally, the Pacers began to fall apart in 1958. Nance and Lewis left to play with another Arkansas native, Conway Twitty, and Smith joined Jerry Lee Lewis's touring band. Disgruntled, Burgess left the group to play bass in Conway Twitty's band. At the end of the year, Twitty broke up his rock 'n' roll band without explanation. Burgess briefly returned to the Pacers, but hard feelings remained from his previous departure. With drummer Bobby Crafford taking over leadership, the group resumed playing top mid-South nightspots without their founding member. Burgess, when not working in a sporting goods store, began playing dates and recording with minor rockabilly figure Larry Donn.

In 1964 Burgess formed Kings IV; another good show band that alternated rock and country songs with a bit of soul and pop. The group lucked into a steady gig at a refurbished nightclub named Jarvis's, where they remained for six years. During that time, Burgess recorded prolifically for such small labels as his own Arbur Records, Crafford's Razorback, and Rolando. Former Sun guitarist Roland Janes, who also ran Sonic Studios in Memphis, owned the latter. "We used to save up a little money then we'd go over to Roland's studio and for $300 we'd get studio time and three hundred 45's," recalled Burgess, as quoted in Blue Suede News. "Then we'd try and sell 'em. Of course they didn't sell too good, now they're worth a little money. Back then we'd give 'em away to girlfriends, wives, and kinfolks--and we'd sell a few."

In 1971 Burgess relegated music to a part-time hobby and went to work for St. Louis Trim, a sewing supply firm where he stayed for the next 25 years. Meanwhile, his old Sun-era recordings were being leased overseas, creating a fresh demand for this previously unheralded rocker. Unwilling to trade equity for fad, Burgess played shows and recorded again only in his spare time. In 1986 he teamed with former Sun labelmates J.M. Van Eaton, Marcus Van Story, Smoochie Smith, Stan Kessler, and former Johnny Burnette Trio guitarist Paul Burlison to form the popular Sun Rhythm Section.

During the 1990s, Burgess recorded well-reviewed mediocre-selling solo discs with ex-Blaster Dave Alvin and a minor classic with producer Garry Tallent of Bruce Springsteen's E Street Band. Upon retirement, he threw himself back into music full-time, singing with the gospel group Stranger's Home, touring overseas, and reuniting in 1997 with the surviving Pacers. Despite a mild stroke in 2000 Burgess performs with as much country-blues drive as ever. Indeed, of the original Sun rockers, only he and fellow Arkansas native Billy Lee Riley continue to create new music in their original style.

View the full website biography of Sonny Burgess.