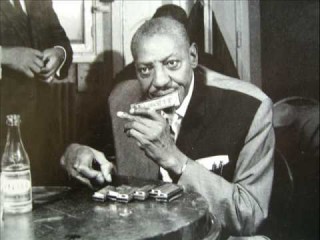 Sonny Boy Williamson
Date of birth : 1912-12-05
Date of death : 1965-05-25
Birthplace : Tallahatchie County, Mississippi, U.S.
Nationality : American
Category : Famous Figures
Last modified : 2012-03-16
Willie "Sonny Boy" Williamson was an American blues harmonica player, singer and songwriter, from Mississippi. He is acknowledged as one of the most charismatic and influential blues musicians, with considerable prowess on the harmonica and highly creative songwriting skills. He recorded successfully in the 1950s and 1960s, and had a direct influence on later blues and rock performers. He should not be confused with another leading blues performer, John Lee "Sonny Boy" Williamson, who died in 1948.

Born as Alex Miller (pronounced "Aleck"), his date and year of birth are a matter of uncertainty. He claimed to have been born on December 5, 1899, but Dr. David Evans, professor of music and an ethnomusicologist at the University of Memphis, claims to have found census record evidence that he was born around 1912, being seven on February 2, 1920, the day of the census. His gravestone, set up by record company owner Lillian McMurry twelve years after his death, gives his date of birth as March 11, 1908, but the birth date on that stone is certainly incorrect.

One of many children, Williamson began teaching himself harmonica at the age of five. Adopting the surname of his stepfather, Jim Miller--Millie Ford never married her son's natural father--the young boy later became known to local Mississippians as Rice Miller. In the 1920s, Williamson performed throughout the South as a spiritual musician called "Little Boy Blue." During the next decade, he billed himself as "The One Man Band," entertaining crowds with his skills on harmonica, drums, and zoothorn.

After leaving home around the age of thirty, Williamson earned his livelihood working for tips at jukejoints, picnics, carnivals, and lumbercamps. A drifter and incessant gambler, he took to wearing cut-off rubber boots and a self-fashioned leather belt that held his large collection of harmonicas. By the mid-1930s, Williamson crossed the Delta with the likes of Robert Johnson, Elmore James, Robert Nighthawk, and Johnson's stepson, Robert Junior Lockwood. In the years that followed, Williamson played plantations throughout Mississippi with his brother-in-law, Howlin' Wolf.

None of his years on the road, however, brought Williamson as much notoriety as did his radio show on KFFM in Helena, Arkansas. In 1941, Williamson, along with guitarist Lockwood, began broadcasting his show from the second floor of the Floyd Truck Lines building. The broadcast could be heard within a range of fifty to sixty miles and was one of the first in the country to feature electric blues. With the sudden commercial success of the program, the sponsor decided to market Sonny Boy Corn Meal, displaying a caricature of Williamson on every sack. Eventually, other musicians became members of Sonny Boy's King Biscuit Boys, including drummer James "Peck" Curtis, guitarist Willie Wilkins, and pianist Robert Dunlow. Upon leaving the show in 1945, Williamson journeyed to Detroit where he performed in clubs with pianist Boogie Woogie Red. Four years later, Williamson moved to West Memphis where he hosted a fifteen minute broadcast on KWEM radio, sponsored by Hadacol Tonic. Among the show's listeners was a singer-guitarist named B. B. King who appeared as an occasional guest artist.

Williamson's radio show also attracted the notice of Lillian McMurray, who in 1951 invited him to record for her newly formed Trumpet label in Jackson, Mississippi. He was joined in the studio by longtime veterans Wilkins, Elmore James, James's drummer Frock O'Dell, and Willie Love. These sessions captured Williamson's maturing musical style and unusual vocal ability. His first single, "Eyesight to the Blind," became an immediate regional hit. Many of his recordings for Trumpet exhibited a lively jump dance sound.

Williamson's vocals were, as music writer Robert Palmer described in his book Deep Blues, "autobiographical" in nature, revealing "sharp private images." This quality imbued recordings like "Nine-Below Zero" and "West Memphis Blues," a song describing how fire ravaged his home in West Memphis in 1949. But Williamson's career at Trumpet ended in 1955 when the company sold its rights to the Chicago-based Chess label.

Upon joining the ranks at Chess that same year, Williamson began turning out sides for the company's new subsidiary, the Checker label. Along with Muddy Waters, Howlin' Wolf, and Little Walter, Williamson became one of the major forces responsible for transforming a small unknown label into a legendary institution.

Williamson's first session featured the Muddy Waters Band--Waters and Jimmy Rogers on guitars, Otis Spann on piano, and Freddy Below on drums. Together, they recorded Williamson's first single, "Don't Start Me to Talking," which later that year became a Top Ten R&B hit. For the next eight years, Williamson produced numerous classic numbers for Chess, like "Cross My Heart," "Checking Up on My Baby," "My Younger Days," "Help Me," "Bring It On Home," and the eerie "Your Funeral and My Trial."

With the exception of a few sessions in 1956-1957, most of Williamson's Chess recordings showcased the standard Chicago line-up: piano, two guitars, bass, drums, and harmonica. Longtime friend Lockwood remained Williamson's preferred guitarist, as his sophisticated chordal work and fills created a rich contrapuntal sound with Williamson's voice-like harmonica. Another major sessionman, bassist and producer Willie Dixon, recalled in his autobiography I Am the Blues, that if Williamson "didn't have the right song [he] would make up something just as good and keep right on playing." And it was this gift for improvisation that gave Williamson's lyrics a flowing poetic quality unmatched by many of his contemporaries.

During his career at Chess, Williamson continued to tour and play club dates. In 1960 he convinced Lockwood to move to Cleveland where they worked for thirteen months. Restless, Williamson moved on to play in the Chicago and Milwaukee areas. But 1963 was a major turning point, when he joined the American Folk Blues Festival, a tour that stopped in France, Holland, Germany, Denmark, Sweden, and England. Williamson received a warm reception from thousands of European fans--some of whom followed him around on the streets for days. While in England, he played in Chris Barber's band; and on his second tour in 1964, he performed and recorded with rock groups like the Yardbirds and the Animals. "It's likeable in England," related Williamson to Max Jones in Melody Maker magazine. "They seem to appreciate the blues."

Despite Williamson's appreciation for his British admirers, he returned home that same year to Helena where he hosted the "King Biscuit Hour" and played local clubs. While on a visit to Helena, a young white rock group named Levin and the Hawks (later known as the Band) invited Williamson to an impromptu jam session in their motel room. "When we played, something happened," commented Hawk's guitarist Robbie Robertson in Rolling Stone. "It was quite magical." The musical combination proved so impressive, the Hawks made plans to tour with Williamson. But such aspirations came to an end when, on March 25, 1965, the blues legend passed away in his Elm Street apartment in Helena.

Upon his death, Williamson left behind thousands of musical admirers and devoted listeners. Over the years, he was known to have taught harmonica--to such later blues greats as Junior Parker, James Cotton, Howlin' Wolf, and Billy Boy Arnold. Across the Atlantic, Williamson's songs became standards in the repertoire of English rock and blues bands. More recently, his music has survived in the harmonica stylings of James Harmon and the Fabulous Thunderbirds' Kim Wilson. "There's not a night that I don't play one or two Sonny Boy songs," related Wilson in the Arkansas Gazette. "He was one of the key people in the blues." Other forms of tribute include the founding of the Sonny Boy Blues Society and the King Biscuit Blues Festival, both based in Williamson's former home of Helena.

"Sonny Boy had a wonderful life. He was one of the greatest deliverers of the soul blues," declared Willie Dixon in the liner notes to Chess's Sonny Boy Williamson: The Real Folk Blues. A master storyteller, gifted musician, and originator of over 80 songs, Williamson remains one of the most influential and respected musicians of electric blues.

Selective Works:
- Sonny Boy Williamson: The Real Folk Blues Chess, 1965.
-Sonny Boy Williamson: More Real Folk Blues Chess, 1967.
-Sonny Boy Williamson: One Way Out Chess, 1984.
-The Unissued 1963 Blues Festival Red Lightning, 1985.
-Keep It to Ourselves (recorded in 1963), Alligator, 1992.
-King Biscuit Time Arhoolie.
- Down and Out Blues Checker.
-Sonny Boy Williamson Chess.
-Sonny Boy Williamson: Bummer Road Chess.
-Sonny Boy Williamson and Memphis Slim Crescendo.
-Sonny Boy Williamson: A Portrait in Blues Storyville.
-Sonny Boy Williamson: Final Sessions 1963-6 Blue Night.
View the full website biography of Sonny Boy Williamson.